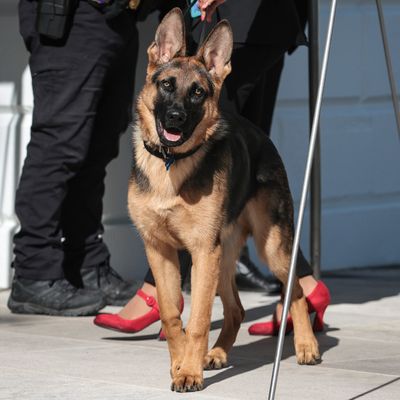 Photo: Oliver Contreras/The Washington Post via Getty Images
After at least 11 Biting Incidents — that we're aware of — Commander Biden has been relieved of his White House duties. The president's dog is apparently no longer living at the White House after it was reported that he bit yet another Secret Service agent on September 25.
ABC notes that Commander's removal followed the publication of a Daily Mail report, accusing the shepherd of biting groundskeeper Dale Haney last month. Meanwhile, CNN's White House sources claim the dog may actually have bitten more people than the administration has admitted, including "executive residence staff and other White House workers." The injuries have apparently ranged in severity, with one person requiring medical attention at the hospital. The agent who was bitten in September is said to have been treated at the White House.
"Commander is not presently on the White House campus while next steps are evaluated," Elizabeth Alexander, communications director for the First Lady, put it in a statement on Wednesday. Though she didn't specify where exactly he is, she underscored, "The President and First Lady care deeply about the safety of those who work at the White House and those who protect them every day," and, "remain grateful for the patience and support of the U.S. Secret Service and all involved, as they continue to work through solutions."
Commander is the second Biden dog who's struggled to make it in this tense and fast-paced environment. Three-year-old Major and nine-year-old Champ Biden moved into the White House with their parents in January 2021 but were sent to canine training after Major's own Biting Incident. They returned to the White House a few weeks later, but after a few more chomps as well as a Poo Incident that may not even have been his fault, Major was sent to live with a family friend. Champ, unfortunately, died earlier that year. At the time of Major's relocation, a spokesman for the First Lady told People that trainers, animal behaviorists, and veterinarians recommended he live in a quieter place. And yes, existing under the constant watch of the especially ominous cops who guard his owners sounds neither pleasant nor relaxing for a pet. As sad as it may be, perhaps it's best to give Commander — or any other dog the Bidens may be eyeing — a break and focus on First Cat, Willow.