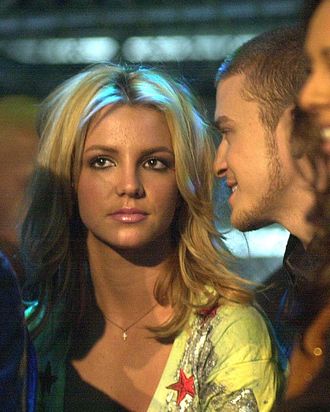 Photo: Jeff Kravitz/FilmMagic
Britney Spears is finally speaking candidly about her relationship with Justin Timberlake. In her forthcoming memoir, The Woman in Me — out October 24 — Spears reportedly writes not just about their infamous breakup but about another intimate experience: getting pregnant and then getting an abortion.
"It was a surprise, but for me, it wasn't a tragedy. I loved Justin so much. I always expected us to have a family together one day. This would just be much earlier than I'd anticipated," she writes, per an excerpt published by People on Tuesday. "But Justin definitely wasn't happy about the pregnancy. He said we weren't ready to have a baby in our lives, that we were way too young."
According to People, the pop star (who would have been in her late teens or early 20s at the time) went on to say that she wouldn't have made that decision on her own, "and yet Justin was so sure that he didn't want to be a father."
Spears and Timberlake dated from 1999 to 2002, a three-year relationship that was closely scrutinized by the tabloids from beginning to end. The misogynistic slant of the media coverage around their split received a fresh look in the 2021 New York Times documentary Framing Britney Spears, which suggested that Timberlake played the narrative to his advantage. In 2002, he told Barbara Walters that he and Spears agreed never to "say specifically why" they broke up but didn't try to dispel rumors that she had cheated. Instead, he said, "We're not perfect. I don't judge anybody. It's just young love. It's just young love. It was a very intense relationship, that's for sure." He proceeded to perform a song called "Don't Go (Horrible Woman)" and months later, he released a video for "Cry Me a River" that featured a Spears look-alike and fueled the theory that she was unfaithful. After the breakup, Timberlake also bragged in interviews about sleeping with Spears, who had previously said she was waiting until marriage to have sex.
Though Timberlake has since apologized to his ex on Instagram, admitting in 2021 that he "fell short" and "benefitted from a system that condones misogyny," he is also rumored to be "concerned" about the memoir's contents.  "He's very curious what she'll reveal from their relationship," a source told "Page Six," adding that not knowing is "eating at him." Still, a "Page Six" publishing source insists the memoir is "not a takedown" of anyone, merely a chance for Spears to finally "tell her empowering story."