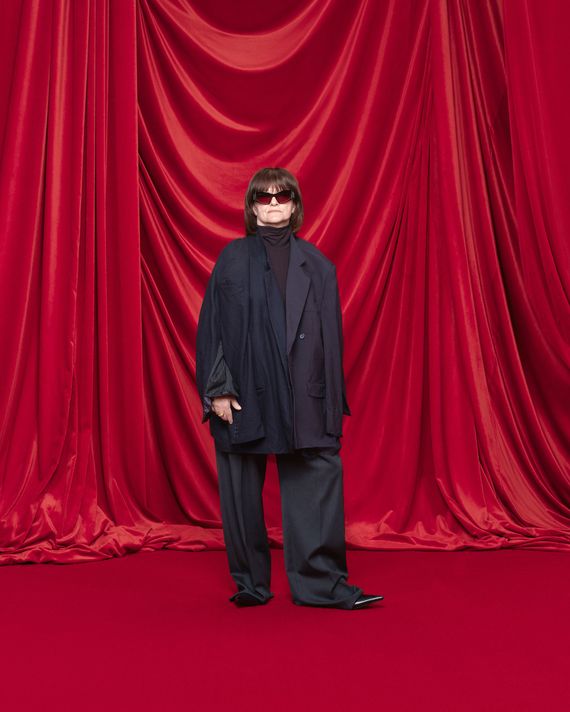 Cathy Horyn in Look 6 from Balenciaga's spring 2024 ready-to-wear collection.
Photo: Balenciaga
This article was featured in One Great Story, New York's reading recommendation newsletter. Sign up here to get it nightly.
This summer, a designer finally answered my prayers. Demna asked me if I would walk in his Balenciaga show in October. A Balenciaga model! I could feel myself getting carried away, although I think if you ask most women, they will say they harbor a fantasy of being a model. And if you grow up with a glamorous mother, as I did, and spend much of your career as a fashion writer in Paris, there's a six-foot Amazon with a haughty gaze coiled inside you, waiting to come out.
I told Demna I'd have to ask my editors in New York and if they didn't object to my "debut," I would oblige him. They didn't, and of course, I wouldn't be reviewing, and in late July, I began to receive emails from a Balenciaga coordinator asking for my dress and shoe sizes. Later, during the London shows in mid-September, I would go into the Balenciaga boutique for a full set of measurements.
At the outset, all I knew about the show was that Demna asked friends and family to model, including his mother, Ella Gvasalia. In the summer, spread across a wall of his office at Balenciaga headquarters, were headshots, a casting wishlist. Among them were Linda Loppa and Yvonne Dekok, both former teachers of his at the Royal Academy in Antwerp; Inge Grognard, the chief makeup artist for the house; Martina Tiefenthaler, his longtime assistant, who is chief creative officer; Miren Arzalluz, a Balenciaga scholar, who is director of the Palais Galliera museum; the Russian actress and writer Renata Litvinova, who is a close friend of Demna's; Diane Pernet, a writer and one-time designer; and the actress Isabelle Huppert, who has walked twice for the house. Except for Huppert, all the women agreed to join the cast, eventually reaching 88 people. Only a third were regular models. And Huppert, working with Demna's husband, Loik Gomez, who goes by BFRND professionally, read for the show's soundtrack, from a book of instructions about making a jacket from scratch.
Given the many associations of the cast, one might think that this was Demna's Balenciaga swan song. "I'm not planning to leave Balenciaga yet," he said, with a laugh, when I saw him a few days before the show. "No, it's a really personal moment and I needed it." One reason I wanted to walk in the show was the experience. I've been covering fashion for nearly 40 years, and while I've spent a lot of time in backstages, I've always been on "the other side." What was it like to go through the whole rigamarole of hair and makeup, rehearsals and then actually hit the runway and the glaring lights?
But another reason was Demna. In the eight years since he arrived at Balenciaga, he has transformed not only the image of a famous house — the most important in fashion next to Chanel — but also our ideas about who is qualified to be a model. Jean-Paul Gaultier started that questioning in the 1980s, followed by Martin Margiela, and Demna has taken it further still. His models have a physical beauty that is utterly consistent with the weirdness of the present, and indeed, like many of Cristobal Balenciaga's house models in the 1950s and '60s, they might strike observers as unattractive and even a bit stooped. His models are key to his aesthetic, which has less and less to do with notions of luxury. But they're also part of his story, since many of them — Eliza Douglas, an American artist, and Minttu Vesala, a blond Finnish artist, are in every show. "Family" has been an essential component of many houses over the decades — the celebrated entourage of Yves Saint Laurent and the diverse group of models, political writers, artists, and collectors around Azzedine Alaïa, to mention two designers. So, I was also curious to discover more about that feeling at Balenciaga.
I arrived for my fitting on September 28. Demna had asked me what I felt most comfortable in and I said something tailored. But that's all I knew and I also didn't want to set any limits. Much of the collection consisted of recycled and upcycled garments, and there were personal references, like floral dresses in vinyl ("my childhood kitchen table"). A number of looks in the collection, including the black pantsuit he proposed for me, had an extra pair of shoulders and sleeves built into the front of a reconstructed coat. He explained, "I always love the idea of wearing coats and jackets on your shoulders, but I also find it not so cool."
Although I've visited studios before a show, I was surprised when I walked into Balenciaga for the fitting. The team transformed the huge showroom into mini dressing rooms and there was a gauntlet of assistants. It was oddly intimidating, precisely because I wasn't a model. Beyond the dressing room, behind a screen, was Demna's spacious fitting area, where I found him with Martina, more assistants, and a cheerful woman named Eva Godel, a modeling agent, who was coaching the newbies. There was a mock runway off to the side. The actual runway, in a temporary building constructed in front of the Invalides, would be nearly five feet high and run around the perimeter of the massive, rectangular space, with the audience seated in the middle, below us. The models would only have an audience on one side; the other would be a wall covered entirely in red velvet theatrical drapery, pooling partway over the red-carpeted runway. We had to walk about two feet from the edge.
I said to Godel, "Should I do the Balenciaga walk?" I affected a zombie in The Walking Dead. Godel smiled. "Just walk like you normally would, but do it with intention. That's the most important thing. Walk like you're going someplace." And, she added, "Keep your chin a bit down." Because I was going to be five feet higher than the audience, and in heels, a higher chin would look, well, haughty.
After a few turns down the practice catwalk, an assistant led me down a passage to hairstylist Gary Gill's area. At the fitting, you also had to have your hair, makeup, and nails done, and then go into another room, where a separate crew waited, to be photographed against a red curtain for the look book. That phase of being a Balenciaga model took about four hours, with each team sending photos of your look to Demna so he could approve them.
Imaginatively, you know that major fashion brands function like small armies at showtime, but in reality, the level of organization is far more impressive. When I returned to my dressing room, a young man with a fanny pack came in with extra socks and sole pads to help my shoes fit snugly. He had made a mental note earlier, and I would see him again over the next day or so as he checked on my shoes. And someone else came by to get my eyeglass prescription to have a pair of sunglasses made — in a day — for the show.
Rehearsal began at 11:30 a.m. on Saturday. "Do you speak English or French?" asked a man with a stack of headshots. "You're going to the women's side — and put only your shoes on for the rehearsal."
I found my dressing room, and a woman named Anna, a designer in the denim department, who would be my dresser. I put on the shoes — the rest of my look was hanging on a rack — and I went up a flight of stairs to the large holding area behind the runway. There was a long series of benches down one side, where many models, including Amanda Lepore, were waiting, and on the opposite, the "line" itself — the multiple lines where all of us would stand on our marked spots. I was No. 6 in the lineup, after Linda Loppa and in front of Inge the makeup artist, who was also walking for the first time at Balenciaga.
"I'm nervous but honored at the same time," Arzalluz told me. "Demna asked me to do it when he did the red carpet and The Simpsons show, but I wasn't ready." She was referring to a show he did in a theater two years ago that was, in part, a collaboration with the creators of The Simpsons. "I had to think about it. But I'm glad I'm doing it. It's very personal." Others expressed the same feeling.
We were called to the line as Huppert's unmistakable voice rose on the sound system, with a beat behind it. "I have to explain it to you," Loik said when I saw him near the line. "It's a mind—" His words were suddenly drowned out by the music.
"What?" I said.
"A mindfuck," Loik says. "It's so many layers. Isabelle reading the text. The orchestra. There's a piano that's over 100 years old." Loik, the bride in the show, grinned. "Everything I love is here." In fact, the music will get progressively intense near the end.
There's a reckoning point in a backstage, a mark on the floor next to a group of monitors where a producer with a headset and a stopwatch stands. It's the last point where you wait before you turn the corner and enter the runway, the theater of fashion. And it's the moment when you can feel a little bit nervous or excited. I made the first loop down the carpet, remembering what Eva Godel said about keeping my chin down. When I returned to the backstage — it seemed forever — Lionel Vermeil, a longtime Kering executive (it was Vermeil who first brought Demna to the attention of Kering, which owns Balenciaga), said, "I saw you on the monitors." He was also walking.
"Was it okay?" I asked.
"More than okay."
In the background, the producer was calling out, "Lionel! Ana!"
That night I spoke to my friend Klaus in Berlin about the day, including the other collections I covered.
"Do you see Dovima in your mind when you walk?" he joked, referring to the legendary model who posed for Richard Avedon and with a trio of elephants.
I laughed and thought: Dovima? More like Dumb and Dumber, with me as Lloyd Christmas sailing off the edge of the runway and snapping to attention in front of Anna Wintour.
Speaking of Anna, she came backstage on the morning of the show, Sunday. All the models had been there since 7 a.m. — the hair and makeup crews even earlier — and we were dressed almost an hour before the show for another rehearsal, the first in "looks." Anna was with Andrew Bolton, the chief costume curator of the Met.
"We just wanted to wish you luck," she said. "Are you nervous?"
I didn't share my Lloyd Christmas fantasy with her. "No," I replied. "Not too bad. The atmosphere is so relaxed here."
That was true. Everyone in the crew knew their part and nobody ever got tense, not that I saw. Once we were in the line, the makeup and hair people returned, on cue, to remove hair clips and powder faces. Anna, who was dressing me, stood nearby, and another group was kneeling on the floor, giving everyone's shoes a final buff. I chatted with Inge and Yvonne, Demna's former teacher.
Inge, who had on dark wraparound glasses, said, "You know how he asked people to be in the show? He was mentioning other names and then everybody said yes."
Yvonne nodded. "He said, 'My mom is going to open the show, Yvonne. Would you like to be part of it? That's how he asked me. I said, 'Yes, I want to marry you.'" We all laughed as the minutes were counting down. "It's because of Demna."
As Demna, wearing a long, wizardly black hoodie, went down the line to talk to everyone, the producer began calling us forward. Demna's mom stepped out to the runway, then Yvonne and Renata in a trench with double sleeves. When my turn came, I stood on the reckoning point, waited for the count, and then made the sharp left onto the runway and began the long walk.
You can't see anything when you're out there. It was just deep space with the sparkle of cell-phone lights and a slight stir of noise as I passed what I assumed was the American press section.
Once or twice I reminded myself to walk straight, which is actually hard when it's required, but by the first turn, I thought only of the advice that Eliza and other Balenciaga regulars had given me: Just have a good time. And I did.