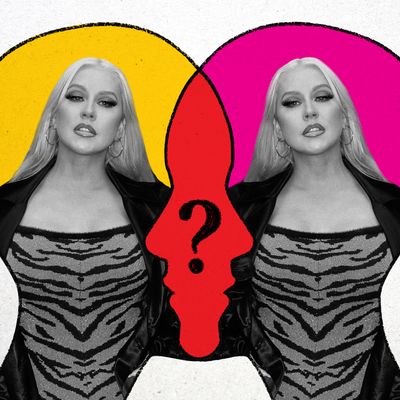 Photo-Illustration: The Cut; Photo: Getty
Christina Aguilera famously isn't afraid to talk dirty — and get her hands dirty — all in the name of work. (I mean!) This is especially true when it comes to product development for Playground, the sexual wellness brand Aguilera co-founded and launched last March.
Speaking to Aguilera about love and sex, she exudes the exact tone of upbeat, playful naughtiness you'd imagine from the superstar. She's ultracomfortable talking about sexual play and pleasure in a way that feels honest, rebellious, and flirtatious. "When it comes to sex, we need to throw out the rule book," Aguilera says. "The name Playground, in general, implies that sex should be fun, and exploring your body should be fun. Your body is your own personal playground that should be experimented with."
Aguilera knows her own physical playground well. She knows she likes vibrators and doesn't like baby talk. She knows she's not afraid of rough sex but is afraid of the dark. She knows she's an iconic singer who's currently prepping for a Las Vegas residency, but she also happens to genuinely enjoy selling (and talking about) sex products. The range!
The Cut sat down with Aguilera for the launch of Playground's latest innovation: Mood Maker. (The clean, pH-balanced intimacy oil designed for foreplay, intercourse, and masturbation — or simply "stroking" or "destressing" — contains a warm, vanilla, floral essence that smells exactly like Aguilera's interpretation of erotic; in other words, "The smells that turn me on.") Because who better to ask about bedroom rules and bedroom-rule-breaking than the woman who gave us "What a Girl Wants"? Especially since she's more than happy to suggest how to get in the mood or get yourself off, X-tina style.
We're "technically" here to talk about your sexual wellness brand, Playground, and its new Mood Maker intimacy oil. So, to make your PR team happy, tell me: What's the rule about when to use lube and when to use intimacy oil? I'd say the lube goes in the "beginners" category; it's a good starting point for people who haven't experimented with anything at all. But the Mood Maker intimacy oil is actually personalized to me and the scents I personally like. I love to be surrounded by yummy-smelling things. And you want your vagina to be included in that super-feel-good, smell-good scenario too.
How can a more vanilla person introduce lube into their sex life?
I feel for the woman that doesn't feel safe or comfortable talking to her partner about sex or her own desires; that's why the first step is exploring your own body so she knows her needs. But it's all about the right moment. Placing your partner's hand on an area you know feels good, a pressure point, an orgasmic area — that's something you can do. If your partner is shy or doesn't know how to execute, it's your job to guide them. Take their hands. You can blindfold them. You can play with food. Bring in toys. Everyone loves the texture and feel of lubrication; it gets juices flowing. You can put some on yourself before you engage in sex to let things slide in a little easier … or use lube by stroking it on your partner. There are ways to not say anything at all and let your hands and body do the talking.
What's the biggest rule in your own bedroom? 
Again, I don't like any rules. I don't like to be rigid with anything in my life. Sex should be a boundless topic, and as long as you have really good communication, you'll be good. I'm in a long-term relationship now, and when I'm not having sex with my partner, I enjoy using vibrators. They're a de-stressor for me. The less rules, the better — that being said, one rule is don't be a selfish lover.
How do you feel about dirty talk?
Ooooh. Dirty talk. Well, I did write a song, "Dirrty." So, yeah, I do like to get a little dirty and a little naughty. But sometimes you're in the mood for passion and romance. I'm verrrry mood-driven (hence the name Mood Maker!). It depends on the day. Sometimes I like it rough. Sometimes I like it gentle.
And … baby talk? 
No. I'm not into it. I like to rough it up, or you can treat me passionately. But, you know, I'm not a baby. I'm a grown woman.
What's the No. 1 rule when it comes to hook-up music? 
Right now, I'm really into 070 Shake, which is super-vibey. You all should explore the artist. I was just in Malta with my partner, and we had a little jacuzzi situation in our room, and we were playing that a lot. It was really nice. I really don't like anything too cliché, like … "Let's Get It On." That gives me the ick. Great song, just not to have to sex to.
We're both moms of two. What would you say to mom friends who are too tired to have sex? 
Well then … don't! If I'm overwhelmed, I wait till everyone goes to bed, and I have a moment with myself. It's important for your mood and your stress levels. Again, sex should be fun; it should never feel forced.
Any hard and fast rules on sleep?
Oof. Sleep is a tough one, let me tell you. I've lived an entire life traveling and being on the go. Sometimes I don't even get on stage or start working till late evening. You do the little things you can. The Calm app works for me; I watch movies that comfort me, just to hear them in the background. I'm still scared of the dark, even at 42 years old. I literally travel with my own bedding, my own pillows, my own comforter. I travel with so many suitcases it's crazy. You have to set the mood and tone that's right for you to make your life as easy as possible.
When things feel insane, as I'm sure it does, do you have any rules to live by, or a spirituality, or a guiding light that you turn to? 
It's still a struggle. I battle a lot of anxiety. You would think that nerves would subside after all this time, but I'm such a perfectionist. I want to always do a great job. I've adapted flow yoga into my life — breathing, taking a pause, stretching, that kind of thing. Mostly, I've gotten better at taking a beat and really saying to myself, "This is okay. This will get better. It will pass." You have to talk yourself down. I do have a tendency to spiral, and one negative thought will lead to another … and then soon before you know it, you're totally encompassed by the negatives. You have to be your own leader. Sometimes when I'm in these moments, when it's high pressure, and it's a lot, I tell myself: "Meet the moment. Meet this moment. You're built for this."
If all else fails … find your vibrator and lock the door.
Yes! Exactly! With your Mood Maker!