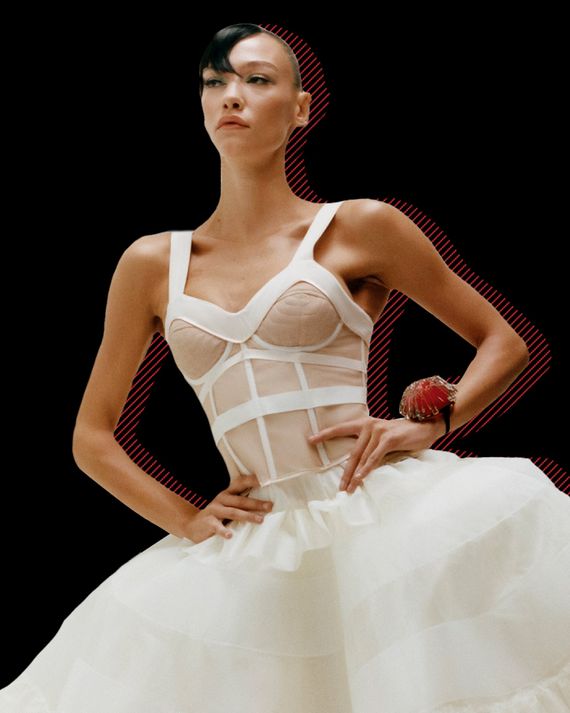 Photo-Illustration: The Cut; Photo: César Buitrago
The opening seven styles in Christopher John Rogers's latest collection suggest a new direction for the designer. They're looser in both attitude and construction, and less resolved. Though don't be fooled. Rogers makes sure everything is perfectly finished. But look at the bow that's built into a strapless sack dress in papery, off-white nylon, or the corset bodice of a dress with a many-layered tulle skirt, or the offhand way he's gathered the silk stripes of a party dress over an exploding ball of white tulle. The results feel a little undone — and that's no accident.
"I was trying not to overthink anything," Rogers said the other day. He makes all his designs in muslin first, as many designers do, and that process gave him ideas. "Sometimes seeing a dress in the muslin is when I realized, Oh, this what the design needs to be." He then translated the lighter hand to the finished garments. "Muslin also colored things." Hence the amount of off-white and soft ivory — for cotton poplin, embroidered cotton, and cotton twill, among other fabrics.
The collection has an inside-outside quality, conveyed by the full-skirted tulle dress with the fully boned, corset bodice. "It's everything that would be on the inside of a 1950s dress," Rogers said. For the skirt, he used netting and horsehair to subtly mimic the stripes that his brand is known for. And he bound the edge of one tulle layer with pale pink ribbon. "We really wanted that to feel like an illustration, that sort of thick line you see at the bottom of something [to indicate] motion."
The pincushion on the model's wrist is another clue that Rogers was loosely thinking of his own metier and finding new inspiration. He showed the collection (for pre-fall 2024) to buyers and press during the recent Paris shows, renting an apartment, and some buyers inferred from his inside-outside methods that he was doing deconstruction. "I said, 'It's less about taking something apart than highlighting the make,'" Rogers told me.
It's a sophisticated distinction, visible in a strapless dress of black and white horizontal stripes with a tiny peplum. Each uneven stripe has a different fabric and finishing technique, including a grosgrain ribbon and a crushed, gathered silk. As Rogers said, "It's a bunch of texture that feels flat, but when you see it in person, you're kind of wowed by how much work has gone into all the stripes." Like much of the collection, that dress hovers between couture and American sportswear, and substantially fills a void in the ready-to-wear market.
Also smart and irresistible were a fitted off-white dress with a diagonal streak of buttons and a collapsed cowl neck (Rogers says it was inspired by 1980s Issey Miyake shapes) and a kind of fitted shirt jacket in solid pink cotton and pink stripes with multiple bands of ruffles. There's nothing quite like that top on the market. Rogers paired it with tobacco-brown cargo pants, but it's delirious enough to work with almost anything.