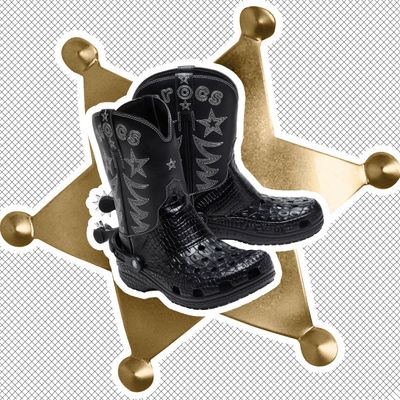 Photo-Illustration: The Cut; Photo: Retailer, Getty
For the low price of $120, you too can have a pair of cowboy boots riddled with holes in them. What's that? The whole purpose of cowboy boots is to be durable and protective? Hmmmm, not according to Crocs!
The company famous for its gape-y, rubbery, squeaky slippers is launching its own pair, and it begs the question: Did we need this? As someone raised in a cowboy-boot county and an avid wearer of the shoe, I can't help but chuckle. The design is patterned with faux crocodile leather (LOL), faux stitching, and a spur on the back "so you can really kick up some dirt," according to the company's website. Imagine walking through some dirt in these babies, perhaps at a farm where animal droppings are plentiful, and thinking to yourself, Actually, I'd like to ignore the fact that my shoes are avenues for the penetration of debris and use them to frolic through the mud! It'd be the last yee you'd ever haw!
Even though the shoes won't be in the hands of consumers until later this month, the reviews are already rolling in, most of them sarcastic: "These are gonna change my life tremendously"; "durable for long-range running"; "Definitely will be wearing these to my nephew's wedding next spring!"; and my personal favorite, "Yee Haw Croc Cow Boys: These are great to rustle up some cattle and gather my horses for a train robbery. Feel fancy and they are 4 wheel drive so I can run fast." Will Ron DeSantis, who was recently accused of wearing cowboy boots with hidden heels, wear these? They do give you a good inch, so who knows.
Are these boots going to be functional? No. Will they pair perfectly with any outfit? Also no. But Crocs said, "We see your giddy up and we'll raise you one." Truth be told, curiosity may get the best of me, and you just may very well see these silly shoes on my feet.