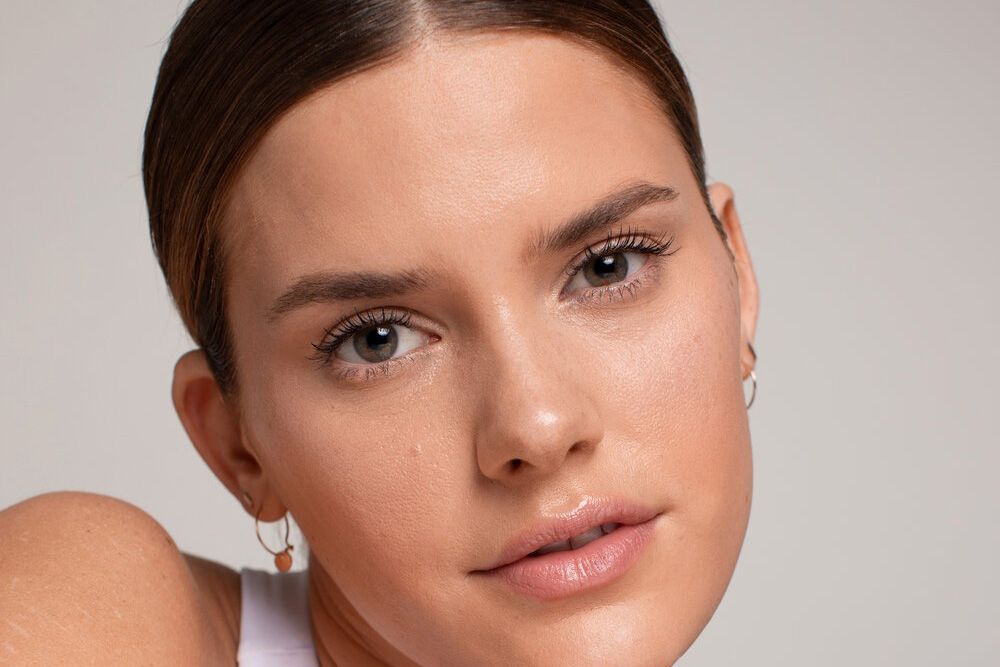 Wedding season is officially in full swing, and brides-to-be everywhere are busy swatching and moodboarding before their big day. And as everyone who has gotten hitched knows (or has served as a patient sounding board for overwhelmed friends and family), the budget demands are intense. Seriously, have you looked at venue costs lately? Maybe that's the reason why DIY bridal makeup is becoming more popular on the wedding circuit. Not only is it a reasonable way to cut your costs, but there's also a plethora of application videos and online tips to replicate your preferred look at home — or, you know, in the sunlit hotel room of your Italian Riviera locale.
Unless you're a bonafide professional makeup artist, or spend the bulk of your spare time refining your beauty skills in front of the mirror (goals), re-creating that timelessly elegant look and lit-from-within, ethereal glow can be a tad tricky. But that's no reason to shy away from handling your own makeup for the big day. As NYC-based makeup artist Kelli J. Bartlett can attest, "Don't reinvent the wheel." Meaning don't presume that your makeup application has to feel exceedingly complicated compared to your usual face beat (assuming that you wear cosmetics on a semi-regular basis).
"For your wedding day glam, add an element — like a pop of lipstick, or an extra long lash — to your go-to glam, rather than overhauling your whole look from skin-care to setting spray," Bartlett says. "This will help you feel less overwhelmed, and will ensure you look like you." And even if you're going the DIY route for the day-of, you can always meet with a pro for a trial to see what kind of makeup feels like the right fit. They can also suggest products, tips, and tools to ensure your application goes as smoothly as possible.
If you feel up to the task of doing your own bridal makeup but still require a few pointers, keep reading for the best professional makeup artist tips to keep on hand for your big day.
DIY Bridal Makeup Tip #1: Practice, Practice, Practice
Like any major life moment, like a big presentation at work or giving a maid of honor speech, practice really does make perfect, and the same goes for doing your own bridal makeup. That means you should test out what types of looks you like best before the big day, and once you've landed on the one, apply it more than a few times beforehand to perfect your technique. "I encourage brides to try playing with new techniques for low-key date nights when the stakes aren't as high," Bartlett says. "Use the rehearsal dinner, bridal shower, dress fitting, you name it, as opportunities to take your look for a test spin."
DIY Bridal Makeup Tip #2: Invest in the Right Tools
We can all admit that there are brushes in our beauty drawers that have been there since college (if not earlier), and while we're all for minimizing waste, your wedding might be the time to upgrade your tools. You don't want that cat-eye wing causing havoc just because your thinnest liner brush has started fraying. There might also be tools that you don't have in your kit that can help make the day run more smoothly.
"To ensure a flawless (and stress-free) application, invest in tools that allow you to work smarter, not harder, while mimicking the same finish a makeup artist could achieve," Bartlett says. "For example, the right foundation brush can create a blended seamless look while cutting application time in half. A lash curler will help to open and elongate the eye, more so than any curling mascara."
DIY Bridal Makeup Tip #3: Go Easy on the Base
Having worked with many brides, Bartlett assures us that the days of full-coverage, cakey foundation are long gone. "Today, brides should look as fresh and vibrant in person as they do on camera," she says. "This makeup is seen through many different lenses — photos, video, in person — and to get a photo-ready look, I suggest a lightweight, buildable, radiant foundation."
Start with a hydrating moisturizer to keep any skin dryness at bay, like the Zelens Acqua Shiso Hydrating Gel Cream, and follow with your foundation — the makeup artist prefers one pump of Armani Luminous Silk applied with a large, fluffy brush, like Makeup Forever #152 to even out your skin tone. She adds that any troublesome spots should be addressed with targeted concealer, like the Revlon ColorStay Skin Awaken 5-in-1 Concealer, which will help achieve a more natural-looking effect.
DIY Bridal Makeup Tip #4: If You Want a Bold Lip, Layer
Don't be afraid to go for bold when it comes to your wedding day lipstick. To make sure the color looks crisp and vibrant throughout the day, Bartlett suggests layering in five steps. The first is all about maintaining lip hydration. "I start with Creme de la Mer Lip Balm during skin care," she says. Then blot off the excess when you're ready to move onto makeup.
Next is a lip primer to help the lipstick wear well throughout the ceremony and reception. Bartlett swears by MAC Prep+Prime Lip Balm Primer. Then line your lips to keep the pigment in place. "I am obsessed with Victoria Beckham's Lip Definers for their natural looking finish, blendability, and texture." Add a quick dusting of translucent powder around the lip border, like the Charlotte Tilbury Flawless Finish Powder, to prevent feathering. Finally, apply your lipstick straight from the bullet, using a dabbing technique for a sheer wash. "For a bolder look, I love a liquid lip like Violette_Fr Petal Bouche," says the makeup artist, who wore the formula for her own wedding day glam.
DIY Bridal Makeup Trip #5: Keep the Glowing Skin Targeted
"Glowing skin is my number one request from brides," says Bartlett, who adds that when you're happy, you should glow. To achieve this lit-from-within effect without blowing out the lenses of your photographer and videographer, she suggests using a creamy stick highlighter, like Westman Atelier Lit Up Highlighter Stick, on the tops of the cheekbones, dropping into the center of the cheek. She adds that once you're fully dressed, add a hint of highlighter to your clavicle to help catch the light.
DIY Bridal Makeup Tip #6: Befriend Your Setting Spray
Obviously you want your bridal makeup to last through drinks, dinner, cake, and dancing, so be sure to keep products on hand that can prolong your cosmetics. If you have some skin concerns, like texture, excess oil, or dark spots, Bartlett suggests using a primer to help grip your makeup when applying foundation and concealer to your problem areas. "I prefer to lock everything in at the end with a setting spray, like Makeup Forever Mist + Fix Hydrating Setting Spray," she says.
With these six tips (and of course, some stellar waterproof mascara to keep from looking like a raccoon after reading your vows), you'll be able to check off bridal makeup from your endless wedding checklist.
This advertising content was produced in collaboration between Vox Creative and our sponsor, without involvement from Vox Media editorial staff.