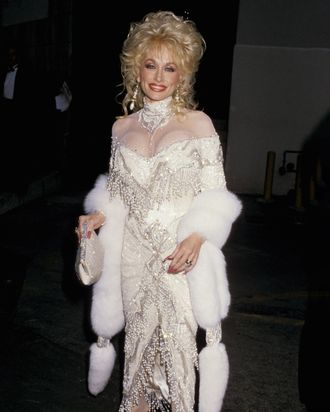 Photo: Jim Smeal Images/Ron Galella Collection via Getty
It's difficult to imagine a stripped-down version of Dolly Parton, sans her sky-high blonde wig, false eyelashes, lipstick, and rhinestones. Come to think of it, I can hardly picture the music icon wearing a pair of blue jeans. It simply does not align with her public or private persona — her signature look is glamorous, glittery, and gaudy in the best way possible. And in her new photography book, Behind the Seams: My Life in Rhinestones (available today anywhere books are sold), Parton reminds the world that her flamboyant style has never been an act. Instead, it's a reflection of who she is at her core and her lifelong motto: "To thine own self be true."
"In this book you'll see how, as a young artist, my self-confidence was enhanced by developing my own Dolly style and then sticking to it," Parton, now 77, writes in the introduction. "I didn't care about trends. Instead, I worked hard to look the way I pictured myself. Although my style has evolved as the years have gone by, I've stuck to the motto 'To thine own self be true' over the past six decades — and still do. Much as the fictional characters that populate my songs uncover essential truths about me and the people I've known, my clothes and makeup also reveal the real me. Maybe they're both 'made up,' but they reflect my innermost self, my own personal truth."
Behind the Seams: My Life in Rhinestones — which is the second installment of a trilogy that began with Parton's 2020 best seller, Songteller: My Life in Lyrics — takes readers through her decades-long career as one of the most accomplished female singer-songwriters of all time. She opens up her coveted fashion archive and shares behind-the-scenes stories about her most memorable looks, including a rhinestone chiffon gown she wore to accept her first-ever Country Music Award in 1968, her signature bejeweled jumpsuits designed by Lucy Adams, costumes from her Las Vegas residency, a halter dress she wore to the New York City premiere of Steel Magnolias, and an Old Hollywood-inspired gown she wore on the cover of her 29th solo studio album White Limozeen.
The book is an encyclopedia of iconic pop-culture moments; it's a visual feast for fashion enthusiasts and a treasured keepsake for Parton's loyal fans. But even more so than that, it serves as a reminder that Parton's superpower — and perhaps even the reason for her record-breaking longevity in Hollywood — is her authenticity. It's a common thread throughout Parton's life that can be traced all the way back to her childhood, growing up in the backwoods of East Tennessee near the Smokey Mountains.
"I always loved makeup. I wanted to be pretty. Back then, any woman who wore makeup in the mountains was considered trashy. But I didn't care," she writes. "When I started buying my own makeup, I also started dressing according to how I felt, which meant wearing tight, low-cut outfits that my mama made. I remember feeling powerful enough to go up against Daddy or Grandpa to say, 'Now, that's not that tight. It ain't cut that low. It ain't that much.' And they'd say, 'Yes, it is!' But I'd be willing to get my ass whupped for it. I would sacrifice for how I wanted to look," she writes. "The same thing happened when I moved to Nashville in 1964 to become a country star. Just like I had to persist to get my songs heard and ignite my recording career, I had to resist a lot of 'advice' telling me to tone down my look or choose a different type of wardrobe. In these pages, you'll learn I never listened to any of that."
Dolly has always been, well, just Dolly! Her personal style has evolved some over the course of her career, as you'll see in the book, but her love for flashy fashions has never wavered. In a trend-obsessed world of people trying to be someone they're not, Parton's commitment to staying true to herself is refreshing, endearing, and oh-so-necessary. And it's the reason everybody still loves Dolly, all these years later.