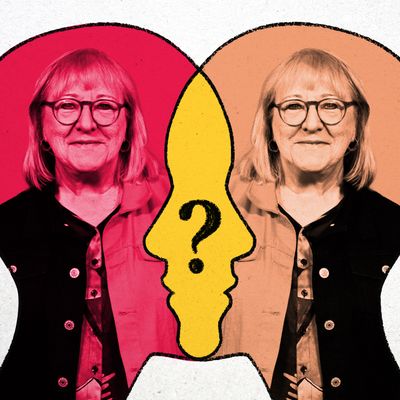 Photo-Illustration: by The cut; Photo: Getty Images
Donna Kelce, mother to NFL stars Jason and Travis Kelce, isn't new to the limelight. Both of her sons have been high-profile professional athletes for over a decade, most recently playing against one another in the Super Bowl last year — a game in which she wore a jersey split in two and brought them pregame cookies. "They both play on offense, so I can root for the offenses. I can hope that whoever has the ball scores every single time and not feel bad about the other team," Donna said of her sons' matchup against one another. "I'm lucky in that respect, and plus they're not hitting each other."
In the past year, though, the Kelces have become one of America's most high-profile families: The brothers' joint podcast has grown exponentially, garnering millions of views per episode; Travis appeared on SNL to great acclaim; and Donna has been featured in most major tabloids clapping alongside and hugging Taylor Swift, who's rumored to be Travis's newest love interest. None of that seems to faze Donna, though, who says she stays out of her sons' love lives. "Boys do not ask their mother's advice when it comes to love life; let me tell you right now, they're not coming to me," she said. "They're not asking me anything. It's just the way it is." Instead, Donna keeps her focus on seeing her busy sons when she can, traveling any chance she gets, and keeping her purse full of snacks (she says her go-to game-day snacks are chocolate chip cookies and Kind granola, the latter of which Donna even has her own line with).
We caught up with Donna in the thick of football season to ask her all about what it takes to make it through and to spill her rules to live by.
Obviously, your sons play for two opposing teams in the NFL. What's your No. 1 rule when it comes to rivalries?
There's no rules in football. Every man for himself. Just try your hardest, play your hardest, and give it everything you have, and nobody can complain.
What is your No. 1 rule for being involved in your sons' love lives?
Stay out. Boys do not ask their mother's advice when it comes to love life; let me tell you right now, they're not coming to me. They're not asking me anything. It's just the way it is.
Do you have any rules when it comes to meeting any of your sons' new dates?
No. I never know when it's going to happen.
They just spring it on you? You just have to be ready at any second?
I really don't. It's on the sly and it's last-minute, so I never know.
It just gets sprung on you. You never know. In fact, I never met any of Jason's girlfriends ever until he brought Kylie home. Not once. Didn't even talk to them. They are very, very quiet about their personal lives. They zip it.
Taylor Swift has recently joined Chiefs Nation in some capacity. You recently met her and said it went "okay." Can you tell me a little bit more about that?
Publicist: That's all we're going to say.
Donna: Everybody saw me on television. That's about it.
Well, you've recently talked about haters. Do you have any rules when it comes to dealing with haters?
Really, the only opinion that matters is your own and anybody else can think what they want to think, but you write your own narrative.
I know that you have brought your sons snacks to games in the past. What is your favorite game-day snack?
Chocolate cookies are probably the best, but recently, Kind Bars has just come out with my own snacks. It's called Donna Purse Snacks. They're so bite-size, and they're great for the airport, on the plane.
Pregame snacks are covered, but do you have a pregame pump-up playlist that you listen to?
No. I am on a bus. I am on a party bus, and I have to listen to whatever they're playing, and a lot of times it's a lot of rap music, so I just hang with it, and it is what it is. I'm back in the old era with Earth, Wind & Fire and Chaka Khan and stuff like that, Michael Jackson.
Do you have any rules for when it comes to being part of the Kelce family?
I really don't. Their lives are their lives, so I don't try to give them advice or anything like that. It's their own. They're adults. I just enjoy all the fun.
Did you have any household rules growing up for your kids?
Sure, but they've never been adhered to, but I did have rules. Many, many windows were broken, legs on couches. They put one couch through the solid hardwood floor.
There was always something going on. There were golf balls through windows, footballs through windows, hockey pucks on the garage door. You never knew until afterwards what had happened. Boys are boys, they don't realize how strong they are. They have no idea until it's too late.
How did you deal with all of that chaos?
Well, it's their house too, so when it happens, you try to fix it. One thing that never got broken was the television. I'm surprised because they had lacrosse balls and everything else. Just don't buy new furniture. Let them destroy it and then move away and you can have all the nice stuff you want. The rules were: Get to school, be on time for your sporting events, and get your homework done. That was about it.
It seems to have worked pretty well. They both turned out all right.
Well, yes and no. I wouldn't say that they're top A students, but they got what they needed to out of school, obviously. They're pretty articulate.
You're often traveling a lot between your sons' games. You're always on the road. What's your No. 1 rule for packing?
It's hard, especially when you're going to two different games, which doesn't happen often, but you need to have different colors for the different games. But I always overpack. I can't help myself. I just don't know whether it's going to be cold, whether it's going to be warm, if it's going to be hot where I am. Do I need shorts? Do I need pants? So you have to bring a little bit of everything. Especially in the fall; you never know what you're going to get in the fall.
Your sons revere you and respect you, I'm curious if you have any rules when it comes to impressing you.
No, not really. They're just so busy. I don't think people understand that we don't sit down at dinner tables. Once you're a pro athlete, your time is limited. And I'm lucky if I get 10 to 15 minutes with them on a weekend because they're in the training room, they're watching film, they're practicing. There are late nights, they might have to do something with a charity or something like that. So I basically go in, I watch the game, and maybe you've got some downtime and you can watch a movie or just have some fun with the kids. But it's different. It's not a family weekend. Your son is never there. It's just the way it is. You're not together on holidays. Very rarely see each other, and, in fact, both of them play Christmas Day this year.
But in the spring, you do get to spend time with each other. You do get to go places. You get to go to the Jersey Shore, you get to go to Disneyland, so those are the times that you cherish when you get to spend quality time with your kids and it's fun. This offseason's been a blast with all the things that happened, Saturday Night Live and the draft and just everything. It was just one week after another after another of things to do this year, so it was really kind of fun. I spent more time with them this year than any other year in the past. So it's been kind of special.
So much of your life is dedicated to being a good parent and going to all of their games and traveling so much. But what is your No. 1 rule when it comes to enjoying yourself and celebrating yourself?
I love to travel. I would rather be out traveling than sitting at home any day of the week. I would rather be anywhere but home. Home is not my sanctuary. Being out with people, traveling, Europe, whatever, that is what I absolutely love. And I will be doing it until I can't walk anymore. But not everybody likes to travel. Some people are homebodies, so that's just me. Somebody says I can go somewhere, and I'm like, "When? Where can we go?" I love to be busy. I would rather not be home washing laundry.
Do you have a favorite place that you've ever been?
Oh, geez. Europe's pretty special. Tuscany. I like England just because of the history. I get to go to Germany this year, so that's kind of fun because the Chiefs are playing the Miami Dolphins. I did really think that Croatia was one of the most beautiful countries I had ever visited. That's where my great-grandmother grew up. So I wanted to go there and this was the first time I had a chance this year. So it's pretty awesome.