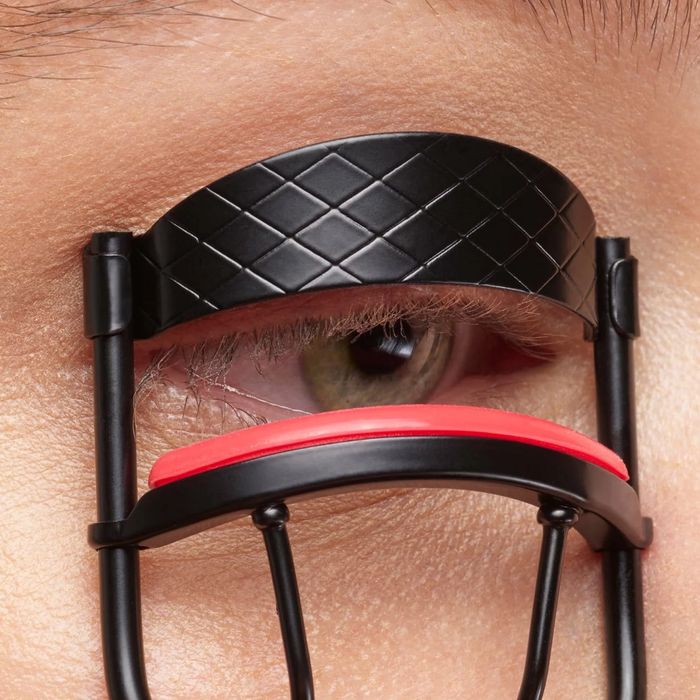 Ask anyone who's a fan of a luscious lash look (that would be everyone) and you'll realize that finding an exceptional mascara is only half the battle. For lashes so long and voluminous your neighbors will feel a slight breeze when you blink, an eyelash curler is an absolute must-have item in your beauty bag of tricks. Seriously, if you still assume a curler will do little for your lashes, it's time to think again. "Most of us have some lashes that grow straight or downward," explains David Birdwell, celebrity makeup artist and BUXOM Cosmetics's Executive Director of Global Education and Artistry. "A lash curler will change the pattern to curled so that you get an instant lash multiplying effect for increased density."
Of course wielding this essential beauty tool isn't without some finesse. You are squeezing the delicate hairs right next to your eyeballs after all — proper technique is required so you avoid pinching your eyelid in the pursuit of beauty. So, what's the secret to maximizing the effects of your favorite eyelash curler? "The key to getting the most lift to your lashes is getting [as close] to the root as possible," says Birdwell, who is a fan of curling lashes even when you don't follow up with mascara to open up the eyes and help you look more awake. Does that mean just a quick one-two squeeze with the curler in the center of your lash line? Not quite. Here are five crucial eyelash curler tips that will have you resembling Bambi in no time.
Eyelash Curler Tip #1: Always Tilt Your Head Back
In order to maneuver your curler as close to the root of your lashes as possible, Birdwell reveals that how you're looking in the mirror is key. "Lash curlers mimic the [eyelid] shape," he says. "Like makeup brushes, let the shape of your curler do all the work for you." To get the most out of your curler, he suggests tilting your chin up while looking straight ahead in the mirror to open up the eye area. Then maneuver the curler horizontally to place the lashes in between the eyelid guard and cushion pad. "Tilt the curler back to a vertical position and gently press the guard back into the socket of the eye to lift and expose all the lashes, then gently squeeze."
Eyelash Curler Tip #2: Squeeze and Repeat
Since you're working on a delicate area of the face, you want to make sure you don't aggravate your lashes too much. Birdwell recommends gently squeezing the curler and holding for about five to ten seconds. "After you can examine the results, if you want more of a lift in the outer or inner corner, rotate the curler to angle the center of the curve where you want more lift," he says.
Eyelash Curler Tip #3: Heat Is Your Friend — To a Point
Heating up your lash curler with a blowdryer can potentially help to set your curl for longer, but, like most TikTok beauty tips, Birdwell says the risks might be too great to attempt the technique. You don't want to burn your skin! Instead, he suggests looking for a heated eyelash curler if you want to see if the heat will give your lashes the curled effect you're after.
Eyelash Curler Tip #4: Always Curl Before Applying Mascara
To avoid breakage and prevent your lashes from sticking to the curler, Birdwell stresses that you should always curl prior to applying mascara. "The only time you can re-curl the lashes [is] after the mascara has worn throughout the day," he says. "The reason being is that if your mascara is still wet when you curl, it can start to clump and stick and potentially pull some lashes out. Also, depending on the mascara, sometimes it can dry and cause the lashes to be more vulnerable to breakage." Play it safe and keep your curling to the beginning of your makeup routine. And if you're using a lash primer, you'll add that in between curling and mascara.
Eyelash Curler Tip #5: Find a Curler That Complements Your Eye Shape
Birdwell explains that not all eyelash curlers are designed the same, and the shape of your eyes might not work well with your current lash curler, especially if your results seem less than impressive. Try out a few different options for your eyes to find the best fit, like the Revlon Extra Curl Eyelash Curler for almond-shaped eyes, or the Kevyn Aucoin Eyelash Curler for more rounded eyes. The makeup artist's personal go-to? The Laura Mercier Artist Eyelash Curler, which he says works on all eye shapes.
Follow up with some mascara (Birdwell suggests a waterproof formula if your lashes struggle to hold a curl throughout the day), and a swipe of eyeliner on the upper water line to darken from root to tip, and you'll soon be the eyelash envy of everyone you meet.
This advertising content was produced in collaboration between Vox Creative and our sponsor, without involvement from Vox Media editorial staff.