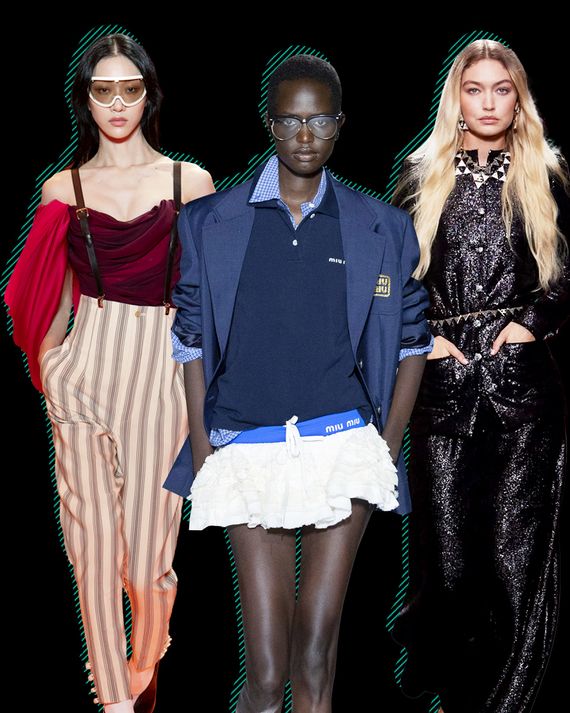 (Left to right: Louis Vuitton, Miu Miu, Chanel)
Photo-Illustration: by The Cut; Photos: Louis Vuitton, Miu Miu, Chanel
Prada gives you something for your trouble, which can't be said of a lot of designers. She presented so many possibilities, without losing sight of the woman — a woman whose attitude you'd like to possess. Other designers talk of reclaiming joy and allowing women to freely express their sexuality. Prada can't be bothered. That kind of rhetoric bores her to tears, and she's already beyond the conversation anyway.
As she has done before at Miu Miu, she took elements of uniforms and broke them down, giving them a different context and new proportions. She lowered the focus of the proportion to the hips. The style might be those structured-looking gym shorts, with a sharply defined waistband, or an ultra-short, frilly miniskirt in white or black cotton, or low-slung boy trousers with a wide leather belt. She then mixed up the top portion, layering polos over shirts, adding a blazer, or simply showing a polo alone with a ruffled mini. Maybe her best look was a straight-line suit — in warm brown leather, distressed tan suede or gold cloque — with that on-the-hip skirt, belted, and the indifferent blend of a polo put over a dress shirt.
The show was a school in itself of gestures, form, and accessories, including the big nerdy glasses, plain Mary Janes, and worn-looking boat shoes, which are square enough to be funny. In its messy attitude, the show was also a great antidote to the overly dressed up and groomed celebrities and influencers in Prada's own front row; everywhere, in fact.
Louis Vuitton's show made me think a circus had come to town on the Champs-Élysées. The company took over the construction site of its new megastore, draping the space with orange parachute-type fabric and putting down a corrugated orange metal runway. Nicolas Ghesquière's clothes also had carnival or European country fair aspects, like the flowing peasant skirts and romantic blouses in contrasting stripes or checks that opened the show. Sometimes he switched out the blouse for a two-tone leather blouson.
Vuitton is chiefly a leather-goods business, which seems to give Ghesquière the freedom to let it rip with the fashion. I have no idea what place a charmeuse blouse with a Shakespearian burgundy bodice and lavishly draped sleeves in fuchsia has in the world. He put this singular garment with a pair of high-waisted, candy-striped dandy trousers and finished off the look with narrow suspenders. But I always admire his imagination and waywardness in our formulaic era. Also exceptionally out there and beautiful in craftsmanship were a series of jackets, one in stripes worn with matching pants, another in embellished houndstooth, with hems scissored into wide flaps that fanned open over a soft, layered white skirt.
Both Pierpaolo Piccioli of Valentino and Chanel's Virginie Viard had summer in mind. A lot of the collections in Paris and Milan have been dark and covered up. Showing under the generous skylights of the École des Beaux-Arts, Piccioli opened with pure white — cotton shirting and a new embroidery technique that sculpts pieces of fabric in high relief against a sheer, semi-transparent background. The patterns of flowers, animals, and foliage were in the Baroque style, but the 3-D effect was modern. And a nice change from showy embellishment. Piccioli kept things grounded and simple, with structured white T-shirts, including one shown with a terrific pair of jeans done in the high-relief mode, and long, summery dresses — more or less T-shirts — with key-hole cutouts.
Viard attempted to transport her audience to the summer estate in Hyères, in the South of France, once belonging to the art patrons Charles and Marie-Laure de Noailles, built in 1923. Like Ghesquière, she even included an old-fashioned camera on a neck strap, perhaps doubling as a cute bag. She opened with long tweed house dresses with flip-flops. Her mentor, Karl Lagerfeld, once showed an at-home dress like that, and so did Oscar de la Renta, a nod to a sophisticated lifestyle that now must seem as foreign to people as the Noailles, even in France.
Viard approached the hues and patterns of a Coco-French summer from every angle, including some weirdly colored patchwork and trimmed-out tweed suits over bra tops with skirts that had a pointless uneven notch at the hem. She had a little bit of everything, for every taste — except one, an authoritative image of a woman. That's what keeps eluding Viard. She has all the Chanel stuff, the so-called "codes," but she can't offer us, as Prada does, for example, a modern female character.