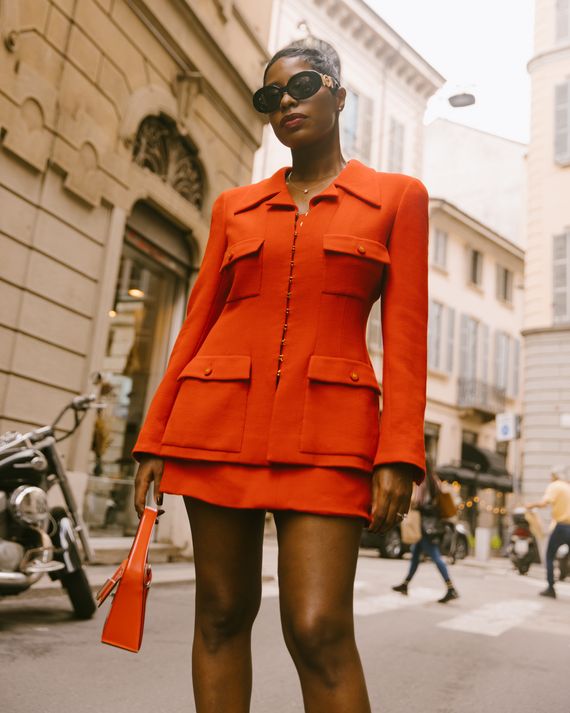 Jenee Naylor, a fashion and beauty creator, usually blends something chic, like a pantsuit, with something that has a little bit of edge, like Versace glasses. Her signature style is very tailored, and you'll almost always see her in a pair of designer sunglasses — what she calls her "secret weapon." Naylor has a formula for her style.
But it wasn't always that way. Naylor, who quit her job at Target as a store lead only a year into content creating, started her YouTube channel in 2019. She heard from people that she needed to wear more color: "'You need to get your standout and get your picture taken.'" Well, she got her picture taken. But she didn't feel like her because it caused her to do "outlandish things," like wearing pieces that felt like a costume. Today, she wears what feels comfortable to her: "I don't like to fidget or have to adjust my clothes." And she is filling a serious gap as a Black woman in street style. Here, Naylor talks about finding her style, finding young designers, and her Fashion Week experiences.
So how did you find your sense of style? 
I paid attention to how I felt: Certain outfits make you feel good and certain outfits make me feel a little cringe. I made this YouTube video at the top of this year and I rated my own outfits: my ten best outfits and ten worst outfits. I went off of how I felt in the moment when I was wearing it. And then looking back, do I feel proud of it? Is this something that I still have in my closet? Is it something I want to pull out again? That helped me hone in on those elements of consistency. I paid attention to: What are the themes here? What am I always seeing? What always made me feel good? And then what things always made me feel cringe after the fact? Looking back on them, what are the commonalities? Sometimes I feel like I have to wear something new, something outside of the box, and I usually hate those outfits. So now I stick to what I like and can have a little more fun with that. If I want to wear a blazer with every outfit, then that's what I need to do.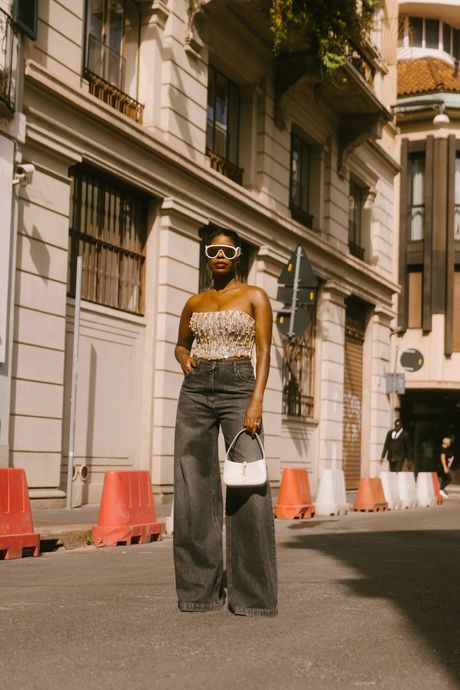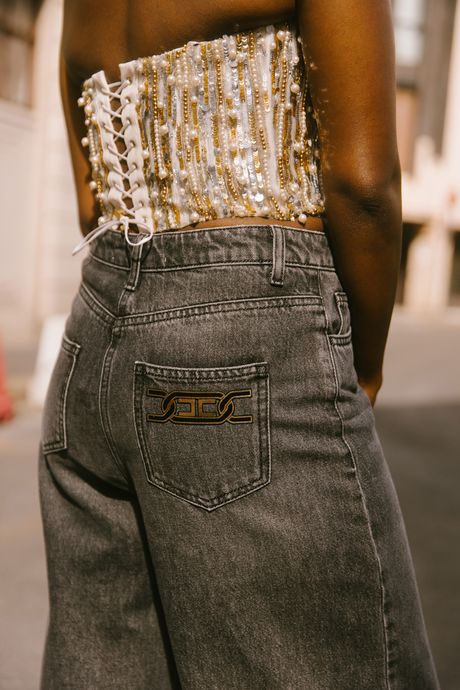 When it comes to working with younger designers, how do you find them? 
Recently I found a brand, Aknvas, by buying a piece of theirs off of ShopBop. I wore it and then I looked them up. I tagged them and they reached out immediately. The creative director said he wanted to send me something, and we've kept in touch. I want to be at the big shows that I am connected to, but I don't need or want to be everywhere. There are big brands that I'm very passionate about, but also a big part of my job is introducing my audience to new brands and helping them filter through. I showcase not only their aesthetic but what the brands stand for, and this is how they support women and this is how they're inclusive. So for younger brands, I want to ensure I find brands I'm aligned with. I want to have a healthy balance. Because if I am only focused on the big brands, what is really my goal? We all know them. For me, my goal is always to educate and add value. My goal to go to the show is to gather information to be able to share it. There's much more information to gather at the smaller shows and the younger brands because they just aren't known.
When you see a younger brand that you love, how do you know you want to work with it or want to educate your community about the brand?
I always ask, "Do you want people like me to wear your clothes?" Because that's important. I can tell when I put it on my body if you do or you don't. And then, it's about the people. I don't share for money, but it must still be some type of give and take. So do they keep me top of mind, just like I'm keeping them top of mind? That's what I look for, after we get past the actual fashion part, and that's something brands like Aknvas do. They want you to be there because they appreciate the support. Another one I feel the same way about is PH5. It's kindness and the embrace. I didn't know about them before last Fashion Week. They invited me to something, dressed me, and I talked to them the entire time during their presentation.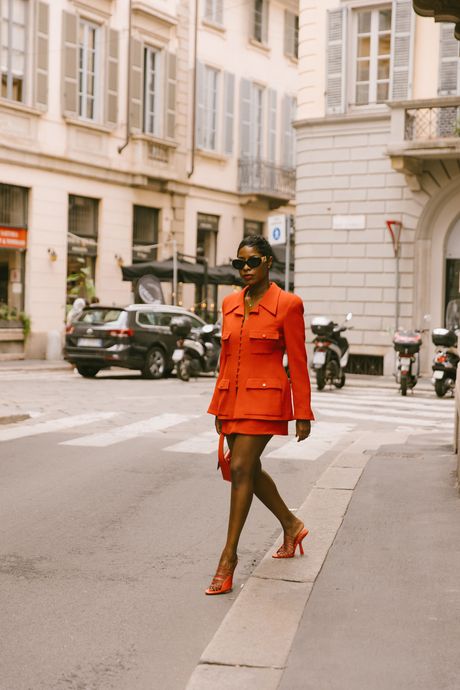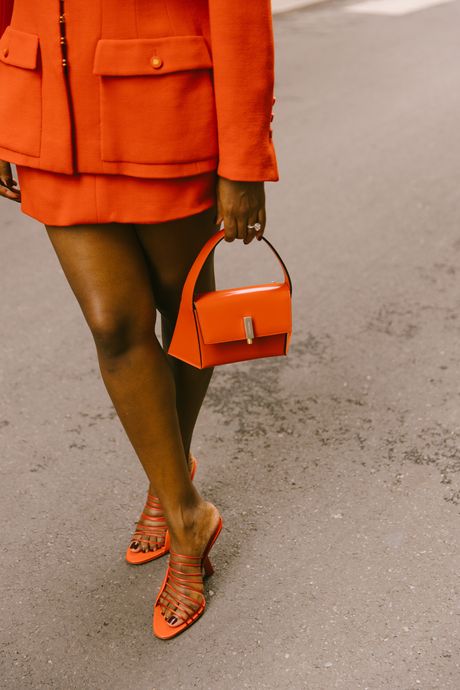 That's important. Not everything is cut for Black bodies. I think even seeing you in so many street-style photos as a Black woman is amazing because a few years ago we rarely saw that.
I used to just scroll all the street style and all the pictures were of white women. It would suck. I remember even when I started my YouTube channel four years ago, I wasn't going to Fashion Week yet, but I would do the trends and roundups and people would always ask, "Why is every picture of a white person?" That is literally all I could find. I would be scouring the internet, working overtime, trying to find pictures of Black people.
You always have perfectly tailored pieces. What's your No. 1 tip for people who want to get into tailoring their clothes? 
I always tell people, if I'm going somewhere and meeting people for the first time, I will probably have on a suit or a blazer. That's my little secret confidence booster. It just makes me feel like me. Something about strong shoulders and a nipped-in waist makes me feel like, I got this. So that's just something I always look for.
In the last year I've started wearing suits more and then that kind of transitioned into, even if I'm not wearing a suit, tailored pants. They kind of gives off the same thing. Jeans sometimes are not elevated enough, and if I want it to be easy and not have to do that much work, I can just throw on a trouser and it looks like I did. It's about the ease. It's like, How can I look my best in the easiest way possible? It's either a blazer or trousers.
Now, you go to the shows yourself, and you usually do the entire European tour after New York. How do you pack for Fashion Week?
This season looks very different because I'm getting dressed a lot more by brands, so I've been very intentional. I tried not to buy anything new. The first few days all the stuff I wore was to events and just smaller things were just old stuff, that were just favorites.
It's all about the extras and the essentials. Having multiple shoe options because you have to think about any and everything. I might get a red dress, do I have a shoe to go with that? Someone might give me a pantsuit, do I have a shoe to go with that? If I get something that's too long and they can't alter it, I need a flat shoe. For daytime events, I need a sleek sandal. So just packing all the options. And it's the same thing with bags and basics. If I get something where I need to wear a tank top underneath or even a button-down. I try to think of all of the options for any configuration of an outfit. And then comes the candy — the jewelry and the sunglasses, my secret weapon. I try to just have everything. Then we have a little tool kit, I call it: boob tape, the little nipple pasties, safety pins, the lint roller, Shout wipes — that'll fix literally anything that needs to be fixed — and hemming tape. I always have an evening dress with me, just in case I get invited to the red carpet. And also a regular outfit, if I want to go run an errand down the street to Sephora.
Do you have any style rules that you live by or style rules that you like to break?
I like to break most of them — all of the old ones, at least: You can't wear navy and black was a rule, you can't wear white after Labor Day, your shoes have to match your bag. I really live by no rules regarding fashion. I still get that question sometimes: "Can we wear white shoes now?" I can wear whatever I want and so can you — that is literally what I will tell people. I always get those comments, and it's like, I promise you, it'll be okay. Nobody's going to come and arrest you.
What do you do to recover from wearing heels for literally a month straight?
This season, my goal has been only comfortable shoes. I have done my due diligence and my extra leg work to get comfortable shoes. So that means somebody I always talk about is Kendall Miles. When I tell you they're the most comfortable shoes I've ever worn. There's so much cushion in them.
I hate wearing flat shoes because I'm so short, but some days I wear flats. I bought a few lower shoes, especially for daytime events because I don't need a stiletto to go to something at 10:00 a.m. and I'm wearing a suit. We have to think smarter, not harder. One of the days where it was just several outfit changes, I'll bring flats in the bag, which is something I typically wouldn't do. But I'm like, Listen, once I walk around this corner, the show's over.
When it comes to shopping, where do you like to shop?
I mainly shop online just because it's so much easier. And if I'm shopping for more affordable pieces, H&M, Mango, and Massimo Dutti have been my go-tos, and I would throw Shopbop in there. They have a little bit of everything. I like those because even when I'm shopping online, the user experience is very important to me. Navigating the website, how you style the pieces is a part of shopping. It needs to be easy, but it also needs to be attractive. I like how FRWD styles things, so I like shopping there, too. I've always been a Farfetch girly, but that's because they literally have everything. If I'm in-person shopping in New York, I always go to Bergdorf Goodman.
Naylor's Fall Wish List: