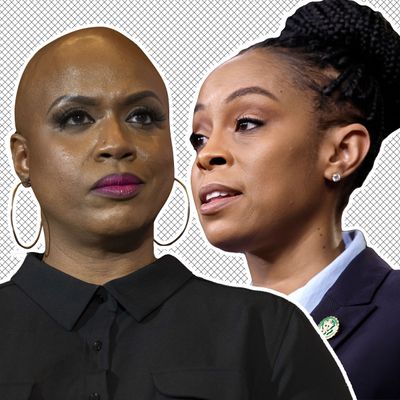 Congresswomen Ayanna Pressley and Shontel Brown.
Photo-Illustration: The Cut; Photos: Getty
For years, Black women have complained about the possibility that hair relaxers, which often contain known carcinogens, could be linked to adverse health issues. Although some studies have identified a correlation between relaxers and elevated risks of ovarian, uterine, and breast cancers, the Food and Drug Administration's guidance on the products has basically amounted to urging people to read their labels carefully. Now, however, the agency may finally be responding: On Wednesday, the Root reported that the FDA plans to propose a ban on formaldehyde and other formaldehyde-releasing chemicals like methylene glycol, which are found in many hair-straightening products. In a statement announcing the purportedly forthcoming rule, Congresswoman Ayanna Pressley called it "a win for public health — especially the health of Black women who are disproportionately put at risk by these products as a result of systemic racism and anti-Black hair sentiment."
"Regardless of how we wear our hair, we should be allowed to show up in the world without putting our health at risk," she added. "I applaud the FDA for being responsive to our calls and advancing a rule that will help prevent manufacturers from making a profit at the expense of our health. The Administration should finalize this rule without delay."
The change comes months after Pressley and Congresswoman Shontel Brown wrote a letter to the FDA, asking it to review the safety of relaxers, which — in addition to formaldehyde — also have phthalates (a class of chemicals considered endocrine disruptors) and potentially carcinogenic heavy metals in them. While some studies have shown an association between relaxer usage and cancer diagnoses, they haven't shown a direct causal link, meaning other factors could also play a part in the development of cancer. Still, dozens of lawsuits have been filed against companies that make relaxers, with plaintiffs alleging that using the products several times a year over many years resulted in their cancer diagnoses. Companies that have publicly addressed the allegations, specifically L'Oréal, have countered that the suits are "vague" and neither legally nor scientifically sound.
But concerns linger, and in response to the reported regulation, Brown said: "On behalf of women, especially Black women across the country, I applaud the FDA's new proposed rule banning formaldehyde and other harmful chemicals from hair straighteners."
The Cut has reached out to Pressley's and Brown's offices as well as the FDA for additional information.