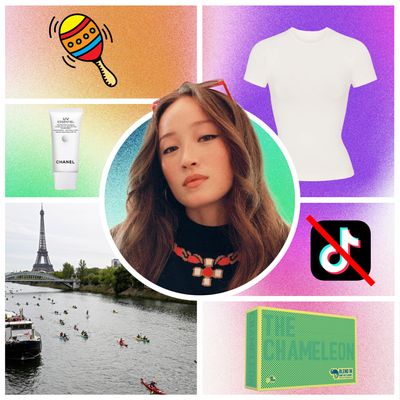 Photo-Illustration: by The Cut; Photos: Julia Marino, Getty Images, Retailers
It's a rainy morning in Paris, on the last day of Fashion Week, and everyone is waiting for the final and highly anticipated show — Chanel. In the heart of the fashion district, Bottoms actress and model Havana Rose Liu is getting ready for the show at Le Bristol Hotel. It's 8 a.m., but she has already been up and had her black coffee with almond milk. On this day, she is getting ready in silence, but she usually likes to listen to some bossa nova. "That's my go-to," she says.
Her hairstylist is blow-drying her long sandy-brown hair, and her makeup artist is adding the finishing touches to her look: a rosy Chanel lip liner that completes her outfit. Liu jokes that she's so used to getting her hair and makeup done by professionals now that when she does it herself she's not as impressed.
She's already dressed in a Chanel knit set adorned with the brand's signature chain detailing. Her pink tweed Chanel bag is sitting on the couch, and there are fun matching pink sunglasses next to it, but Liu is still deciding if she'll wear them or not. In this Paris rain, there isn't much sun to block.
I visited her and we chatted about her immaculate taste, which she denies: "Do I even have a taste in anything?" she asked jokingly.
Where do you get your best culture recommendations?
Word of mouth more than anything. I am constantly asking people whom I like or enjoy or meet what they love to do or where they like to go, and then I feel like I follow their bread crumbs.
What's the best advice you've ever received? 
Not overthinking and being in the present have helped to define literally every aspect of my life. It's in the very simple phrases.
Sometimes the simple things go the farthest. How about the worst advice you've ever received? 
Anytime someone tries to convince you that you should be very cautious or worried about what a lot of people think, it is a pitfall. I think bad advice comes when people have anxieties or insecurities themselves and they're projected. I've received lots of bad advice in my life, and weeding that out has not been a fun process, but I don't have one particular one that I'm like, that was the worst. 
People in my life have even taken big steps and learned things about themselves, and then it takes me a second to catch up, and you're like, "Ah. You were saying that to me a while ago and I didn't realize." So much is on their own timeline.
What's one piece of clothing everyone needs in their wardrobe? 
A good, comfortable white T-shirt. There's a beauty and simplicity to it. If you have a really nice T-shirt that you really like, you can dress up or down. It's so versatile; it accompanies you everywhere and you know you feel good in it. It's like a comfort blanket that lives on your body.
How about beauty products? What's the one product everyone needs?
Sunscreen. I was told I have a lot of sun damage recently, and now I'm conscious of it. I used it while growing up because I have such fair skin that I would turn into a tomato in three seconds in the sun. But I didn't incorporate it into my routine in my adult life until more recently. See me in 30 years; you won't recognize me. I'll have just one wrinkle. Before that I would've probably said a really intense moisturizer. I think a lot of skin issues come from people being severely dehydrated, so I love a good moisturizer.
Well, while you're in Europe, you have to go to its pharmacies and stock up on sunscreen; the country has the best formulas.
I'll be running from the Chanel show to the pharmacy to the airport. That's my three-step plan for the day.
What else do you absolutely have to do before you leave Paris?
I think a long walk along the Seine is just so special. I feel like one of my favorite things about New York is its rivers and how water based it is. Being by the water in any city gives you a good scope of what the locals do, as well. I walked and watched all these couples on their little dates on Friday and Saturday night, just sitting by the Seine with some picnic stuff. I felt really happy to be there and just immersed. Being by the water is just so good for my mental health.
Do you have a favorite game you like to play?
My family and I play Chameleon; it's a fun card game, but sort of a tricky game that we just play as a big family. It's about lying and acting, in a way, and I think my family didn't think I was very talented until we started playing that game together. Now I feel like a winner when I play. It's been a more recent activity; my family really likes to play board games and group-activity games together.
Are you super-competitive? 
I'm not competitive, but they are. Now, sometimes, there's no greater satisfaction than winning and not being competitive in a group of really competitive people.
When is the last time you wanted to make a TikTok?
I have never made a TikTok in my life.
Wait, you're so rare. You don't even joke and make some, and then just keep them in drafts? 
Actually, my friend and I would do dance challenges during the pandemic. But through her app; I never touched it, but I would dance to them. That's fun. Right?
It is. You must have great social-media boundaries. You don't scroll apps at all? 
Sometimes Instagram, but I think it's literally the most toxic thing for you, so I try to stay off the apps as much as possible. I usually have Instagram taken off my phone, and then I go on Safari. The more I spend time on social media, the more I feel like I'm diffusing myself. It's like I don't know what's me versus what I'm consuming. I feel like we all see the same things all the time, and then we all become the same thing based on that influence, so I just try as much as possible to make pretty healthy boundaries around it and try to expose myself to other stuff, but sometimes you get in a total hole.
Yeah, I think it is important for everyone to touch grass. Social media will always be there. Last thing: You're catching an Uber XL with eight seats — who are the people you're choosing to ride in the car with you? 
My entire family, really, because we do road trips a lot, so it would be normal. We're always crammed in the car together listening to music.
Do you all sing along, like karaoke?
We do. I haven't been home in a few weeks, so I really miss my family.