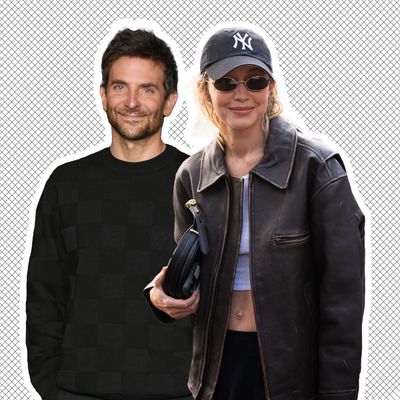 There is, allegedly, "an attraction."
Photo-Illustration: The Cut; Photos: Getty
A recent spate of divorces may have you feeling like love is dead. Well, you can stop worrying: Certain sources have promised us "there is an attraction" between supermodel Gigi Hadid and aspiring director Bradley Cooper.
Recently, the two were photographed leaving Via Carota together and, days later, getting into the same car in New York. A few days after that, they were sharing a vehicle yet again, and — judging by the duffels they unloaded from the trunk — potentially returning from a mysterious weekend trip. Following their getaway, People got to the bottom of the matter: According to an unnamed source, Gigi and Bradley have "things in common, so it's possible to see it progress." "It" being the romance, which, again, is very much alive and kicking, thanks.
On Friday, the pair made tabloid headlines again — this time for walking around New York City in the rain together, dressed for two very different outings. Gigi wore a knit hat, a belted black coat, and sunglasses, whereas Cooper wore no protective layer to speak of, a sporty backpack, sweats, and Ellen DeGeneres–branded boxers during the downpour. "Page Six" reports that the "unlikely duo" were "headed back to Cooper's luxe townhome" when paparazzi spotted them.
But let's not get ahead of ourselves, as some might have done when Gigi crossed paths with Leonardo DiCaprio. People's informant helpfully noted that while these two are "having fun," they're keeping it "super-casual." Gigi is, after all, "independent, busy, and her days are filled with responsibilities," the source added. Then again, she has allegedly "had sort of a crush" on Mr. Jackson Maine "for a while," and is therefore pleased about how things have worked out. Sounds like romance to me.
This article has been updated.