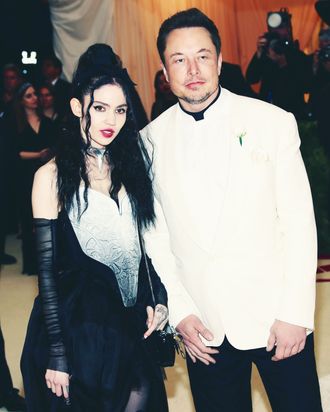 Photo: Amy Sussman/WWD/Penske Media via Getty Images
Claire Boucher, also known as Grimes, is suing her ex and our unfortunate X overlord Elon Musk over parental rights. On September 29, the singer, who shares three young children with Musk — X Æ A-Xii, Exa Dark Sideræl, and Techno Mechanicus — filed a "petition to establish a parental relationship" in a California court, according to records obtained by "Page Six." Now, a new report from Insider suggests Musk may have sued Grimes first.
Musk and Grimes began dating in 2018 and officially "semi-separated" in 2021. It was a three-year on-again, off-again relationship that the singer once beguilingly referred to as "the best internship ever." They welcomed X Æ A-Xii in 2020, followed by daughter Exa Dark Sideræl, or "Y," in 2021 and Techno Mechanicus — Tau for short — in 2022. Y and Tau were both born via surrogate.
On September 7, Grimes claimed in a since-deleted Tweet that Musk wasn't allowing her to see one of their sons. "Tell Shivon to unblock me and tell Elon to let me see my son or plz respond to my lawyer. I have never even been allowed to see a photo of these children until this moment, despite the situation utterly ripping my family apart," she wrote in response to a photo that Musk's biographer Walter Isaacson had posted of Musk with Neuralink director Shivon Zilis and their twins, born in 2021. Grimes later apologized for her response, calling it a "gut-level reaction to a thing that has been very hard for me."
While Grimes's September 29 filing has been sealed, her petition is a common procedure often required to get courts to identify the legal guardians of a child with unmarried parents so that other logistics, including custody, can be hashed out, according to the San Francisco Standard. Although these types of petitions are often filed alongside demands for custody arrangements and child support. According to Insider, Grimes's lawsuit requests physical custody of the children and includes a "standard restraining order" that would prevent them from being moved out of California by either parent.
But this suit seems to have been filed in response to a suit filed by Musk on September 7. His lawsuit, obtained by Insider, which attempts to "establish the parent-child relationship," also accuses Grimes of moving from Texas, where he says she lived with him and their children between May and July of this year, to California, allegedly to "circumvent" the jurisdiction of Texas courts. Musk, who lives full time in Texas, says he wants the state's courts to settle their custody dispute if he and Grimes don't reach a resolution on their own.
Per Insider, a hearing was originally scheduled for Friday but was canceled after both parties agreed to a seal, with Musk noting in his suit that publicly disclosing information about the case "would jeopardize the health, safety or liberty" of himself, Grimes, and their family. According to Insider, lawyers for Grimes and Musk declined to comment on the filings.