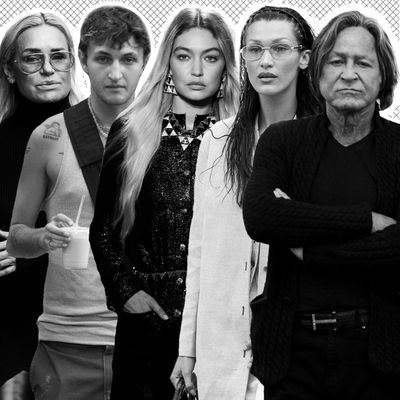 Photo-Illustration: The Cut; Photos: Getty
Last week, Gigi Hadid posted a considered take on the Israel-Hamas war to social media — and now she and her family members are reportedly receiving death threats. The supermodel, who is half Palestinian, released an Instagram statement condemning the "terrorizing of innocent people" while also emphasizing that supporting Palestinian liberation is not antisemitic.
"I have deep empathy and heartbreak for the Palestinian struggle and life under occupation, it's a responsibility I hold daily," Hadid wrote on October 10. "I also feel a responsibility to my Jewish friends to make it clear, as I have before: While I have hopes and dreams for Palestinians, none of them include the harm of a Jewish person. The terrorizing of innocent people is not in alignment with and does not do any good for the 'Free Palestine' movement."
On October 7, over 1,300 Israelis were murdered and at least 199 taken hostage in a violent surprise attack by Hamas, the militant group that controls the Gaza Strip. The Israeli military swiftly and brutally responded with airstrikes, killing (at time of writing) more than 4,000 civilians in Gaza, displacing almost half of the area's population, and cutting off critical resources within the territory. As the conflict intensified, Hadid weighed in again over the weekend. "There is nothing Jewish about the Israeli government's treatment of Palestinians," read a post she shared to her Instagram Story. "Condemning the Israeli government is not antisemitic and supporting Palestinians is not supporting Hamas."
Shortly thereafter, Israel's official Instagram account reposted a version of the infographic Hadid shared, but twisted the original words: "There is nothing valiant about Hamas' massacre of Israelis. Condemning Hamas for what it is (ISIS) is not anti-Palestine and supporting Israel in their fight against barbaric terrorists is the right thing to do." Israel also publicly accused the model of "turning a blind eye to Jewish babies being butchered in their homes" and tagged her in photos of bloodied hospital floors.
Since then, TMZ reports, the entire Hadid family — not just Gigi but also her sister, Bella; brother, Anwar; mother, Yolanda; and father, Mohamed — have been receiving "ominous messages that make them fear for their lives" via email, social media, and their private numbers. The outlet's sources allege that several of the family's phone numbers were leaked online in recent days, prompting strangers to send threats that purportedly include "graphic descriptions of how they would carry out the Hadids' executions." According to TMZ, the Hadids have changed their numbers as a result of the threats, and Mohamed Hadid, a Palestinian immigrant, is considering going to the FBI. After Hamas's initial attack, he spoke out against the "far right" and "Zionist" government of Israel for creating "this massive escalation between the occupied and the occupier" before later clarifying that he is against "the killing and hostage taking or abusing, torturing of civilians," regardless of whether they are Israeli or Palestinian. While other members of the family have spoken up for Palestinian liberation in the past, they have not yet publicly commented on Hamas's attacks or Israel's bombing of Gaza.
Over the past week, the FBI has flagged an increase in threats against Jewish and Muslim Americans alike. This past weekend alone, a man in Michigan was charged with making a terrorism threat after asking on Facebook if anyone in the Metro Detroit area wanted to "go to Dearborn & hunt Palestinians." Meanwhile, in a suburb near Chicago, a man fatally stabbed a 6-year-old Palestinian American boy and seriously wounded his mother in what police believe was a hate crime motivated by the conflict between Israel and Hamas. None of the Hadids have commented on TMZ's report.