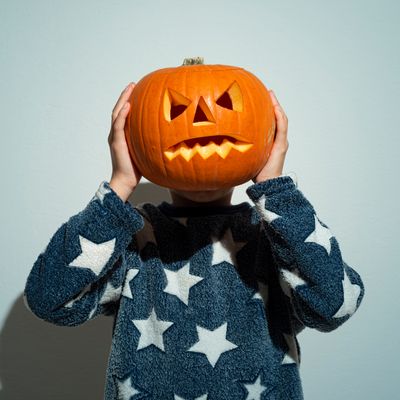 Photo: Francesco Carta fotografo/Getty Images
Remember Helena Garcia, the 2019 Great British Baking Show contestant who was obsessed with Halloween? I think of her often and fondly. She wore witchy brooches and gothic-looking collars and said things like "Flies come to me because I'm dead." Every week, she managed to manipulate all the challenges into a series of entirely over-the-top Halloween-themed tableaux. It was both impressive and scary — not just in the spooky All Hallow's Eve sense but due to the sheer amount of creative energy she channeled into crafting severed witch fingers out of fondant and molding tempered chocolate into vampire fangs. How can one mediocre holiday inspire so much innovation?
I've never been a huge Halloween girl — mostly I associate it with adolescent anxiety around what party I'm supposed to be at and which group costume is the least embarrassing — and I haven't dressed up since I slapped together a slutty Edna Mode getup in college. The Halloween weekend crowds tend to trigger some agoraphobia in me, and as someone without children, I can pretty peacefully spend the last night of October (and its neighboring dates) as I would any other night. If we want to be as reductive as "pro" or "anti," I probably fall among the antis.
Maybe you are not like me and you understand Helena. Maybe your blood boiled just a little when I called Halloween "mediocre." Maybe you spend all year preparing for the week when you can pile on prosthetics and cover your yard with blow-up ghouls. If so, I would like to say: Thank you.
Over the past few years, these Halloween freaks have come to occupy a beloved corner of my heart, kind of like hairless dogs and Doja Cat — concepts I love, but from a safe distance. We, the Halloween grinches, cannot exist without an equal and opposite force of cultish enthusiasm. Halloween may do nothing for us, but if it were to slip by like any other day, uncelebrated and unobsessed over, we would spend all of fall waiting for something to happen and feeling low on blood sugar. Thanks to you, the Halloween people, we can enjoy the more laid-back elements of this holiday — rating jack-o'-lanterns, judging dog costumes, downing fun-size Twix by the fistful — without having to put in any of that exhausting effort you seem to enjoy so much. The second Megan Thee Stallion starts sticking her entire head into a pumpkin, a feverish tingle shoots up my spine: The candy-corn harvest is upon us.
How else am I supposed to usher in the arrival of crisp air and pumpkin-spice lattes than by watching my neighbor stretch a jumbo spiderweb across her entryway? Who, pray tell, is going to supply me with an endless stream of mini-candy if not the Halloween-crazy family of four downstairs? If slutty maids and frat bros dressed like Mario did not swarm to downtown New York every Halloweekend, I would have no convenient excuse to skip parties between October 25 and November 5.
Also, without an unhinged customer base, we would never have been blessed with that humongous skeleton that circulates on Twitter every year. Goddamn it, I love that skeleton! Already this year, she has appeared in our feeds dressed as Barbie, Taylor Swift, and Travis Kelce. I, for one, do not want to live in a world without 12-foot Traylor skeletons.
So if you thrive on plunging your hands into pumpkin gunk and hearing passersby scream in terror as they pass your fake-blood-soaked window, this one's for you. Come October 31, when I am boiling a very normal pot of weeknight pasta and Googling "least scary horror movie," I'll be thinking of you and wishing you an intense Halloween. I will never understand, but I stand.