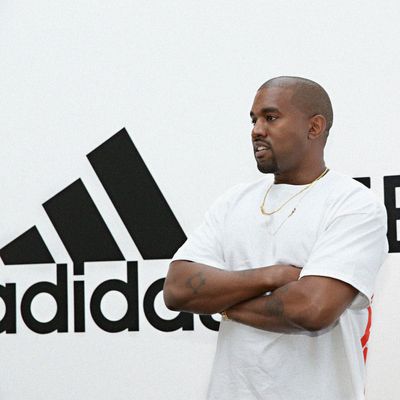 Photo: Jonathan Leibson/2016 Getty Images
For more than ten years, Adidas allegedly turned a blind eye to Ye's (formerly known as Kanye West) reportedly toxic and antisemitic outbursts. A new report from the New York Times highlights a decade of problematic behavior, including making sexually offensive remarks, that continued to go unaddressed until the company ended its highly lucrative deal with the rapper last year.
The German sportswear brand entered into a partnership with West in 2013, seeing a near-immediate boost to sales for the company though highly coveted, hype-beasty garments, and throttling the rapper to billionaire status. That same year, according to the Times, West was displeased with the pitches brought before him during a meeting with executives in Germany. To convey his frustration, West allegedly took a marker and drew a swastika across one of the sketches of a shoe — a universally offensive symbol, especially in Germany, where nearly all displays of the symbol are banned. Just weeks before this incident, West reportedly had executives watch porn in his New York apartment to "spark creativity." While Adidas had the right to end its agreement with West if his behavior began harming the company's reputation due to a clause in their contract, it would be years before higher-ups at the company would consider terminating the partnership.
Over the next decade, West's erratic behavior continued as Adidas proceeded to rake in billions of dollars. Sales of the partnership's famous Yeezy shoes surpassed $1 billion annually alone while staffers internally reported abusive behavior from West, including allegedly asking a Jewish Adidas manager to "kiss a portrait of Hitler" daily, telling colleagues at the company that he "admired Hitler's command of propaganda," and, once again, ambushing executives with a sexually explicit film. Employees also complained to higher-ups about sexually offensive comments from the artist.
Instead of reining West in, Adidas seemingly adapted to his behavior, working around and even ignoring it. According to the Times, higher-ups within the company started a group text dubbed the "Yzy hotline" in order to discuss West and continuously swapped employees in and out of dealing with the artist directly. Over the years as concerns swirled in the background, the rapper's partnership with the brand became even more lucrative, first in 2016 when he was awarded 15 percent royalty on net sales, $15 million up front, and company stock worth millions of dollars annually, then again in 2019 with a $100 million boost that was, in theory, for Yeezy marketing but reportedly given little supervision.
Though Adidas finally terminated its partnership with West following a public tirade of antisemitic remarks in 2022, the company made a last lob at gleaning whatever money it could from the deal this year. In May, the brand began selling $1.3 billion worth of Yeezys left in its possession. While a cut of the proceeds will reportedly be given to charity, the rest of the revenue will still go straight into the pockets of both Adidas and West.