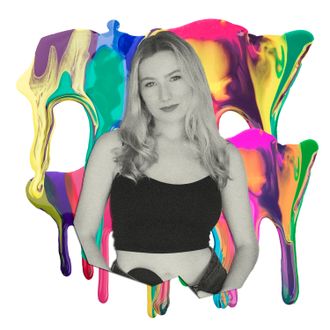 Photo-Illustration: The Cut; Photo: Abigail Gorden/Yulia Reznikov
Keely Cat-Wells always dreamed of being a musical-theater dancer on West End and Broadway stages. That dream would be derailed when, in her early 20s, she had an ileostomy that left her unable to use the bathroom as a non-disabled person would, instead wearing a prosthetic pouch on her stomach that collects waste. "As soon as I got told that I was going to have the permanent ileostomy, I was like, 'There's no way I will ever be able to have the dancing career I wanted to,'" she recalls.
Cat-Wells was 17 years old and living in London, training to be a dancer, when she started to experience unexplainable weight loss and severe body pain. She ended up spending around four years in and out of hospitals searching for a diagnosis and treatment for her symptoms. "That was a very traumatic time of my life," she says. "I experienced a lot of medical malpractice and came out the other end with a permanent ileostomy, PTSD, and a chronic illness." Today, at 27 years old, she still lives with many unexplained symptoms. "I just have to try and manage them and figure it out on my own without a formal diagnosis, and it's difficult."
Once she felt she could manage her symptoms, Cat-Wells moved to Los Angeles to pursue acting. In her quest to conquer Hollywood, she was discouraged by the lack of consideration for disabled people regarding barriers to entry, financial accessibility, and accommodations. "The entertainment industry consistently prioritizes stamina over talent. The jobs are also not paid well, and it's impossible for people who are disabled and who have extra medical expenses." It was when she lost an acting job after disclosing her medical conditions and asking for accommodations that Cat-Wells started identifying as a disabled person, learning more about disability rights, and connecting with the disabled community. It became her goal to create better opportunities for disabled people in entertainment, so in 2019 she founded her own talent-management company, C Talent. The agency represents high-profile deaf and disabled talent in the U.S. and U.K., and has placed them on projects with brands like Savage X Fenty, Disney, Nike, and Google Pixel. "It not only signified the demand for disability representation," she told the Cut on a recent phone call, "but also the untapped economic opportunity that the disabled community holds." 
Last year, Cat-Wells sold C Talent to Whalar in a multimillion-dollar deal that marked the largest investment ever in disabled talent within the creator industry. Since then, her focus has been on Making Space, a talent acquisition and learning experience platform for disabled individuals from low income or traditionally underrepresented communities. "When budgets get cut and times get hard, disability-specific programs are the first to be deprioritized," Cat-Wells explains. "What I wanted to do with this is create a scalable solution that helps companies save money on their biggest yearly losses, retention, recruitment, and turnover, and in turn help them access a hugely underrepresented pool of talent and get more disabled and underrepresented talent into employment." Making Space Media, a division within the larger company, was co-founded with activist Sophie Morgan to tell untold stories about disabled people and increase disability representation in front and behind the camera. The company recently partnered with Reese Witherspoon's Hello Sunshine to develop unscripted content opportunities for disabled voices. Cat-Wells lives in L.A. with her husband. Here's how she gets it done.
On her morning routine and early start to the workday:
I wake up at five and will try not to wake my husband. I go and make my coffee. Then I will usually deal with all of my health things, including changing my prosthetic and ensuring that I have everything I need for my day to go smoothly. I also may put in orders for my medical needs because my suppliers are all based in the U.K. and Europe time zones. Then, I will usually hop on my first Zoom call around 6:00 a.m. with my amazing tech team based in Ukraine and Poland, and I will take other Europe-based virtual meetings. Next, I move to New York meetings. I'll get to my emails probably around 10:00 a.m., then get ready for the L.A. side of my day to start.
On how she stays grounded:
I call my mom. I do that in the morning because she's based in the U.K. She was the only person who stuck by me when all the doctors didn't believe me and when I was being pushed around from hospital to hospital. She was the only one who stayed with me the entire time, and she shared every single bit of pain. Speaking to her in the mornings and getting her perspective is helpful.
On what stresses her out about the work:
It's the landscape of disability rights in America. When I built C Talent, it would be the issue of helping our talent who couldn't make X amount of money because they would lose their benefits, then dealing with the lack of accessibility on sets and the lack of accessible transport. Someone's wheelchair gets broken on their flight to a speaking engagement, so they can no longer do a speaking engagement. For disabled people, dealing with an inaccessible society while trying to build something is infuriating.
On how American disability rights compare to other countries':
The scary thing is that the U.S. has made a lot of progress. It is decent. I won't say good, but there is milestone legislation here. It's so much worse in other places. Interestingly, the ADA (Americans with Disabilities Act) was put into law 33 years ago, and in the U.K. the Equality Act was only implemented in 2010. It's fascinating to look at how much better it is here than in other places.
It's frustrating that in the U.S. we still have things like a sub-minimum wage for disabled people in 36 states. On the other hand, I read that there are 193 member states of the United Nations, and only 45 of those member states have anti-discrimination policies for disabled people.
On the moment when she felt like she'd "made it:"
I never set out to start a business that generated a ton of income. I just went out with the goal of getting more disabled people into employment, and it's amazing that I have been able to benefit personally. I have no business background whatsoever. I barely finished high school. The day that I was able to buy a house in L.A. was a huge milestone. The day of being able to say, "I'm going to put some money down, buy a house, and pay my mortgage" — that felt good.
On how she celebrated the Hello Sunshine partnership:
Sophie, my phenomenal co-founder, is paralyzed, but she is an adventurer. She rode an adaptive motorbike from Washington, D.C. to L.A. to celebrate. When she arrived, we threw a big party at the bike shed with members of the disabled community and various executives and professionals within the entertainment industry. Afterward, Sophie and I got tattoos.
On small indulgences that get her through the day:
Without a doubt, chocolate. Ironically, when I was sick and couldn't eat, I would have the tiniest nibble of chocolate, and it would just make me feel so much better. And that has been a treat throughout my life, but now it's definitely much more than a nibble. I love the Hu dark chocolate. It's amazing and vegan.
On not getting it done:
Since May, I have been raising venture capital for my new company. Going into my first few meetings, I was awful. I bombed every single one of them. I was not prepared. I did not do enough research about the type of people I was pitching. Pitching venture capital is very different from getting angel investment. I bootstrapped C Talent and didn't get any outside money, so this was a new approach. I definitely failed many times. I took 115 meetings before we secured our first round of venture capital.
The most amazing thing is finding a community of people who have raised money and done it successfully, learning from their mistakes, and getting introductions. What a privileged position to be in, to be able to say, "Look, can you introduce me to this person?" Intros are one of the biggest investments anyone within business can make for you.
On advice she would offer her younger self:
Kindness is fundamental to everything we do. You can bring kindness into absolutely any space. It doesn't matter how cutthroat that space is; if you lead with kindness and bring kindness into that space, it'll keep you remembering why you're doing it and who you are.
On the people who help her get it done:
My granddad is a massive part of my life. My mom and my husband, James Ken Blackmon. My first-ever assistant, Elizabeth Yin, helped me grow C Talent. She was my first official employee, and she's just phenomenal. Emma Vrabel is currently interning with me. She is studying disability-rights law at Harvard. Emma's an undergraduate and co-founded its Disability Justice Club. She's been a day-one at Making Space and a big leader in the disability conversation. My co-founder, Sophie Morgan, is just everything. I don't know what I would do without her.
This interview has been edited and condensed for length and clarity.