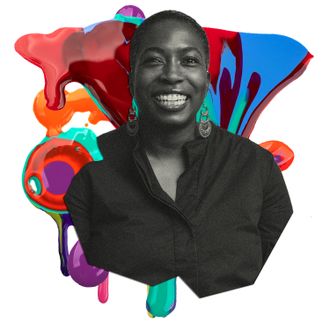 Photo-Illustration: The Cut; Photo: Derrick Beasley/Yulia Reznikov
It's been over a year since Lauren Haynes joined the Queens Museum as director of Curatorial Affairs and Programs, guiding the overall vision for exhibitions and public programs. Prior to arriving at Queens, her storied art career included posts at the Studio Museum in Harlem (where she claims to have really cut her teeth as a curator), the Nasher Museum of Art at Duke University, and the Crystal Bridges Museum of American Art in Bentonville, Arkansas. This past April, President Biden appointed Haynes to the Committee for the Preservation of the White House. She and the 12 others on the committee are responsible for establishing policies relating to the museum function of the White House.
As a specialist in contemporary art by artists of African descent, she has ambitious goals for QM, particularly in regards to being intentional and inclusive when interacting with the Queens community specifically, while also being in service to the art community at large. She has plans to develop robust programming (which has included a lot of learning for Haynes, admittedly), while being nimble with the endeavors of her team and also not overtaxing herself and her support system. 
"I'm interested in this idea of where the Queens Museum is in Flushing Meadows, Corona Park, in the middle of two extremely vibrant neighborhoods, but also in the most diverse borough in the city and probably one of the most diverse places in the word," says Haynes. "Having that as a primary audience, but also being in a city where you still are thinking about your traditional museumgoers who will come to Queens and want to see the show that we're doing. Working a lot with living artists on temporary exhibitions but also having a good, vibrant residency program, and also having the World's Fair collection and the history of the building and the site, one that's so complicated. Working with a team that's excited about those opportunities and conversations and thinking about how we can build on the museum's legacy and what that looks like. That's what's exciting to me." Here's how she gets it done.
On her morning routine:
Like many arts organizations in New York City, we start our day at 10 a.m. So for me, that means I have to wake up at 7:15 or 7:30, because I get distracted very easily in my home. It doesn't necessarily take me that long to get ready, but then I'm like, Oh, I should put this pile of papers away right now. I don't need to put them away in the morning, but my brain wants to put them away in the morning. I try not to look at email on my phone, but I inevitably do, which is another one of the distractions that slows me down. I'm not a breakfast person; I'll usually just have coffee.
On a typical workday:
It's a lot of meetings. We have weekly meetings with the exhibitions team, with the programs team, weekly directors group meetings, etc. Not that all meetings aren't fun, but the ones with artists who we are working on a project with are. For instance, next spring we're working on a project with Lyle Ashton Harris. The show is currently on view at the Nasher Museum of Art at Duke, where I worked right before the Queens Museum, so there are a lot of check-in meetings about that. And then also thinking about what the exhibition is going to look like at Queens. So then there's just those meetings with Lyle and with his studio and the team thinking about: What loans are we getting, or do we need to get new works? How's it all gonna fit? So exhibition-related meetings that are actually about the content taking place. That's sort of the day in the office or at home.
On a challenge of the job that people might not expect:
I think with a role like mine, I am still (like many people with this title) curating shows. So that balance between managing a team and thinking about larger strategic goals — the time that takes, and also the time that it takes to actually be in the weeds with an artist. Sometimes, the balance doesn't need to be fifty-fifty with those things, sometimes it needs to be more on one end and less on another. The more responsibility that you get doesn't mean there are more hours in the day.
On advice she wishes she'd had at the start of her career:
There's really no one way to be a curator. There's no one path to move through the contemporary art world. I think you'll see different versions of it and you'll think, Oh, is that what I should be doing? You have to figure it out on your own. Try not to emulate what someone else is doing and do it how you want to move through it. I think that's really important.
On the people who help her get it done:
My family is very helpful. I have an older sister who lives in Atlanta and she has always helped me move whenever I've needed to. I have a really great group of close friends, some who are in the art world who can understand what I talk about. And then at work having a really vibrant and amazing team, some who have been at the museum longer and a few who haven't, who really understand what it means to be on the same page about the potentiality of a job and a position.
On self-doubt:
There's often times, particularly when you're early in your career, when you're doing a lot of work and your name never gets mentioned or the work that you do just doesn't get seen. This is something that's changing, but this is not a job you go into if you're trying to see your name in lights. So I think sometimes the self-doubt comes from the thought of, Do people understand the contribution?
On measuring success:
It's the little things. Sometimes success is looking at our schedule like, Did we actually get this in on time? Did we have to pay late fees or rush fees to get the text translated? Did we get it all in when we were supposed to? That's success. Walking into the galleries and seeing a school group and seeing kids engaging with the artworks and them being very excited or having questions or having conversations, that's also what success looks like. My mom was very supportive, but she always asked, "What does that look like? What are you gonna do with that?" When you say you're going to be a lawyer, it's clear that you'll go to law school. So after I got my first job at a museum after graduating, I felt success because I checked that box that I told my mother I was going to. Honestly, sometimes success is just getting up and going to work every day.
On winding down at the end of the day:
When fall kicks off, winding down most evenings doesn't start until much later because there's usually a museum opening to go to or a gallery opening. Sometimes, there's a dinner after that or a talk or an event. On the days when there isn't something happening in the evening, I'll come home and check emails on my phone for a bit longer, and then I watch a lot of television. I enjoy it so much. That's also what winding down looks like: seeing what's new or watching things that I've watched a lot — always Murder She Wrote. I'm also very much into a procedural show where I know what's gonna happen. I watch a lot of NCIS, that rhythm of someone has been murdered, they have to figure it out, and they're gonna solve it in an hour.
This interview has been edited and condensed for length and clarity.