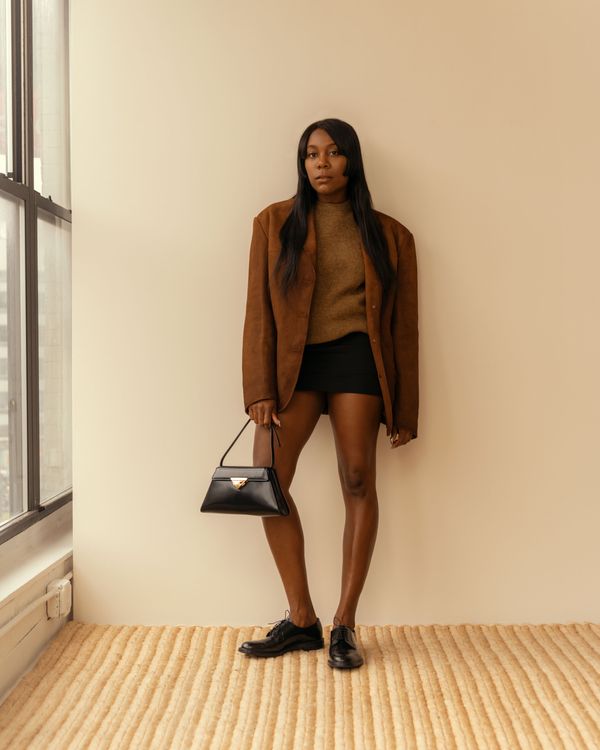 For more of the Cut's favorite fashion, beauty, and home finds, sign up for the weekly Cut Shop Newsletter.
The answer to chilly mornings and warm afternoons is embracing transitional dressing. So how do you do it? Creating a look that's "summer on the bottom and winter on the top," according to Jessica Willis, the Cut's fashion director, who leans into confused-weather dressing in a boxy Prada blazer. Employing her three style words, functional, edgy, and timeless, she's created a look for days that start at 70 degrees and end at 50. Here's the breakdown of the look.
The Hero Piece: The Blazer
To create a tonal look, Willis layered this blazer over a brown knit from Prada. Pairing Prada's boxy suede blazer with the lush cashmere sweater makes the sweater pop. "The thing that's cool about the jacket is it has a boxy fit and a drop shoulder," Willis explains; these proportions are essential for an oversize fit that doesn't overwhelm.
Embrace "confused-weather dressing"
You want this look to beg the question: Is it summer? Is it fall? It's both. Willis suggests adding something like this black Kallmeyer mini to give your skirts life beyond the summer season. "The key to the look is the skirt has to be shorter than the blazer," she says. "It's like wearing a jacket on its own."
Lean into the masculine look
To do so, Willis added these Church derby shoes: "They're masculine and feminine at the same time, which is always a nice balance." Since the jacket is so heavy, you can skip the socks, but for colder nights Willis suggests a pair of sheer black tights.
But balance it with feminine shapes
Willis accessorized with this classic boxy Prada bag that fits everything you need and nothing you don't. So it's more than appropriate for outings with friends where you require the essentials (lip gloss, keys, a snack) and date nights when the wallet is optional.
Get the Look
Here are four blazers for navigating weird weather.
Achieve the same boxy, tonal look in wool instead.
If you want something slightly oversize, this blazer from Reformation is boxy but has a slimmer fit.
A very good suede option for trying that tonal approach and pairing with the teeniest of miniskirts.
With a very oversize fit and boxy shoulders, this wardrobe essential is meant for mixing and matching, so it pairs just as well with miniskirts as it does with denim or trousers. It's available in a few shades.