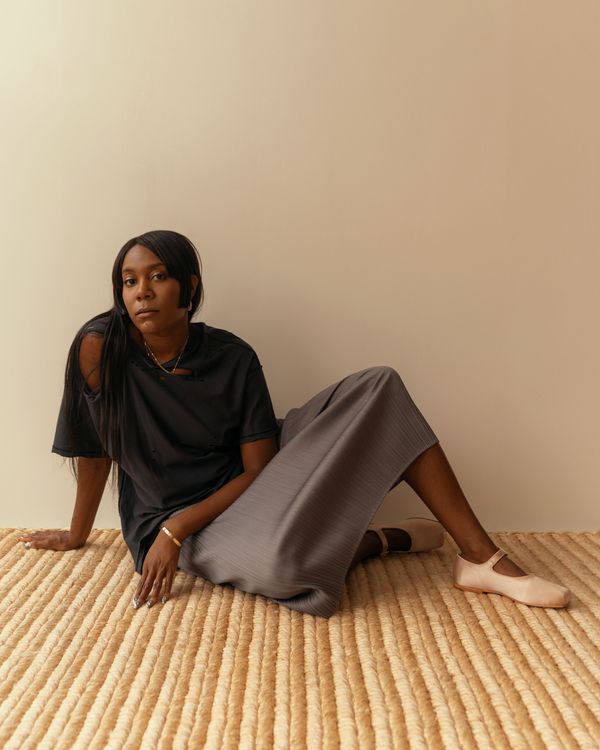 For more of the Cut's favorite fashion, beauty, and home finds, sign up for the weekly Cut Shop Newsletter.
Ballet flats are great for a New York fall activity like "a chic bodega run," says the Cut's fashion director, Jessica Willis. Sandy Liang's viral ballet flats are the star of this look.
The viral shoes go from precious to grungy using her three style words: edgy, timeless, and functional. It's a look you'll want to wear daily — no bows required. Keep reading for the anatomy of this look.
With ballet flats, resist the urge to lean into balletcore
While you might feel tempted with these pretty pink flats to wear tones and textures we associate with ballet — white tights, leg warmers, Sandy Liang's signature ribbons, bows — you shouldn't. Consider these a neutral and you'll get more wear out of them.
Add an easy bottom
Pleats Please are known for their body-contoring pieces that are comfy to wear: "It stretches, so it will always fit you, and it's flattering on all bodies."
Contrast the girliness with some grunge
Look deep in your closet for your old T-shirts from years ago or hit the thrift-store racks for that worn-in, distressed look. (Willis opted for a tee from Interior.) Plus the shirt is matte, contrasting with the sheen of the shoes. "So it's not so shiny and dressed up," Willis says. "It throws it off a little bit, so it doesn't feel so precious."
Go for gold accessories
This look calls for "forever jewelry,": a.k.a. the pieces that you never take off, that have become part of your personality. Willis opted for gold pieces by Cartier, instead of silver, because it adds a different tone to the look. But consider the necklaces and rings that you've worn forever — gold or silver both work.
Get the Look
Here are five pairs of ballet flats to get you started.
Adorned with the Miu Miu logo and tiny bows, this pair is a good option if you want something just pretty. You can also grab it in a few more muted tones.
Skip the nudes and pinks and shop these satin flats that pair just as well with your casual looks.
Inspired by ballet flats and driving shoes, these satin flats in a lovely beige have a slightly more substantial sole.
Add a bit of interest with these cult fave flats that feature satin-ribbon ties.
If ribbon isn't for you these criss-cross flats are a good alternative for adding a little interest and edge. They're also available in a number of colors.