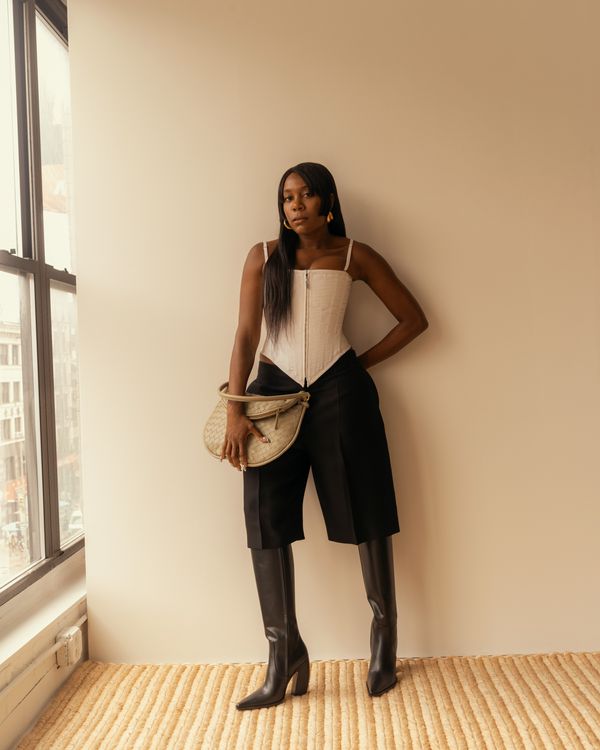 For more of the Cut's favorite fashion, beauty, and home finds, sign up for the weekly Cut Shop Newsletter.
Don't pack away your shorts just yet because they're going to come in handy this fall. The trend has been seen at multiple shows, and we are here for it. Below, the Cut's fashion director, Jessica Willis, shows us how to style them without looking like you're going to camp.
First, make sure your shorts graze your knee
If you are unsure what kind of shorts to buy, look for ones that are wide and baggy and that sit lower on the waist. Willis opted for these shorts by The Row, which show some skin and add luxury. But if you don't want to shell out the money for these, you can achieve the same effect with a pair of Dickies from your local hardware store.
Second, add a pair of knee-high boots
And make sure the boots and the shorts meet. So your shorts should be long and baggy, and the boots should come up high. "Try to stick with a boot that's sleek so you can see the shape of the boot and accentuate the bagginess of the pants," Willis explains. Think skinny boots, wide shorts.
Then add a tight top
Sometimes when we go baggy, we go all the way baggy. That's not the case for this outfit, though. Here, Willis suggests that we think about the shape we want to create or enhance. To enhance her curves, Willis prefers a corset that may look a little bit too tight (though ensuring she can still breathe).
Next, add a pop of color
For Willis, it was a moss-green Bottega Veneta bag.
Last, add an unexpected shape
Like these earrings from Panconesi or the Bottega Veneta boots with a modern sculpted heel and a very pointed toe.
Get the Look
Here are three pairs of shorts to pair with your fall boots.
With a similarly relaxed fit and wide leg, these wool shorts are mid-rise so they'll sit a little higher on your waist.
Opt for a cream shade if you're not fully ready to make the transition into fall colors. These luxe wool shorts are high-waisted but relaxed throughout.
Another transitional-weather option, these have the same silhouette but are made of lightweight linen instead of wool.