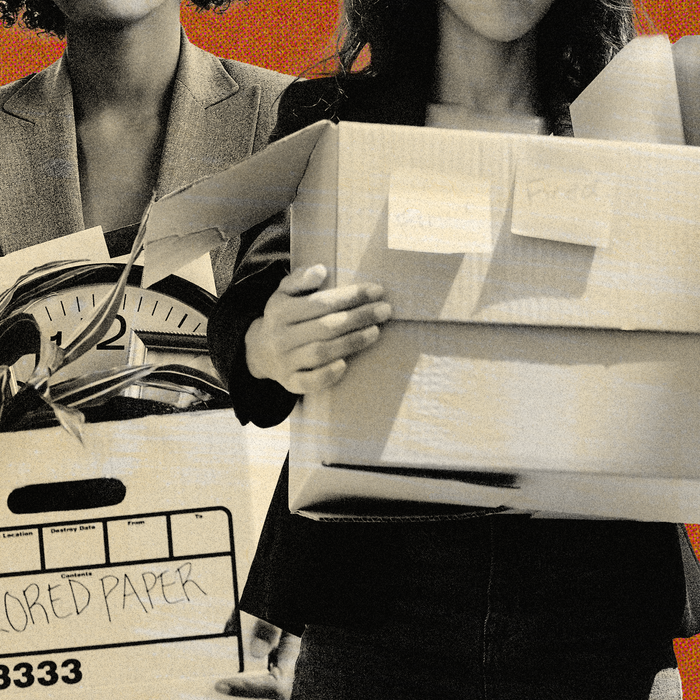 Photo-Illustration: The Cut; Photos Getty Images
After Yasmine heard about Hamas's brutal attacks on Israel, she started posting on Instagram. As a Yemeni Muslim whose husband has family in the West Bank, she wanted to remind people of Israel's decades-long oppression of Palestine. "I was just thinking of the civilians because that's who is suffering," she says. In her Stories, Yasmine featured a photo of a Palestinian raising his country's flag atop an Israeli tank, as well as a screenshot of a post on X reading, "Gaza just broke out of prison." She works as an aesthetician at a salon in Columbus, Ohio, and later that day, Yasmine's manager sent her a DM urging her not to post anything about the war on social media. The manager explained that the issue is particularly sensitive given that the salon's owner is Jewish and her husband had two friends taken hostage by Hamas. "If a Jewish client saw that they would not want to book w you," the manager wrote. "Religion and politics are no no's in general on business pages." That evening, Yasmine deleted the posts from her Instagram, where she mostly features her makeup, brow work, and skin care. She then made an effort to stick with less controversial messaging, like "How to Get Through the Day: For My Palestinian Friends, Activists and Fellow Arabs."
The following week, Yasmine — who, like others interviewed for this story, asked to use a pseudonym to avoid further professional repercussions — had a performance review with her manager. The salon owner unexpectedly showed up to say she was disturbed by Yasmine's initial posts that seemed to condone terrorism. The aesthetician made it clear that she didn't support Hamas and that she had taken down her Stories. Yasmine also brought up the fact that the owner herself had posted incendiary comments on Instagram. "You deserve EVERYTHING that is coming for you!!!!! You SICK ANIMALS," the owner had written over an unverified story about Hamas beheading 40 Israeli babies. The owner responded that she had made the comments on a personal page and suggested that Yasmine shouldn't be working at the salon if she couldn't stay neutral on the subject. "I told them that it felt like censorship," Yasmine says. Seeing no way forward, she asked for a termination letter the next day. "I had no choice," she tells me. "It comes down to her not being okay with my beliefs."
Yasmine's not alone. In recent weeks, the advocacy group Palestine Legal has been getting "dozens of reports of firings — an exponential increase like nothing we've seen before," according to senior staff attorney Radhika Sainath. Lawyers at the Council on American-Islamic Relations have also been overwhelmed. CAIR's Maryland chapter has seen ten times the regular volume of discrimination and hate-speech incidents, while the Los Angeles headquarters has seen a 20-fold increase in calls involving professional repercussions for political speech. The backlash is "unprecedented," says Zainab Chaudry, the director of CAIR's Maryland office. She and her colleagues have been working 18-hour days responding to claims that employees and students are being punished for their pro-Palestinian views or feel unsafe expressing them. Some advocacy groups and employment-law firms are also hearing from concerned Jewish workers. Gerard Filitti, senior counsel with the Lawfare Project, says he has fielded up to 80 calls since the Hamas attacks from employees who have faced antisemitism at work, want legal guidance, or simply have questions about their rights.
While Yasmine has since filed a discrimination complaint against the salon owner, at-will employment laws in the United States aren't likely to work in her favor. "Employers are allowed to have any opinion they choose, and they're allowed to punish their employees for any opinions they may have," says Peter Goselin, an employment lawyer who handled similar complaints after 9/11. While a worker like Yasmine can sue for discrimination, he says, they need to show that they were repeatedly targeted by a company based on their identity — not their politics. "The law is decidedly on the side of the employer in this situation," he says. "We're going to see a lot of fallout in the coming weeks."
One of the first high-profile examples of that fallout was the former president of the Student Bar Association at the NYU School of Law. Ryna Workman's big law job offer was rescinded after they sent a newsletter to their classmates about Hamas's attacks. Workman, who is Black, queer, and nonbinary, expressed "unwavering and absolute solidarity with Palestinians in their resistance against oppression" and said that "Israel bears full responsibility for this tremendous loss of life." In response, Workman's prospective employer put out a statement saying that "these comments are profoundly in conflict with Winston & Strawn's values as a firm." Workman later clarified in a press release that "my message came across as insensitive to the suffering of Israelis during a time of crisis and that is not what I intended. The killing of children and other innocent civilians is horrific." In the days since, they have continued to get hate mail. An attorney and financial adviser on the board of a major retail company has sent Workman no fewer than five emails. "You have basically ruined your life in the United States," he wrote in one message. In another: "Perhaps you would enjoy some time in Gaza city, as I believe those residents are warm and welcoming, and you would enjoy their open way of thinking." For now, Workman isn't stressed about finding a job and has "faith that an opportunity will come." Instead, they are worried about the chilling effect the backlash to their message will have. "It just allows this unbalanced and dangerous media narrative in which violence against Palestinian civilians is normalized," they say.
Law students from Harvard and Columbia also had their employment offers revoked after signing statements that blamed Israel for Hamas's attacks. Billionaire hedge-fund manager Bill Ackman and Jonathan Neman, the CEO of Sweetgreen, have called for these students to be publicly named and put on a hiring blacklist. Ackman characterized criticism of Israel as "supporting the actions of terrorists" in a post on X. "Would you hire someone who was a member of a school club who issued a statement blaming lynchings by the KKK on their victims?" Meanwhile, social-media posts are leading to professional blowback and pink slips. After the editor-in-chief of Harper's Bazaar, Samira Nasr, posted to Instagram that Israel's cutting off Gazans' access to water and power "is the most inhuman thing I've seen in my life," the backlash was so intense that she apologized and, according to the New York Post, is "fighting for her job." The CAA agent Maha Dakhil resigned from the firm's board after sharing posts about the "genocide" of Palestinian people; the top editor at Artforum was fired after the magazine published a letter signed by thousands of artists and curators in support of Palestinian liberation; and the founder of a tech conference resigned after industry heavyweights condemned his post on X referring to Israel's "war crimes." Corey Saylor, CAIR's research-and-advocacy director, says he's alarmed that "participating in free speech is now a professionally punishable offense," especially given corporate America's push for DEI initiatives after the racial reckoning of 2020. "The clear message is that there was never a corporate commitment to those policies," Saylor says.
The grief caused by civilian deaths has supercharged emotions in the workplace. Filitti, the Lawfare Project attorney, heard from a worker who was uncomfortable with an Instagram post their boss had written suggesting that Israel was responsible for the terror attacks. The worker, who is Jewish and has family in Israel, reported the message to their employer, who asked the manager to take it down. I spoke with a freelance project manager at a Google office in Virginia who said the company sent the receptionist a handout titled "Practicing allyship for Jewish people" in bathroom stalls as part of an educational series called "Learning on the Loo." It made no mention of Palestinian suffering, and when the receptionist showed it to her colleague, they ripped up the paper out of frustration. (A Google spokesperson says that the poster had been in the works before Hamas's attacks and that Muslim and Arab employees are working on a similar flyer.) A Palestinian ESL instructor at a New York City college told me she had to delete some students' posts from a class WhatsApp thread that were hateful toward her community and Jewish people. When she brought up the incident with her boss, she was told not to share political opinions in class.
The professional blowback has been lopsided. According to the employment lawyers I spoke with, workers who made pro-Palestinian statements are bearing the brunt of it. "Antisemitism is a very real thing that should be condemned and called out," says Amr Shabaik, the legal and policy director at CAIR's L.A. office, but "there is a very real and palpable environment of fear and intimidation when it comes to speaking up about Palestine in the workplace." An Anti-Defamation League spokesperson confirmed the group hasn't received any calls related to antisemitic workplace discrimination since the war broke out. Executives at more than 150 corporations, including Amazon, Meta, Disney, and Goldman Sachs, have put out statements of solidarity with Israel, according to an analysis from Jeffrey Sonnenfeld, a professor at the Yale School of Management. "Every time I see an outpouring of strong public sentiment that may run counter to the positions of people in authority, I anticipate that there will be people who will be fired from their jobs," says Goselin, the employment lawyer. "A difference of opinion is somehow being coded as hate speech."
Even the self-employed risk losing income and alienating clients by expressing their views. Marco, who works in film, was warned by a colleague that his posts criticizing Israel's government might jeopardize a project they were supposed to shoot for a network. He was surprised by the intense reaction since he had mostly been posting articles from news outlets like The Guardian, WNYC, and the Israeli newspaper Haaretz that he didn't think were inflammatory or offensive. But money is tight: Because of the entertainment-industry strikes, his income has been cut almost in half over the past year, and he really needed the gig to pay his bills for the next few months. He reluctantly agreed to tone down his posts. "The wrong retweet, or even reposting a New York Times chart, could mean kissing this five-figure job good-bye," Marco says. "I was put in a position to compromise my principles. The fact that there's a dollar amount attached to that compromise, it just feels gross."
Shannon, who is Jewish with family in Israel, runs a private therapy practice and has found herself overwhelmed by depression and grief since hearing about Hamas's attacks. Instead of canceling her sessions, she set clear boundaries with her clients in an email. "I am in deep mourning and anguish for the ever-shrinking number of my people, including my own family. While I personally condemn Israeli politicians and the vast majority of what their government does, especially as it oppresses Palestine, I will never support civilian bloodshed regardless of population or community," she wrote. "All this to say, I am not able to hold space for any conversations that involve justifying or celebrating what is happening to the Jewish people."
Three clients dropped her after reading the email. One, who described themselves as "Arab," "anti-imperialist," and "socialist," alleged that Shannon's Instagram posts on the war were "informed by racist/Islamophobic/Zionist talking points." "There's no way I can show up and session authentically if you think that the majority of people expressing support for Palestinian freedom is in fact 'anti-Semitic joy,'" the client wrote in an email, quoting a phrase Shannon did not use. Four days later, Shannon discovered that a fellow therapist with almost 600,000 TikTok followers had recorded a video about her message. They posted Shannon's real name in the video, along with her photo, and claimed she had told clients that "if they support Palestine, they no longer have a therapist." Shannon received a barrage of threats and hate mail, including from people who said they would report her to the state licensing board. Shannon's lawyer got the video removed, but on top of grieving the loss of a friend killed by Hamas at a music festival, she's now worried about her business. Shannon had just opened a new practice, hired two therapists, and spent $4,000 on a website. "It's not just my livelihood," she says. "It's hurting these two associates, who are mothers."
Yasmine is fortunate enough that she's not living paycheck to paycheck and can rely on her husband's income. But giving up her job was painful: She loved the salon and felt it was a supportive place where she could grow as an aesthetician. She had just finished training for a medical-grade facial she was excited to try out on clients. "I didn't get a chance to further my career," she says. Still, knowing others can't risk losing their jobs, Yasmine doesn't regret speaking up. "I recognize the privilege that I have," she says. "What's scarier to me is that it's also happening to so many other people who need the financial support."