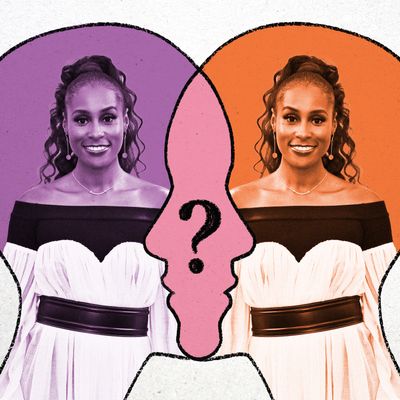 Photo-Illustration: by The Cut; Photo: Courtesy of Chloé
For Issa Rae, when she says "yes" to a fashion show, she's ready to show up and commit. "You're watching someone's art play out" is how she describes it. This past week, she's been front row during Paris Fashion Week. For Chloe's FW24 show, Rae wore a belted two-toned maxi off-the-shoulder dress with a lower-impact wool-gauze bottom, paired with the brand's Penelope flap bag, Rebecca boots, and that most effortless accessory, her high ponytail. We caught up with Rae ahead of the show to discuss her etiquette rules. (Hint: If you thought she loves edible arrangements, think again.)
What do you do when you arrive at a show and someone is in your seat?
Just start a conversation with them and then finally look at your ticket and say, Wait, it says, I'm right here. Are you right here? And then, boom, that's it. Make sure to load them with compliments and it should be all good.
What's your No. 1 rule when hosting a dinner party? 
Make sure the playlist is correct. Make sure the seating chart is on point and that the drinks are flowing immediately when they walk in the door. And you can't start the dinner late. When I go to a dinner party, I show up hungry, so there shouldn't be a delay in the food. The food should be prepared, it should be warmed up, and it should be ready.
You love a good playlist. Who has to be on it? 
Sometimes I take it back. I make it a bit more nostalgic and vibe-y. I have a playlist called "Issa Gathers," and that's my go-to. Let me just check that out right now. One of the first songs that comes up is "Issa Vibe" by 2 Chainz. Solange — Solange has to be on there. Lucky Daye, Amber Mark: Those are the vibes. 
What is your No. 1 rule for canceling plans? 
It has to be at least 24 hours' notice and the No. 1 rule beyond that is I don't do it twice. I'll never do it twice in a row. If I cancel plans once, I will be there the next time. Whatever we're rescheduling, it won't be on me to cancel plans. Then, if you do it for the next meeting, then it's fair game. We might as well not meet because neither of us wants to do it.
What is your No. 1 rule when managing money? 
My No. 1 rule I took from Nas: For every $3 I make, one I save, one I invest, and one I spend frivolously.
What's your most recent frivolous splurge that you loved? 
I spent frivolously on a Beyoncé [Renaissance Tour] outfit because of the metallic theme. Once she changed the wardrobe, I was in a bind and went into the Prada shop and spent frivolously and I liked it.
I mean it was worth it. You looked good AF. 
Thank you. But it was also one of those When am I going to wear this again? I bought two outfits. The second one I can wear anytime. The first one, though, that night I was just like, You know what? Let me make the most of it and get as many pictures as possible. I don't know when I will wear this again. I had to get it fixed; it was one of those things where you aren't supposed to sit down on it. It felt very runway. So when I did sit down, it was like cling, cling. You just heard all the little metal things. I had a thought literally yesterday like maybe I should just frame it as "This is an outfit I went to see the iconic Beyoncé in" because I don't know when I'll ever wear it again.
That is something perfect to frame. What is your No. 1 rule when investing? 
I have to wholeheartedly believe in it and see myself either using it if it's a product or implementing it in my life, if it's something more lifestyle. But generally, it has to be aligned with my way of thinking or I have to be so impressed that it's outside of the box of my thinking. But either way, it has to be authentic to me.
Would you ever send an edible arrangement? 
No. I feel like it had its time, but I remember there was this guy who I had no interest in, he sent me an edible arrangement one day and that was his way of telling me he was interested in me. I just thought that that was the worst thing. Why do I want pretty fruit? Why would I ever want that? And then you're forced to eat it. Are you supposed to eat it in one sitting?
I don't even know. It goes bad really quickly, too. 
It does. It's more of an inconvenience. It's like, You might as well throw a tomato at me because that's the same effect. No. Do you know people who send them?
I don't. It's so funny though, because there are people who will send it for an occasion like Mother's Day. If an edible arrangement showed up at my door, I would be like, Why? You could've sent me flowers. You can send me so many other things. 
An edible arrangement to your mom — you hate your mom. I think that that's fair to say.
Imagine an edible arrangement showing up to your door after this. Let's talk about friendships. How do you manage friendships with friends, with kids?
You just work around their time. Sometimes they can kick it, sometimes they can't. I'm a big peer-pressure person, actually, so I've had to watch that with my friends with kids. If you say you can't kick it or you have to pull out of plans that we've made, the old me would mercilessly insult you via text or call you. But the new me is way more understanding.
What rules do you have in your home? 
My husband is a no-shoes guy, so I have to go along with that. But in the house, I'm not a rules person, I don't think. My friends might tell you otherwise, but I don't think I have any rules.
What is your No. 1 rule when packing? 
I'm very big on sections. Everything has to be organized. I'm definitely someone who uses tons of separators. I need to know where everything is. I'm not just going to stuff things into a suitcase and go. I'll make a list and ensure that everything that I need is on that list. Everything is folded neatly — shorts, pants, dresses, shirts, separate on one side, shoes and anything else on the other side. I've become a carry-on queen.
I think being a carry-on queen is an extreme sport for me. It's always my beauty products that are the problem.
I brought those little compartments, and I will take the time to put my beauty stuff in little containers so that they can pass the test and then I will get braids. I always have to get braids when I travel.