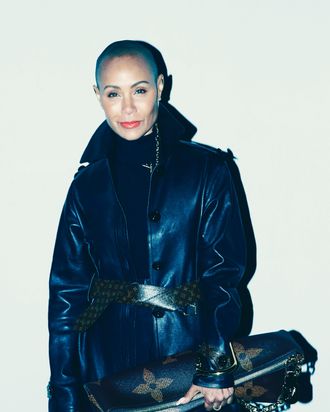 Photo: Han Myung-Gu/Getty Images
On paper, Jada Pinkett Smith and Will Smith have been a Hollywood power couple for nearly 25 years. But in real life, they apparently haven't been an actual couple since 2016, Pinkett Smith recently told Hoda Kotb.
In a preview of a Dateline interview that aired on Friday — the same day Pinkett Smith's memoir, Worthy, came out — the actress confirmed that she and Smith have been living "completely separate lives" for seven years. They are still married, but not romantically involved. Here's the exchange, via the Today Show, that attempts to explain the arrangement:
Kotb: "It was not a divorce on paper."

Pinkett Smith: "Right."

Kotb: "… but it was a divorce."

Pinkett Smith: "Divorce."
Asked what caused the marriage to "fracture," Pinkett Smith didn't answer explicitly but said that "by the time we got to 2016, we were just exhausted with trying. I think we were both kind of just still stuck in our fantasy of what we thought the other person should be." Which may come as a surprise, given all their appearances in public as a married couple and their habit of referring to each other as husband and wife. Recall, for example, the 94th Academy Awards when Smith rushed the stage and told Chris Rock to "leave my wife's name out of your fucking mouth" before slapping the comedian. In another preview of the interview, Pinkett Smith said that she was "really shocked" to hear Smith refer to her as his wife, considering they "haven't called each other husband and wife in a long time."
"I'm like, 'What is going on right now? Keep my wife's name out of your mouth?'" she said. "I'm really worried for Will because I don't know what's going on."
Pinkett Smith told Kotb that although she considered a legal split through the courts, she ultimately decided against it. "I made a promise that there will never be a reason for us to get a divorce," she explained. "We will work through whatever and I just haven't been able to break that promise." As to why she and Smith pretended to still be married for seven years, Pinkett Smith said they were "not ready" to tell people before now and felt unsure of how to present the news. They were "still trying to figure out between the two of us how to be in partnership," she added.
The couple's relationship has long been the subject of public fascination: They met on the set of The Fresh Prince of Bel-Air in 1990 but didn't start dating until 1995. They got married two years later, welcoming their son, Jaden, in 1998 and daughter, Willow, in 2000. Based on the couple's own comments — Pinkett Smith's assertion that "we can BOTH do WHATEVER we want, because we TRUST each other," for example, and Smith's explanation that they consider themselves more "life partners" than husband and wife — some have assumed they have an open relationship. Things got a little more complicated in 2020, however, when August Alsina claimed he had an affair with Pinkett Smith, with Smith's permission. Pinkett Smith then brought the issue and her husband to her Red Table Talk, admitting she had an "entanglement" with the rapper around 2016, at which point she and Smith separated. And evidently, they still are.
As for Smith, the book's publication reportedly "woke him up." The actor indicated in a New York Times profile of his ex-wife (?) that Pinkett Smith "had lived a life more on the edge than he'd realized," and that she's "more resilient, clever and compassionate than he'd understood" before. "When you've been with someone for more than half of your life," he wrote in an email to the paper, "a sort of emotional blindness sets in, and you can all too easily lose your sensitivity to their hidden nuances and subtle beauties."
In any case, the couple apparently live in separate homes now. The Times profile describes their relationship this way: "Life partners in family and business, long maintaining an agreement they call 'a relationship of transparency.'" Does that clear things up?
This article has been updated.