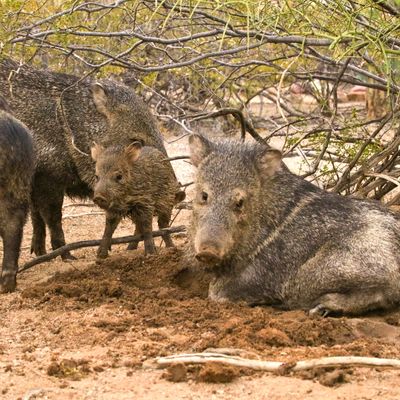 Photo: rtrible/Getty Images/iStockphoto
For the past several weeks, a posse of gorgeous hogs has reportedly been laying waste to an Arizona golf club in search of food. The hogs in question: A species known as javelinas — an appropriately beautiful name — or collared peccaries, so called for the white stripe that encircles their neck and shoulders like a glorious Elizabethan ruff. A group of peccaries is called a squadron, which is an accurate descriptor for these brave troops waging war on golf, the world's most boring sport.
Javelinas have been living large in Arizona for a while now — in 2020, one was filmed sprinting joyously through an apartment complex in Tucson — and now, herds of them have been plowing through large swaths of the Seven Canyons Golf Club in Sedona. Seven Canyons is smack in the middle of the Coconino National Forest, the javelinas' natural habitat, and they're really making the most of their surroundings — digging up large chunks of the manicured greenery to feed on the the soil and its grubs, massaging their rumps in the sod, feeling the breeze in their bristles. Liberating, I imagine, for them; less so for the private club, which proudly describes its sprawling vistas as the "IMAX of golf." Here are the fruits of the javelinas' labor:
Their noble crusade is being documented on X (formerly Twitter) by Seven Canyons' assistant superintendent, Em Casey, who is doing her best to fend them off, to absolutely no avail. She claims the club's maintenance team has to devote 45 to 50 hours a week cleaning up the "carnage" left behind by these hungry hogs, and has even deployed highly concentrated chili oil in an attempt to keep them from rummaging through the back nine. Javelinas are considered a big-game species in Arizona, so trapping or killing them during non-hunting months is off the table, not that we would want that. So far, nothing can stop these powerful smelly pigs from getting a nutritious and well-tended dinner. At least this time they're not feeding on cocaine … that we know of.
Viva la hogolución.