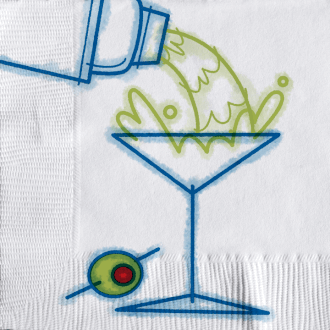 Each year, the Brooklyn Public Library hosts a gala to raise money for literacy education and to support the nationwide Books Unbanned effort. This year's event, held at the majestic Central Library on Grand Army Plaza on October 2, was a particularly special one. As the evening's host, Baratunde Thurston, put it, the guest of honor was Blue Ivy's dad — this library party was all about Jay-Z.
Since it opened on July 14, the library's "Book of HOV" exhibition has increased library-card sign-ups and visits, and last night's gala brought together Brooklyn's most glamorous patrons of literacy for a buffet-style dinner, several speeches, and a dessert course to accompany a DJ set from Questlove. The book-return counters flanking the entrance to the library were converted into makeshift open bars, and as I wandered through the open hall into the stacks, I counted at least six converted open bars in total, including one in the children's section. In the main hall, white walls and glossy display boxes gave the space a similar feel to any museum gala, but among the stacks, guests in suits and gowns sat at study tables to enjoy their dinners. The exhibition existed among standard library shelving; I spotted the Clique book series inches away from Jay-Z's Emmys on display.
I'll let you in on a secret: A party at a library is the best of both worlds. You can tear it up on the dance floor or strike up a conversation with a stranger over canapés. But the best part is that as soon as you hit your social limit, you can wander into a silent, darkened room full of books. Delightful! I rated the events of the evening on a scale of one to ten glasses of none other than Jay-Z's Champagne, Armand de Brignac.
The Dinner
Traditionally, the BPL gala is a sit-down affair, but this year, they offered a buffet in order to give guests the time and space to see the exhibit. After dining on perfectly cooked salmon, curried cauliflower with crispy pine nuts, and a slightly stale pretzel roll, I strolled around the room, where I was offered passed apps that included delicious mini lobster rolls and chewy slices of spring roll. In the children's section, I met Hannah Traore, a 28-year-old gallerist, and Sean Brown, a 37-year-old designer based in Toronto. They were decked out in Gucci and crouching in tiny blue children's chairs. "We're so impressed by Jay-Z's hand in everything," Traore said. But what were they looking forward to the most this evening? "More open bar," Brown said. "I'm looking forward to seeing if Beyoncé's here, to be honest," Traore added. (Sadly, Queen Bey wasn't in attendance). 8 out of 10 glasses of Armand de Brignac
The Speeches
After dinner, guests filed out of the library, where a tent housing a stage and hundreds of chairs awaited us. I found a seat in the back, next to a couple who had been invited by Thurston as his plus-two and -three (his plus-one was his wife). As we waited for the speeches to begin, my seatmate pointed out the high-rise behind us, where wall-to-wall windows exposed someone working hard on a Peloton bike, missing the show below. "I think Beyoncé and Jay-Z used to have an apartment in that building," she told me.
Despite occasional street noise, the speeches started strong, with a genuinely funny and touching introduction from Thurston, followed by an arresting performance from Victory Boyd, a singer who started out busking in Central Park and has since been signed to Roc Nation. We then heard from Senator Chuck Schumer about the history of hip-hop and Borough President Antonio Reynoso told us about the value of libraries. Afterward, an auctioneer from Christie's auctioned off all 13 of the BPL's limited-edition library cards featuring Jay-Z's album art for a clean $20,000. Another speech from Thurston, and then Hakeem Jeffries's sons took the stage to read a speech from their dad, who'd been held up in Washington, D.C. The crowd absolutely loved them.
Finally, Jelani Cobb gave an eloquent preamble to Eric Adams's roller coaster of a speech as he presented Jay-Z and his mother, Gloria, who wasn't able to be there, with an award. He started by congratulating "Mother Carter" for raising four boys (she actually raised two boys and two girls), noting "Black women have a lot of scars on their knees when they're raising four boys because they're praying all the time," and concluding by directing these powerful words to Jay-Z: "You need to really understand, you define Black manhood. We're gonna go through life. We're going to finish, we're gonna sit down, and the game is going to be over one day, no matter who we are. We're going to transition from the physical to the spiritual and the question is, what do we leave? And I'm so proud of you. And I love you as a man."
Jay-Z then took the stage for approximately eight and a half minutes ("I figured if these young men could speak on behalf of their dad, I can speak on behalf of my mom," he said, noting his mother's absence) to thank everyone and to speak about the importance of literacy in his life. Getting a library card, he said, "was the first time I really recognized that my handwriting was actually really good." He powered through a man outside the event yelling "JAY-Z! JAY-Z! JAY-Z!" for a few minutes, but then had to wrap it up. 6 out of 10 glasses of Armand de Brignac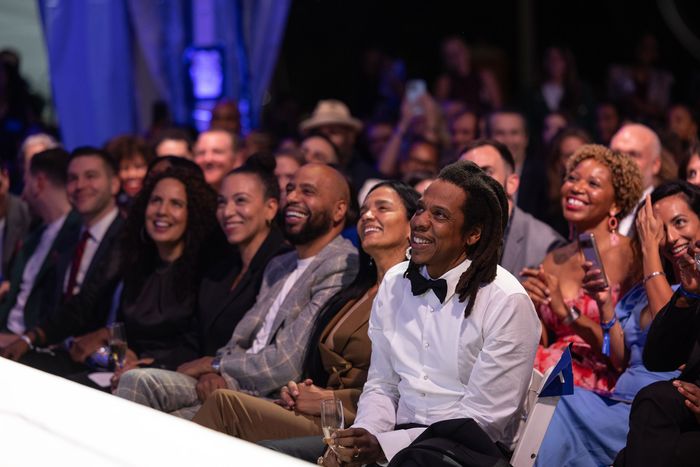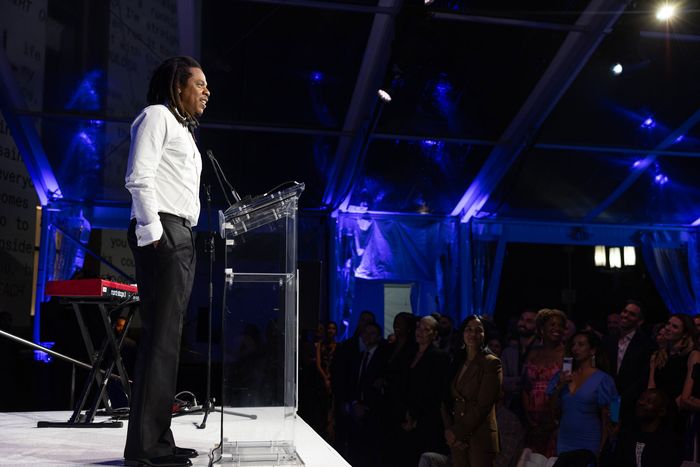 The Dancing
Inside, the mood was joyful. As guests streamed back in, lines formed at the open bars and waiters passed out mini ice-cream cones, chocolate-raspberry truffles, and mini dulce de leche cakes. Questlove spun a selection of disco and modern hits, and I chatted with writer Xochitl Gonzalez and chef Aliya LeeKong, both of whom were in excellent spirits. "You're not from Brooklyn if you're wearing less than three chains," said Gonzalez, who showed me each of the four necklaces layered over her green velvet dress. LeeKong, in a silky pink dress, gave the final verdict: "It's a party. Spread love, spread knowledge, it's the Brooklyn way."
Takirra Winfield Dixon, a former Obama staffer whose communications agency was involved in the event, was as enthused about Jay-Z's presence as she was about the library's work: "All of this is so much larger than any one of us," she said. "It feels like we are actually taking steps toward doing something about the problem in this country and not just talking about it."
The music on the dance floor intensified, so I wandered into one of the exhibit rooms, where a record player was set up next to a shelf of Jay-Z records. As "Wishing on a Star" blasted into my ears, I felt a new appreciation for Blue Ivy's dad. 8 out of 10 glasses of Armand de Brignac