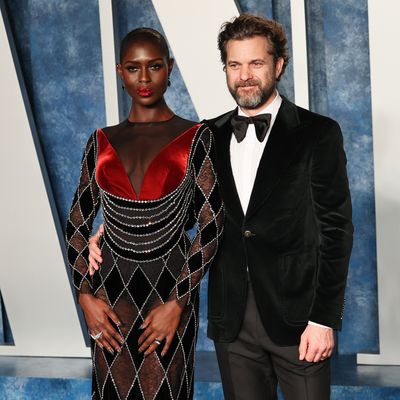 Photo: Leon Bennett/FilmMagic
The summer of divorce is rapidly turning into the year of divorce. After four years of gushing social-media posts and flirty red-carpet whispers, Jodie Turner-Smith and Joshua Jackson are reportedly parting ways. According to TMZ, Turner-Smith filed for divorce on Monday, citing "irreconcilable differences" and requesting joint custody for their 3-year-old daughter, Juno. Court documents say the couple separated on September 13.
Jackson and Turner-Smith met at Usher's birthday party in 2018. In June 2019, however, Jackson was photographed kissing a mystery woman in an airport, prompting fans to wonder if he and Turner-Smith had broken up. But two months later, they were seen picking up what looked like a marriage license from an L.A. courthouse, and in December of that year, a source purportedly close to the couple told People that the couple were married. In 2021, Jackson told Jimmy Fallon that Turner-Smith proposed to him while they were in Nicaragua and that marrying her was the best choice he "had ever made."
Since getting married, Jackson and Turner-Smith have offered us a constant stream of content that was, by turns, both sexy and adoring (see their pre–Critics Choice Awards photo shoot). They welcomed their daughter in 2020, and although they briefly unfollowed each other on Instagram in 2022, they showed up at the Oscars together this past March as a couple. The day before their official separation date, they reportedly made an appearance at New York Fashion Week, holding hands at the COS show. But a source told People this week that Turner-Smith ultimately "decided she was done" with the relationship, which had "turned into an unhealthy marriage that made her unhappy." The source also said Turner-Smith and Jackson are on "very different paths."
Turner-Smith's reps declined to comment when the Cut reached out, and Jackson's reps did not immediately respond to our request. We will update if they do.
This article has been updated.