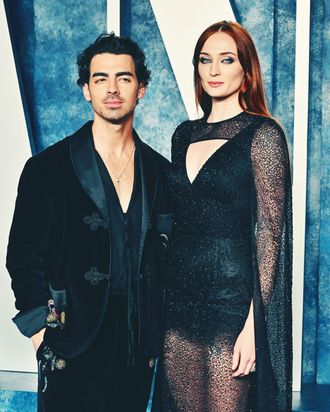 Photo: Axelle/Bauer-Griffin/FilmMagic
For a month now, musician Joe Jonas and Game of Thrones actress Sophie Turner have been in the throes of a seemingly tense divorce. Though plenty of allegations have been thrown around, the biggest dispute seems to revolve around their two children and where they should grow up. After filings showed that the former couple was gearing up for a custody trial in January, several days of mediation seem to have de-escalated the situation a bit, and they've reportedly reached a temporary agreement about their kids that will hold up until early 2024. Here's what's happened so far.
The couple announced their divorce in September after four years of marriage.
Turner and Jonas married in 2019, sealing the deal in a secret post–Billboard Awards Vegas ceremony, livestreamed by Diplo, and then again in the south of France. Reports that Jonas had filed for divorce first arrived on September 5, and the couple confirmed the news in a joint statement on Instagram the next day. "After four wonderful years of marriage we have mutually decided to amicably end our marriage," it read. "There are many speculative narratives as to why but, truly this is a united decision and we sincerely hope that everyone can respect our wishes for privacy for us and our children."
Per court documents obtained by NBC, Jonas officially filed in Miami Dade County, where the couple recently sold the house they bought a year before. In the petition, Jonas called their marriage "irretrievably broken" and requested shared custody, indicating that he plans to abide by the prenuptial agreement they both signed in 2019.
Early tabloid reports suggested the couple was having disagreements about their children.
In the weeks following news of Turner and Jonas's divorce broke, a messy back-and-forth about the end of their relationship played out in tabloids. A steady stream of anonymous sources accused Turner of partying too much — a narrative that clashed with older statements the couple has made about her being a homebody — and saddling Jonas with all the parenting responsibilities. (TMZ's initial report noted that Jonas had been touring with his one- and three-year-old daughters in tow, suggesting Turner isn't holding up her end of the childcare bargain when, actually, she'd been filming in the U.K.) One deeply weird rumor alleged that the final straw for their divorce was when Jonas caught her on a Ring camera doing something sinister yet unspecified.
As the initial wave of suspiciously pro-Jonas speculation met criticism for its overtones of sexism and mom-shaming, other sources countered that he pressured his wife into attending events while she was struggling after the birth of their second child. People also reported that the couple had settled on their childcare arrangement together. "It's just been easier because she's been working for the kids to be with him," their source explained. "There's some more support at home and on the road with his family. It's something they both agreed was best."
Before long, the couple's discord over childcare made its way to court.
Whatever agreement Turner and Jonas had, it seems to have been derailed by the divorce filings. On September 21, Turner sued Jonas for custody of their children, accusing him of keeping them in New York and refusing to turn over their passports. In court documents, she detailed the couple's supposed plans to raise their kids in England, referring to the country as their "habitual residence." Originally, her filing states, the family relocated to their "forever home" of England in April and were in the middle of buying a house there that they'd move into come December 2023. The girls spent the summer on Jonas's U.S. tour while Turner wrapped filming on a show in the U.K. — an agreement she says she only conceded to "with hesitation," per "Page Six," because daily breaks in his work schedule lined up better with their waking hours.
Court docs list the family's official relocation date as April 10 of this year, and another round of filings from Turner obtained by "Page Six" reportedly included receipts. In late September, the actress submitted to the court a June 16 letter Jonas wrote to a U.K. homeowner, trying to persuade them to sell his family their English manor. "When my wife and I decided we were going to spend more time in the U.K. and search for a permanent home, our daughter expressed three unwavering requirements: having chickens, a pony and a Wendy house," Jonas wrote, adding: "We can envision our children growing up here and making this our forever home." The singer also gushed about the estate's vegetable garden and described a very British fantasy of "cruising to the pub" on a private boat. Per the docs, Turner and Jonas enrolled Willa full-time at a U.K. nursery this spring, and put down a near-million-dollar deposit on the estate in July. A source told "Page Six" that the manor is in escrow but that the sale — slated for finalization on December 2 — "never closed." Still, the tabloid reports that after the couple paid their deposit, Jonas texted one of his brothers' wives: "Well, Sophie and I officially own a home in the UK."
In her September 21 filing, Turner also alleged that the marriage's "breakdown … happened very suddenly," and that she "found out through the media" that her husband had filed for divorce. She called his claim the children had been living in Miami for the past six months "incorrect." After that point, her petition indicates, the couple still planned to send their kids back to England with Turner. She alleged that Jonas was withholding their passports and reneging on their deal. She sued him under a group of child-abduction laws included in the Hague Convention treaty, which the U.S. and the U.K. both signed.
In response to Turner's September 21 petition, Jonas told outlets through a representative that "the children were not abducted," instead accusing Turner of abandoning the "amicable co-parenting setup" they'd arranged and using these laws as an attempt to move their divorce proceedings to the U.K. (In the late-September filings, Turner pushed for the case to be dismissed altogether, arguing that she and Jonas are no longer full-time Miami residents and that the city's court should therefore not have jurisdiction over their divorce.) Jonas insisted Turner was "aware" he was planning to file for divorce and denied involvement in any "disparaging" statements made about Turner in the wake of the filing. In his telling, he was pushing for a joint custody agreement that would see their children traveling between the U.S. and the U.K. when Turner suddenly decided she wanted to bring them to England permanently and immediately — which, per "Page Six," would violate their Miami divorce filing. Jonas took issue with the petition's use of "abduction," calling the word "misleading" and "a serious abuse of the legal system."
The couple will hash out their custody arrangement in a federal U.S. trial.
In the immediate aftermath of Turner's suit, court documents prevented either parent from taking their children out of New York until they worked out custody. On October 3, a judge ruled that a federal custody trial will begin on January 2 in Manhattan, though Turner asked to move it to the U.K.
Less than a week later, however, an attorney for Jonas told the judge that an "amicable resolution on all issues between them is forthcoming," requesting the trial be canceled and the case be put on pause. "After a productive and successful mediation, we have agreed that the children will spend time equally in loving homes in both the U.S. and the UK. We look forward to being great co-parents," the former couple said in a statement, per People. Under a temporary custody arrangement that will last until early January, their children will spend two weeks with each parent and can travel anywhere in either country, including touring with the Jonas Brothers and spending Christmas and the New Year overseas with Turner's family. Turner and Jonas have until December 23 to submit an update on their negotiation.
This article has been updated.