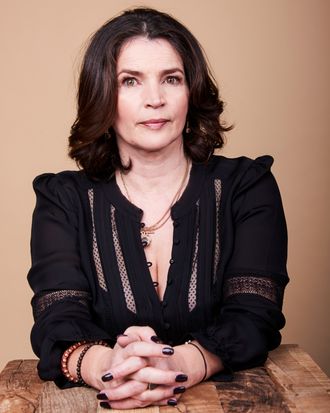 Photo: Michael Buckner/Penske Media via Getty Images
English actress Julia Ormond is suing Harvey Weinstein for sexual battery and seeking damages from the entertainment companies she says enabled his behavior and failed to protect her. According to a suit filed in New York on Wednesday and obtained by Variety, Ormond, who is best known as a mainstay of '90s films like Legends of the Fall and Sabrina, has accused the disgraced producer of sexually assaulting her after a business dinner in 1995. Ormond says Weinstein lured her into giving him a massage and then climbed on top of her, masturbated, and forced her to give him oral sex, an account consistent with his well-established patterns of sexual misconduct.
More than 80 women in the entertainment industry have come forward about Weinstein's predatory behavior since allegations against him were first reported in 2017. Three years later, Weinstein was sentenced to 23 years in prison for rape and assault in New York; after a California trial over similar charges earlier this year, a Los Angeles judge sentenced him to an additional 16 years, which he will serve consecutively.
Per Variety, what makes Ormond's suit unusual is that it also names Weinstein's business partners — CAA, the Walt Disney Company, and Miramax — as defendants. The actress, who was represented by CAA at the time of the alleged assault, claims in her suit that she informed agents Bryan Lourd and Kevin Huvane, who are now co-chairmen of the talent agency, what happened with Weinstein; she says they warned her against pursuing legal action to avoid fallout with him. Ormond's suit also claims that her former agents knew about "multiple confidential settlements" Weinstein had reached "to keep his conduct hidden" from the public. Ormond's suit also alleges that Weinstein retaliated against her, spurring Miramax to terminate her contract and CAA to transfer her to a less experienced agent. "The men at CAA who represented Ormond knew about Weinstein. So too did Weinstein's employers at Miramax and Disney," Ormond's lawsuit states, per Variety. "Brazenly, none of these prominent companies warned Ormond that Weinstein has a history of assaulting women because he was too important, too powerful, and made them too much money."
While neither Disney nor CAA has responded to Ormond's allegations, an attorney for Weinstein told Variety that the convicted sex offender "categorically denies" the actress's account and "is prepared to vehemently defend himself." Meanwhile, Ormond, who was able to file her sexual-battery lawsuit under New York's Adult Survivors Act, which allows the alleged victims of sexual offenses to file civil suits even after the statute of limitations has passed, told the outlet she seeks "a level of personal closure" by holding Weinstein and the companies accountable. "After living for decades with the painful memories of my experiences at the hands of Harvey Weinstein, I am humbled and grateful to all those who have risked speaking out," Ormond said through her lawyers. "Their courage and the Adult Survivors Act has provided me a window of opportunity and way to shed light on how powerful people and institutions like my talent agents at CAA, Miramax, and Disney enabled and provided cover for Weinstein to assault me and countless others."