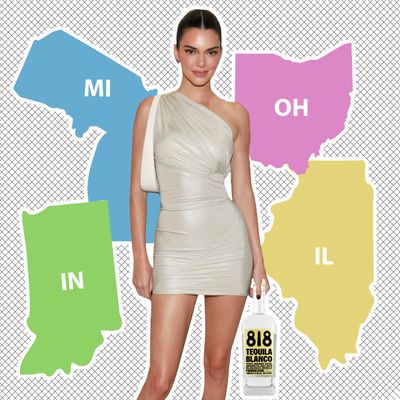 Photo-Illustration: The Cut; Photos: Getty,. Retailer
You simply never know where Kendall Jenner will turn up next: One minute, she could be sunbathing with her reggaeton boyfriend on a Miami rooftop after seeing Luis Miguel in New York; the next, she may swing by an Indiana Kroger to chat with the manager. This is approximately how Jenner's routine went this week, thanks to what appears to be a grand tour of the American midwest to promote her problematic tequila brand, 818.
So far, Jenner has squeezed an impressive number of college-adjacent alcohol venues into her spin across the nation's midsection. It started, as so few things do, with her attendance at Forbes' 30 Under 30 Summit, which took place in Cleveland, Ohio. From there, she was off and running: First up was Columbus, a two-hour drive from Cleveland and also the home of Ohio State University, the school emblazoned on Jenner's sweatshirt in a recent TikTok that looks like it was filmed on a campus.
After gracing a local restaurant with her presence and promotional materials, Jenner materialized at a Kroger supermarket in Bloomington, Indiana, where she and her Ralph Lauren baseball cap were presented with flowers (?) in front of a cardboard 818 display.
Later that day, she popped up at a string of collegiate dives in Champaign, Illinois. The Illinois branch of Barstool Sports proudly shared footage of her pouring shots for a group of studious bar-goers to the unmistakable din of Daft Punk's "Get Lucky."
And then, before Champaign's frat brothers awoke in bleary-eyed hungover bliss, Jenner was back at it, having teleported (or, maybe more likely, flown in her private jet) to Michigan for another day of greeting her hard-partying subjects. Here she is, 818 tote in hand, praising the makeshift bar of some random University of Michigan students and playing a round of darts in their living room:
… and being whisked away from an Ann Arbor liquor store through a horde of amped-up youths:
The most recent update on her whereabouts arrived Wednesday afternoon when she generously teed up a photo op at Top Shelf liquor in Detroit's Allen Park before being ushered into the backseat of an enormous SUV.
Watch out, Iowa!