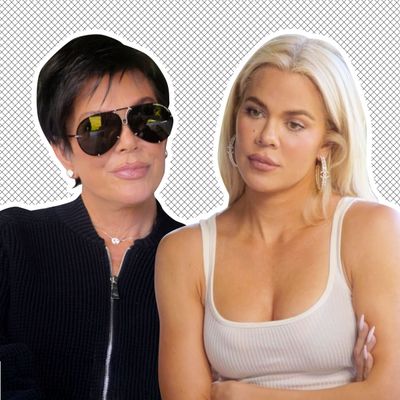 Photo-Illustration: by The Cut; Photos: Hulu
In the latest episode of The Kardashians, Kris Jenner and Khloé Kardashian get candid about infidelity in their past relationships. Jenner claims her "life's biggest regret" remains cheating on her late ex-husband, Robert Kardashian — a decision she said came from "[falling] into a situation where I thought that the grass was greener somewhere else."
"I think being really young and dumb is something that plays into it because you don't really understand the consequences of your actions," Jenner told her daughter, who, to be fair, did ask: At the time of the conversation, Khloé was opening up about her relationship with her serial-cheater ex and the father of her two children, Tristan Thompson. "What was my dad not doing that made you want to look elsewhere?" she asked her mom. But as a confessional made clear, Jenner's main concern seems to have been making sure Khloé didn't have any "regrets" when making a decision to end things with Thompson for good. Which is … interesting, after so many years of disrespect.
Thompson and Khloé first started dating in 2016, and since then, he's not only slept with other women while Khloé was pregnant, but also had a baby with someone else and lied about it, in addition to causing dramatic family rifts. In the new episode, when asked at their daughter True's fifth birthday party if he's "driving her crazy" or if it's "livable?" (which …), Khloé's response was, "I've survived this long." She was laughing while she said it, but elsewhere in the ep, she observed, "If someone did to my daughter what Tristan did, I would probably castrate them and smile doing it."
And somehow, despite all of it, Khloé's family is still conspicuously supportive of this man. Her sister, Kim Kardashian, frequents Thompson's games to cheer him on, remembers to IG post on his birthday, and, last year, hosted a "Friendsgiving" with him at a detention center. Her mom, meanwhile, apparently wants to make sure the big regret here isn't staying with Thompson, but leaving him. Yes, he is Khloé's children's father, but do they have any boundaries?
Khloé, for what it's worth, has said she thinks Thompson is a good father (though some of the other women he has kids with disagree) and told her mom that finding a guy is not "top priority right now." Instead, she's enjoying her life and putting her kids first. Sounds great; maybe the rest of her family could just let her live?