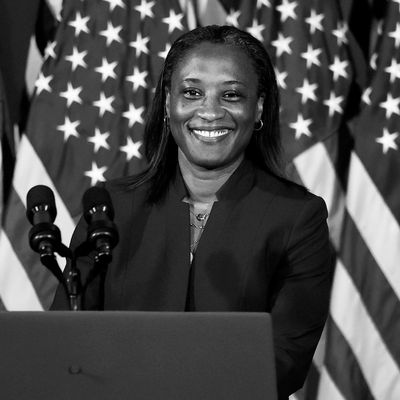 Photo: Chip Somodevilla/Getty Images
On Monday, California governor Gavin Newsom appointed Laphonza Butler, the president of Emily's List, to replace Dianne Feinstein in the U.S. Senate, Politico first reported. Feinstein's death last week leaves a seat open, and with her appointment, Butler will become the only Black woman serving in the Senate — the last was Kamala Harris, who resigned to become vice-president. Butler will also be the first openly LGBTQ+ senator to represent California.
"As we mourn the enormous loss of Sen. Feinstein, the very freedoms she fought for — reproductive freedom, equal protection, and safety from gun violence — have never been under greater assault. Laphonza has spent her entire career fighting for women and girls and has been a fierce advocate for working people," Newsom said in a statement on X, formerly Twitter.
Butler's credentials include leading the largest union in California, a branch of the Service Employees International Union that represents 325,000 home-care workers. She is also credited with playing a critical role in the passage of the $15 minimum wage in California and has served as an adviser to Harris. In 2021, Butler became the first Black woman to lead Emily's List, an organization that works to get women who support abortion access elected to office.
The seat will be up for election in 2024, at which point Butler will be able to run for it, if she so chooses — though as the New York Times reports, when Feinstein's health appeared to decline, some Democrats encouraged Newsom to choose a successor in case of a vacancy, but he refused, saying he didn't want to give any candidate an unfair edge in the election by effectively letting them do the job they'd be running for ahead of time. He instead said he would be choosing an interim replacement.
Butler is expected to be sworn in by Vice-President Kamala Harris on Wednesday. In a statement on X, Butler wrote that she was "honored" to accept Newsom's nomination. "No one will ever measure up to the legacy of Sen. Dianne Feinstein, but I will do my best to honor her legacy and leadership by committing to work for women and girls, workers and unions, struggling parents, and all of California," she continued. "I am ready to serve."