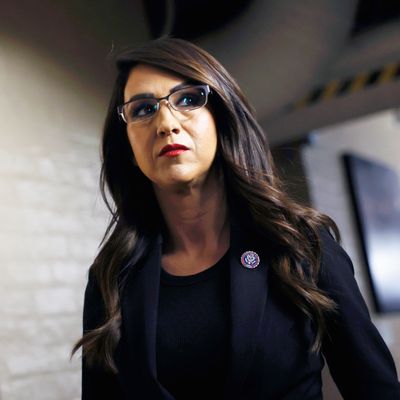 Photo: Anna Moneymaker/Getty Images
Whether or not you're a theater kid, maybe you can appreciate the Beetlejuice musical for throwing the spotlight on a brief-but-handsy fling between right-wing congresswoman Lauren Boebert and Colorado bar owner Quinn Gallagher. The duo made headlines last month when they were booted from a Denver theater for vaping, singing, and groping each other throughout the show. Shortly after that, Boebert confirmed she split with her Beetlejuice boy after learning he was a Democrat — but apparently not before her campaign dropped a few hundred dollars at Gallagher's LGBTQ+ friendly bar. Maybe they went on drag night?
According to recent campaign-finance filings reviewed by Politico, Boebert's re-election team — she's running to reclaim her seat in the U.S. House — splashed $317.48 at Hooch Craft Cocktail Bar in Aspen on July 31, an expenditure they classified as "event catering." In a statement addressing the suspect tab, Boebert's campaign manager, Drew Sexton, suggested Hooch just happened to be where the blowhard's conservative donors wanted to knock a few back. "Meeting with donors and covering their food and beverage costs at a popular local establishment of their choosing is a standard campaign procedure," Sexton wrote to Politico, ignoring the fact that Gallagher co-owns the venue. Is this where he and Boebert met?
Setting that association aside, though, a queer-friendly bar is a weird choice for the Boebert campaign, given that the congresswoman routinely spews bigoted and anti-trans rhetoric. She has also described drag shows, specifically, as outright "depravity." Something like Boebert's own restaurant, Shooters Grill — a gun-themed establishment where wait staff walked around with firearms holstered to their hips — may have been a more on-brand location, but it shut down last year after the landlord decided not to renew the lease. A MAGA girlie's gotta schmooze somewhere.