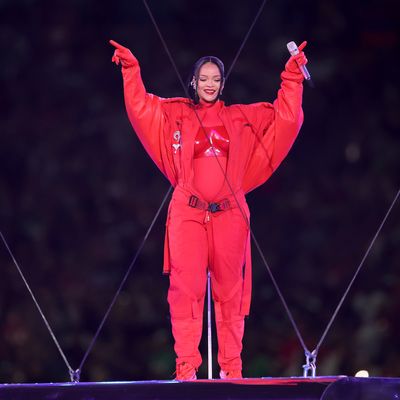 Photo: Christian Petersen/Getty Images
We no longer have to find random red blankets in our home closet to re-create Rihanna's iconic 2023 Super Bowl look: The bold-red Loewe ensemble is finally on sale. How could we forget the custom sculpted leather corset, under her slightly zipped cargo jumpsuit, that revealed her second baby bump. The outfit instantly became a meme, but also a moment for Rihanna fans to re-create the look and performance.
Today, Loewe is releasing a special edition of pieces inspired by Rihanna's look. The three-piece capsule includes utility-designed cargo pants and the jumpsuit, which comes in black and the poppy red worn by Rihanna. So now we can dress exactly like the star, but her swag, of course, is sold separately. The jumpsuit retails for $2,900 online and in select stores. While I'd wear this as an outfit on a perfect fall day, I can easily see it becoming a Halloween costume this year for die-hard Rih fans who want to copy her look.