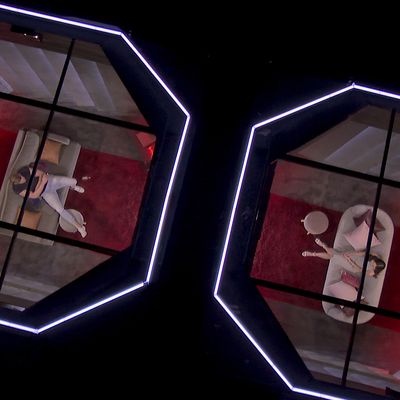 Creators of the hit Netflix series Love Is Blind face yet another lawsuit, this time from a contestant named Tran Dang, who alleges that she was sexually assaulted by her then-fiancé during filming of the reality show's fifth season in May 2022. Further, she says producers did not take any action after she reported the incident to them. Though the show's creators have denied Dang's claims, news of the lawsuit became public shortly after season five — which is shaping up to be the show's most chaotic one yet — hit the streamer. Now, some viewers are asking whether the season should have aired at all.
"We have to hold the show producers accountable," Dang's attorney, Benjamin W. Allen, told People in a statement. "We have an ethical duty to our client to do so, but also feel a moral obligation to the next generation of reality show participants."
After all, Dang is not the only cast member who has brought legal action against Love Is Blind's creators. Last summer, contestant Jeremy Hartwell, who appeared on the show's second season, sued Netflix and Kinetic Content over alleged "inhumane working conditions." And while they have not sued, several cast members from previous seasons have recently spoken out about how they felt traumatized by their time on the show. Here's everything you need to know.
Tran Dang alleges that when she complained to producers about her fiancé's inappropriate behavior, they did nothing.
In August 2022, Dang filed a lawsuit against Kinetic Content and Delirium TV, the production companies behind the series, over sexual assault, false imprisonment, and negligence. She also named her then–onscreen fiancé, Thomas Smith, as a defendant. (The suit only became public last week, following a People interview with Love Is Blind showrunner Chris Coelen.)
Neither Dang nor Smith appeared in the show's promotional materials or its final cut, despite having gotten engaged, sight unseen, in LIB's proprietary pods. On the couples' trip to Mexico that followed, Dang says Smith groped her, exposed himself in the nude without her consent, and "forcibly and repeatedly made sexual contact" despite her "express objections" throughout the night. (In an email to the Cut, Smith's attorney Kip Patterson declined to comment as the litigation is ongoing, but said his client denies the allegations.)
The complaint also says that, "due to Delirium TV and Kinetic Content's 24-hour surveillance of Plaintiff and Defendant Smith, most if not all of these traumatic acts were filmed by the production crew and within their knowledge." Dang says she reported Smith's behavior to production the next morning, telling them she felt uncomfortable around him. Still, she claims they took no action. "Delirium TV and Kinetic Content producers made attempts to mask Plaintiff's sexual assault by characterizing it as a lack of attraction on part of the Plaintiff," the complaint reads. "When Plaintiff insisted an assault took place, Defendants Delirium TV and Kinetic Content questioned whether the problem was really one of communication and swept aside her concerns."
Dang also alleges that production sequestered her and the rest of the cast, taking away their cell phones, wallets, and passports. She says she had to ask permission to leave her hotel room or even use the restroom, and filming went on for as long as 18 hours a day. "On multiple days of filming, Delirium TV and Kinetic Content provided several alcoholic beverages while providing limited amounts of food. This combination was designed to encourage the participants to engage in striking conversations and actions that would increase viewer ratings," the complaint also says.
The show's creator and production companies have denied her account.
Coelen addressed the allegations in an interview with People, unilaterally denying Dang's complaints. "Claiming that you are falsely imprisoned on Love Is Blind is preposterous and ridiculous," he said. "You come and go as you choose. You are not required to stay. If you stay, that is your decision. The participants are not under our control."
A spokesperson told the Cut that the People interview is the only one Coelen will give. She also shared a joint statement from Kinetic Content and Delirium TV, in which the companies denied Dang's accusations. "We support and stand with victims of sexual assault, but Ms. Dang's claims against the producers are meritless," the statement reads. "We document the independent choices of adults who volunteer to participate in a social experiment. Their journey is not scripted, nor is it filmed around the clock. We have no knowledge or control over what occurs in private living spaces when not filming, and participants may choose to end their journey at any time."
As for Dang's alleged assault, they contend she did not inform production at the time it allegedly happened, and note that she remained in the show for weeks after. "We deny and will vigorously defend the allegations against us," the statement concludes.
But contestant Jeremy Hartwell has also sued, accusing the show of fostering a deliberately stressful environment.
Hartwell appeared on Love Is Blind's second season, which premiered in February 2022. He only appeared briefly on the series' final cut, as he did not develop a romantic connection during his time in the pods. He did, however, walk away with a suite of complaints about production's methods. In a lawsuit filed in July 2022, Hartwell alleges that he and his other Chicago-based castmates were forced to film up to 20 hours a day, in exchange for a stipend that amounted to an hourly rate of about $7.14 — well below Los Angeles County's $15 per hour minimum wage. (Love Is Blind films its first section, where contestants are in the pods, in Los Angeles County before engaged couples head to Mexico and whatever city is being featured that season.) He also says producers plied the contestants with alcohol, while depriving them of food and water for long periods of time.
"The combination of sleep deprivation, isolation, lack of food, and an excess of alcohol all either required, enabled or encouraged by defendants contributed to inhumane working conditions and altered mental state for the cast," the complaint reads. "At times, defendants left members of the cast alone for hours at a time with no access to a phone, food, or any other type of contact with the outside world until they were required to return to working on the production."
Hartwell also believes that producers' alleged wrongdoings were done on purpose to "maintain a heightened degree of control and direct the conduct of the Cast into making manipulated decisions for the benefit of the shows' entertainment value."
In an interview with Variety published last month, Coelen responded to the allegations. "We tell them that they won't be able to travel freely while they're in the pods. We tell them they won't have phones or TV or internet service in the pods or in their hotel rooms where they stay or in the romantic getaways," he told the outlet. "You're asked to stay in your hotel to protect the integrity of the experiment. We disconnect their phones and internet so they can't get online because people are tempted to look people up." Coelen also said the pods have not stayed open for more than 16 hours at a time and claimed that the cast receives catered meals multiple times a day. He added that participants have access to both bottled water and sinks in the lounge.
Various former cast members have echoed Hartwell's claims.
Earlier this year, multiple former contestants spoke to Insider, painting their participation on the show as a "traumatic experience." Though they have not sued, they described similar experiences to Dang and Hartwell, including long days of filming and a lack of sleep, limited access to food and water, and a heavy emphasis on alcohol. Some contestants said production staff coaxed them into divulging extremely personal information, which producers would later probe on-camera to elicit emotional response.
These cast members also accused producers of ignoring mental-health emergencies and controlling their comings and goings, persuading them to stay on the show even when they expressed a desire to leave. Though Kinetic told Insider that it considers participants' "well-being" to be "of paramount importance," the report said the company contractually obligated that contestants pay $50,000 in damages if they leave early without an okay from producers. (In his interview with Variety, Coelen said the penalty is "a clause that goes back to the earliest days of unscripted television, and it doesn't apply to our show.") And although Kinetic told Insider it has "rigorous protocols in place to care for each person before, during, and after filming," Love Is Blind alumni described the mental-health support they received as box-checking, with one even alleging the stress of the experience left her with PTSD.
"I thought I might find my husband," one contestant from season two told Insider. "I had no idea it was going to be a lot of emotional warfare."
The Cut reached out to Tran Dang's attorney, Benjamin W. Allen, and we'll update the story if we hear back.