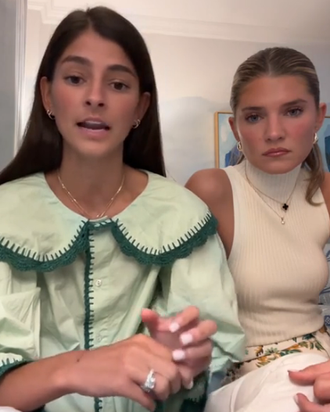 Lunden and Olivia in the now-offline apology video.
Photo: @lundenandolivia/TikTok
No one is better at taking two seemingly conflicting concepts and welding them into one shockingly popular trend than the users of TikTok, an app that has successfully combined desserts with skin care, perfume with gynecology, and salmon with ASMR. A major saga currently unfolding on the platform has called my attention to another contradictory phenomenon: Lunden and Olivia, a popular lesbian influencer couple who are blending gay pride with the well-tanned, preppy aura of a private golf club situated in the South.
Perhaps, given that entire vibe, the reason Lunden and Olivia made it in the news this weekend is not entirely surprising. They got married on October 1, only to immediately find themselves in hot water over the revelation that one of them had an old but startlingly frequent habit of tweeting racial slurs. How frequent, it's now hard to tell, because both her Twitter (now X) profile and screenshots of its contents have largely disappeared from the internet. But, well, let's take this one step at a time.
Sorry, but who are these women?
Lunden and Olivia Stallings (formerly Lunden Stallings and Olivia Bennett) are the 26-year-old owners and subjects of a popular TikTok account, @lundenandolivia, where they post adoring dispatches from their life in Georgia. Their content is by and large exactly what you'd expect from two southern white women influencing their hearts out online — shopping recaps from Sephora, breakdowns of their date-night outfits, GRWM videos: basically, an unending sorority rush week — except that, amid all the seersucker and starch-white knits, they are constantly kissing, holding hands, and appending the #lgbtq hashtag to their posts. One recent "day in the life" dispatch shows Lunden starting a packed day of meetings with a spiced vanilla fig Target candle while Olivia embroiders their matching wedding pajamas. You get the idea.
Naturally, after mutually proposing on a chartered private boat in 2022, Lunden and Olivia have spent the past year-plus incorporating videos about their wedding prep into their regularly scheduled content. The prenuptial program has included extensively documented skin-care regimens, multiple bridal showers, a bachelorette trip, and a wedding-band-selection journey. The big day finally arrived on October 1, heralded by a breathless People cover. Huge congratulations are of course in order — or were.
What's wrong with getting married?
Amid coverage of Lunden and Olivia's wedding, a Reddit thread emerged showing old tweets from 2012 through 2014 where Lunden repeatedly and casually made racial and xenophobic slurs. Some sub-Reddits estimated she employed the N-word hundreds of times, though, again, it's now impossible to tell: The sub-Reddit pages where the screenshots had been posted have since been taken down, and Lunden's Twitter account was suddenly deactivated, swiftly prompting accusations that she was trying to hide her past posts.
On top of Lunden's social-media history, Reddit users also turned their attention to the couple's wedding venue, Naylor Hall, an antebellum-style property built in 1840 by one of the town's founders for the bookkeeper of a textile company. According to some town histories, the house played host to a secret stash of Confederate uniforms manufactured by the homeowner's mills during the Civil War. The home is said to have been heavily damaged by Union attacks and was rebuilt after the war. The town's historical society told the Daily Beast that Naylor Hall was not technically a plantation, though some alleged town records listed online indicate that the original owner, Hugh Proudfoot, was a slave owner.
What does Lunden have to say about all this?
On Tuesday, Lunden and Olivia hopped on their TikTok Stories to air a ten-minute joint apology video disavowing the tweets and expressing their profound guilt. Speaking in a characteristically voluminous blouse from what appears to be the couple's honeymoon, Lunden said, "I'm completely and utterly disgusted and ashamed and honestly embarrassed at how normal it was for me to speak that way on Twitter, and for my friends and I to address each other that way or for me to sing along in rap songs." Clarifying that her routine use of the N-word was "nobody else's fault but mine," she also explained that she'd deactivated the Twitter account shortly after her old posts were circulated, not to cover up what she'd written but because the tweets "should have never been said" and she didn't want more people to "see them and get offended and hurt."
Olivia weighed in, calling her wife's many racial slurs "a really unfortunate and disgusting and ignorant mistake that you made as a teenager." She added, addressing Lunden, "You were a kid and you were ignorant and it was wrong and shameful, and it's so embarrassing."
As is wont to happen when celebrities in trouble try to humble themselves with a sheepishly self-aware video, the apology created more backlash — largely because it was shared as a short-lived TikTok Story as opposed to a permanent post. One TikTok user also pointed out that it seems Olivia may have used racist language on her own social media in the past.
What next?
Perhaps sensing that they were digging themselves deeper into a hole of reputational damage, both Lunden and Olivia appear to have put down their shovels. The last permanent post on their TikTok account is a montage of their wedding, set to an instrumental version of "Enchanted," by Taylor Swift, and captioned, "Truly no words, just tears." It remains to be seen if, how, and when they plan to rebound from this series of unfortunate choices, but something tells me they'll get back to their sponsored Pellegrino content soon.