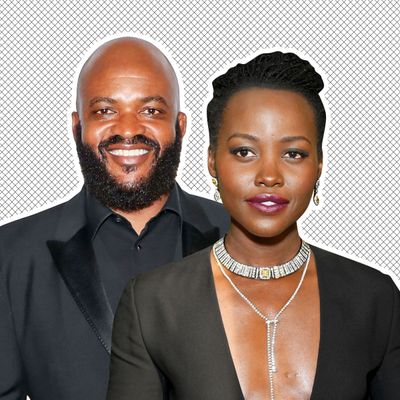 Photo-Illustration: by The Cut; Photos: Getty Images, Shutterstock
The year of celebrity breakups continues: Lupita Nyong'o has split with her sports-commentator boyfriend, Selema Masekela, to judge from a lengthy statement she posted to Instagram on Thursday.
"At this moment, it is necessary for me to share a personal truth and publicly dissociate myself from someone I can no longer trust," she wrote in the second of nine slides. (The first acknowledges that "there are much more important things going on in the world right now.")
"I find myself in a season of heartbreak because of a love suddenly and devastatingly extinguished by deception," she continues in slide three, going on to explain that while she is "tempted to run into the shadows and hide," she is ultimately "choosing to face the pain." Though she never names Masekele, a scroll through her Instagram reveals that she removed all traces of him, including the December 2022 reel they both posted to announce their relationship.
On Wednesday, the day before she made her announcement, Nyong'o was spotted at a Janelle Monae concert with Joshua Jackson, who just so happens to be newly single himself. His ex, Jodie Turner Smith, filed for divorce from the actor in early October, a source telling People the relationship had "turned into an unhealthy marriage that made [Turner] unhappy." Despite speculation brewing online, a TMZ source insisted that Nyong'o and Jackson are just friends who attended the concert with a group of pals.
In her eighth slide, Nyong'o said she was writing about her "#breakup" for full transparency, and with hopes "that the knowledge of my experience might be useful to someone else out there experiencing the grip of heartbreak who is poised to try and escape from the pain and miss out on the wisdom that comes from it." Still, questions probably linger.