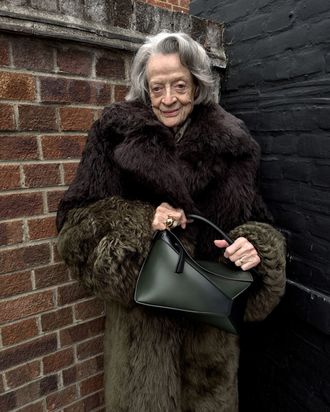 Photo: Juergen Teller/Courtesy of Loewe
Maggie Smith is a model now — but not just any model: a Loewe model. The 88-year-old actress stars in the brand's spring 2024 pre-collection campaign alongside Greta Lee, Dakota Fanning, and Josh O'Connor. We have to say, though, out of all the celebrity appearances, Smith's is the most unexpected. Wearing an ombré coat and matching Puzzle bag in one photo and a Paseo bag in another photo, Smith's inclusion feels like a breath of fresh air. (It helps that photographer Juergen Teller shot the campaign in his signature stark style.) "The campaign is a further installment of the ongoing dialogue between creative director Jonathan Anderson and photographer Juergen Teller," the brand said in a press release.
Social media was instantly excited to see her:
Smith is known for roles including Professor McGonagall in the Harry Potter films and Violet Crawley in Downton Abbey, both characters who might not carry a Puzzle bag but have their own fashion moments. Loewe's campaign models are often surprising, like 71-year-old Japanese singer Mari Natsuki in its SS23 campaign, but this one was a surprise we didn't know we needed. Kudos to casting. I'm starting a petition to see more of Smith and other unexpected celebrities in campaigns. Imagine seeing someone like Dolly Parton in a Puzzle bag draped in Loewe? The serve that would be.
Jonathan Anderson, Loewe's designer, is known for his out-of-the-box thinking. This season, he sent models down the runway wearing clay hoodies. In previous seasons, he's shown a broken-check pattern that seemed to mimic the squares of a computer game, blurring the line between digital and reality. He's also known, from his namesake collection, for humorous pieces like a pigeon purse. So it makes sense that he is pushing the envelope when it comes to campaigns. We need more age diversity in our ads, so thank you, Jonathan.