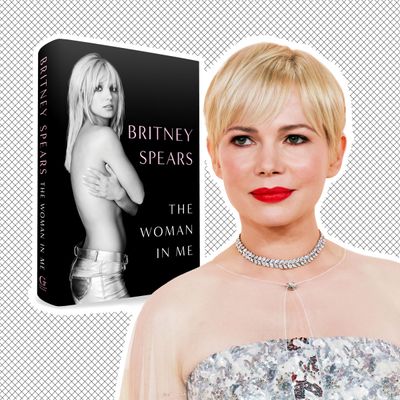 Photo-Illustration: by The Cut; Photos: Simon & Schuster, Getty Images
Marilyn Monroe, Gwen Verdon, Justin Timberlake doing a blaccent: What do all these cultural figures have in common? All of them have now been expertly portrayed by five-time Academy Award nominee Michelle Williams, the actor tapped to read the audiobook version of Britney Spears's new memoir, The Woman in Me. A left-field choice at first glance, but based on audio clips circulating online, maybe the perfect medium for Britney's innermost thoughts.
The book takes readers (and listeners) through the pop star's Disney beginnings, rise to stardom, and torturous conservatorship. It is, of course, very personal, and you might think no one but Britney herself could really give the story its vocal due. And yet, Williams is doing astounding things in the aural-arts arena. She can, for example, conjure the spirit of Crossroads-era Britney calling her younger sister a "total bitch" …
… and do an angelic impression of Mariah Carey making sure she and Britney both found their light in a photo together:
Most striking of all, though, is Williams's reading of a deeply embarrassing encounter Britney's ex, Timberlake, allegedly had with Genuwine in the early aughts. The Woman In Me paints an overall unflattering portrait of Timberlake — Spears also claims that he pressured her into getting an abortion during their three-year relationship, cheated on her multiple times, then broke up with her via text — but this particular tidbit is especially cringey. Explaining that 'N Sync stood out in the early-aughts boy-band landscape because they "hung out with" Black artists, Michelle-as-Britney recounts a memory of running into Ginuwine with Timberlake. Here is what happened, in Britney/Michelle's words: "J got all excited and said so loud, Oh yeahhh, fo-shiz fo-shiz, Ginuwiiine, what's up homie!" And here is Williams's rendition of the incident:
Sounds like whoever cast her knew what they were doing, fo-shiz fo-shiz.