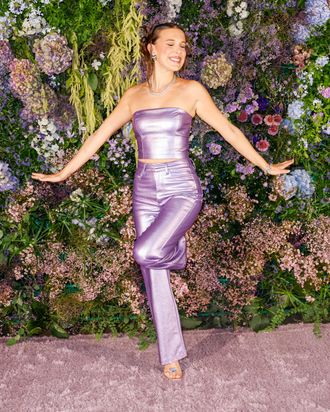 Photo: Isa Foltin/Getty Images
Stranger Things star Millie Bobby Brown is many things — U.N. ambassador, clean-beauty mogul, spaghetti-sauce heiress — but until recently, a feminist was not one of them. In an interview with Glamour, Brown revealed that she was only recently converted to the fight for women's rights. What, or who, brought her to the banks of girlbossery? Her psychic, naturally. The magazine summarized her experience as such:
She credits her feminist awakening to a visit to a psychic, who informed her that she was, in fact, a feminist. Brown went home and Googled, "How do I know if I'm a feminist?"
After doing some preliminary reading, as one does when one's psychic delivers such foundation-shaking news, Brown says she found that feminism is "ultimately about opportunity." The opportunity, say, to co-author a novel about World War II, which Brown released in September to much fanfare and real estate on the New York Times best-seller list. Or perhaps to star in a movie about a princess trapped in a dragon pit, another project she recently completed. The film's theme, according to Brown? Also feminism. Slay!
What do you think the professional that Brown pays to commune with the spiritual realm found that convinced her so thoroughly of this 19-year-old's thoughts on gender equality? What moved her to proclaim such a decisive assertion, when Brown herself did not even identify as someone who supports gender equality? Is she a psychic or a centrist politician? We may never know what confluence of cosmic events sent Brown down her own feminist path, but hey, good for her. Whatever works!