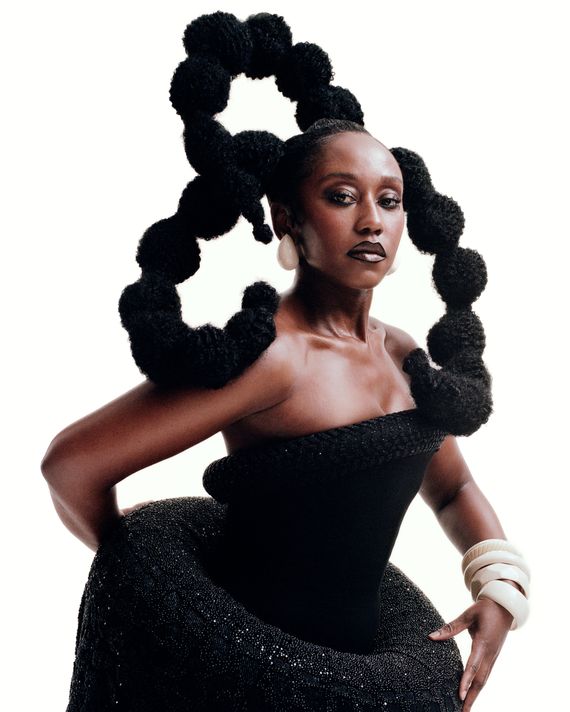 Photo: Courtney Sofiah Yates
Nana Mensah knows what she wants. When we meet in the midst of a torrential September downpour at Friedman's at the Edison in the Theater District, she looks at the menu and takes all of 30 seconds before deciding that she'll have the Nova Benny, the American-style restaurant's spin on eggs Benedict. "I cannot resist a potato pancake," she exclaims. Life for this actress moves as quickly as the restaurant chatter that surrounds her.
This October, Mensah made her Broadway debut in Jaja's African Hair Braiding, Jocelyn Bioh's play about a busy Harlem hair-braiding shop that employs West African stylists. Their lives are on the verge of changing forever when the owner, Jaja, becomes engaged to marry a white man who will give her coveted American citizenship, and possibly alter the way she runs her business. Mensah plays Aminata, one of the hairdressers who greets her cohort with a slick "Bonjour!" before digging for her daily scratch-off card and rolling her eyes at the sheer mention of her philandering, jobless husband whom she financially supports. "She's a mess," Mensah repeats more than once during our brunch. "I feel like I can simultaneously judge her a little bit and love her dearly."
Last night, Mensah was at the salon until 11:30 p.m. getting her hair done by Susan Oludele, the artist who styled Beyoncé's braids for her Lemonade visual album. The actress says she's delicate around her edges as a result of some postpartum shedding experienced after giving birth to her two-year-old, and her character in Jaja's wears a beaded style. No matter — protective hairstyles are maintained, and wigs were created by wig designer Nikiya Mathis for the entire cast, not only to aid in the swift character switch-ups that occur throughout the one-act production, but to preserve the roots of those who wear them. If scalps need to be oiled or freshened with Sea Breeze, there is always someone around to help. A wellness practitioner regularly comes backstage to make sure no one has any injuries — a relief for Mensah who suffered a rotator cuff injury from handling her toddler.
While Jaja's is not the only play on Broadway right now with a majority Black cast (Purlie Victorious opened just days before Jaja's opening night), the number of productions focused on undocumented African women are still few. The actor sitting across from me, cutting into her Nova Benny, is dressed today in a white cardigan with vertical gold stripes and earrings made by indie designers. "I'm like, extremely Ashanti," Mensah proudly declares, explaining that she is Ghanaian with ancestral roots in Kumasi. But she's had her fair share of frustrating experiences with people who are shamelessly ignorant about African life. "I meet so many people, often white but sometimes not, who consider themselves extremely well traveled, and they've never set foot on that African continent," she says. "I refer to African countries and cities by their names and expect that they should know," she continues, ticking off Addis Ababa in Ethiopia and Lamu, an island off the coast of Kenya, a couple places she says she's dying to visit. "When you say I'm going to St. Moritz or Paris, nobody's like, 'Wait, where is that again?'"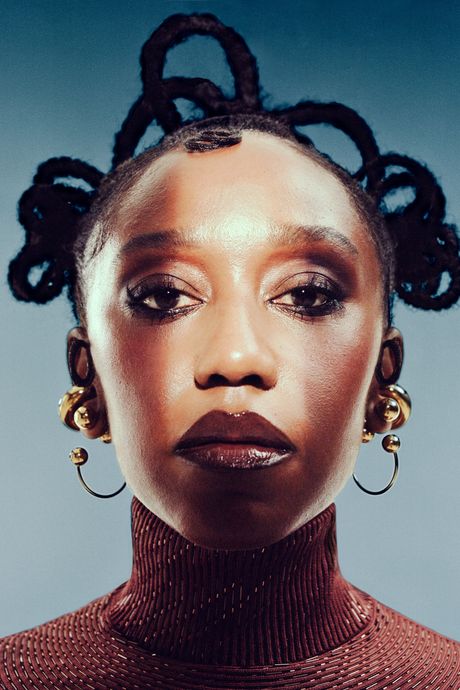 Mensah was born on Yale's campus in New Haven, where her parents — high-school sweethearts who immigrated to the United States after her father scored an opportunity to study chemical engineering — also worked. Her mom was a campus security guard and started her own business, where she would eventually employ a young Mensah to help around the shop. Recounting her family's history brings her to the verge of tears. "Imagine him in the 1980s in New Haven being asked if he had a pet monkey or lived in a hut or whatever," she says of her father. "He went through it."
But so did she. She throws around some quips about the "weaponized xenophobia" she experienced as a kid growing up in the '90s, but you can sense the memories still sting. "I know it's 2023," Mensah says, "but part of me is still always that kid with the lunchbox being asked, 'Ew, what are you eating for lunch?'" Thankfully, things got better by the time she attended Loomis Chaffee, a Connecticut boarding school, in her teen years. It's where Mensah discovered her love for theater. She cackles while telling me that to this day, she still doesn't have a driver's license because of it. "At school, you could either take driver's ed as an extracurricular or do the winter musical," she remembers. "And the winter musical was Cabaret, honey. I was not missing out on that!" Mensah, along with fellow aspiring young thespians Betty Gilpin and Katherine Waterston, would try to adhere closely to one of the cardinal rules of being a professional actor: "If you're early, you're on time. If you're on time, you're late. If you're late, you're fired."
She doesn't remember her college years so fondly, though. Mensah had taken her parents' advice and studied French literature and sociology at the University of Pennsylvania, instead of going to Juilliard or NYU for acting. She really wanted to get out of town, so she took a year to study at the Sorbonne. "I guess I was a little lost … I'm a theater nerd at heart, you know? Slightly countercultural, a little bit socialist," she says now. "I wanted to be in a black-box theater on the Lower East Side experimenting with being other people, not in Philadelphia rubbing elbows with scions of industry."
She describes those next few years in New York as "tumbleweeds." She worked at a wine store while her parents supported her for a year, and other actors would tell her that the working actor's rite of passage — a role on Law & Order — could jump-start her career, but she couldn't secure anything. If she was ever bitter about not getting any acting jobs early on, I couldn't tell. The restaurant has gotten noisier as the lunch crowd starts to roll in before their matinees start down the street, but Mensah's voice remains loud and clear: "Those years taught me how to be unemployed and how to create my own stuff." We should all hope to look back on our post-grad years with that same degree of clear-eyed confidence.
Weekend Shakespeare readings with fellow actors Adam Driver and his wife, Joanne Tucker, led to booking a role in a production of The Tempest with Mandy Patinkin, and finally, the résumé started to fill up. She became known for appearing in television series Madam Secretary, New Amsterdam, 13 Reasons Why, The Chair, and most recently, The Diplomat. She also wrote, directed, and starred in her debut feature film, Queen of Glory, which premiered in 2021. All of these projects are off the table for discussion today; Mensah is still on strike with SAG and the WGA (which would later reach an agreement to end the strike a couple of weeks after our meeting). But when I think about those performances from Mensah, it's obvious to me that she likes to play women who want to be in control. Aminata, however, demanded a certain kind of vulnerability. "I think that she is undocumented, so that's kind of weighing on her," Mensah says. "She's a mother of a young son. Those are things I have not had the opportunity to play, so it was a no-brainer. Jocelyn sees Black women in 360 degrees."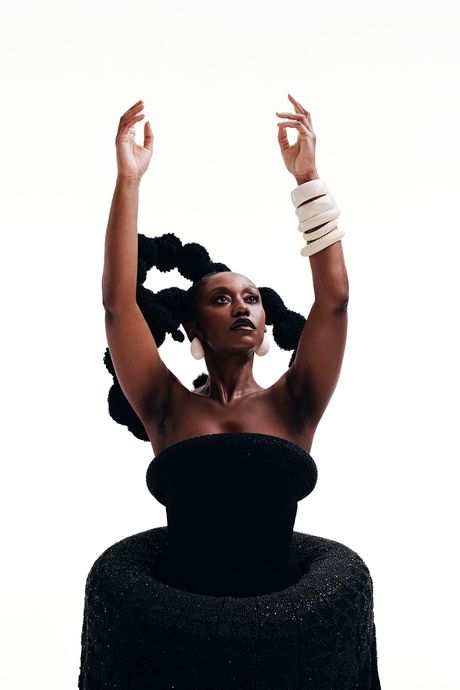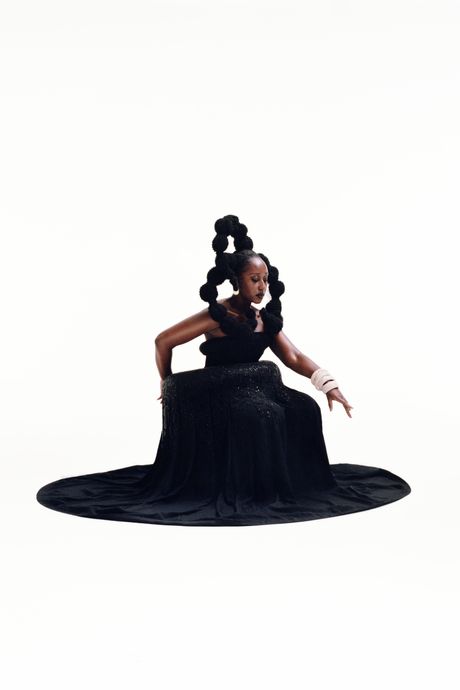 Discussions about Jaja's African Hair Braiding began when Mensah starred in Bioh's 2021 Off Broadway production, Nollywood Dreams. Later that same year, the first reading for Jaja's was met with tears and a standing ovation. "I've been doing readings for plays for ten, 15 years, and I've never gotten a standing ovation at a one-day rehearsed reading," Mensah recalls. To Bioh, Mensah is absolutely her muse. "It's truly a privilege working with someone who is audacious in their process and confident in their character work," she tells me.
Mensah does indeed perform the sexy, stylish Aminata with confidence, and with a knowingness that made me feel like Aminata is a real person I might run into while sitting in the salon for several hours on a Saturday. The whole play resonated deeply for me, someone who has lived in Harlem for several years and walks past many of the African women sitting outside on 125th to look for potential customers on a regular basis. It's a Black female-centered story, combining the experiences of African American and African women, citizens and the undocumented — a wondrous, diasporic production. The diverse crowd spanning different ethnicities waiting in the long line to be let inside the theater were in such great spirits to see the show the night I saw it performed. It felt real.
It occurs to me that whenever Mensah talks about the production crew's dedication to making the actors comfortable, what she is describing are luxuries and privileges that many immigrant hairstylists, to whom the play pays homage, do not often have when they're at work in the real world. Many of them suffer from blisters, cuts, and carpal tunnel, and this production does not shy away from making these realities of the life of a hairstylist known in between all of the laughter and gossiping. Does Mensah ever wish she didn't have to put on a wig, or miss having easy access to her scalp? "Definitely," she says. "But also, I walked out of Susie's salon last night to get on the train, and a woman sat down and immediately said to me, 'Your hair is beautiful.' That happened to me again walking my son to school. They've really invested in a style I'm proud to wear in my day-to-day life."
Mensah looks off into the distance for a moment and beams. We had planned to only meet for 45 minutes at the most, but at least an hour had passed since we sat down. I remain quiet and let her find her way back to the conversation while getting ready to go back outside to brave the storm. The actress looks as if she is savoring some serious gratitude for this rare opportunity to not only star in a play about a disregarded subset of society responsible for creating so much culture in New York, but for the production team's sensitivity to each actor in the cast. Hair can be such a sensitive subject, and when it comes to Black hair especially, it's a minefield. "So much of Black women's identity is … for better or worse, wrapped up in our hair," Mensah says. "Having that atmosphere of care has been very delightful."