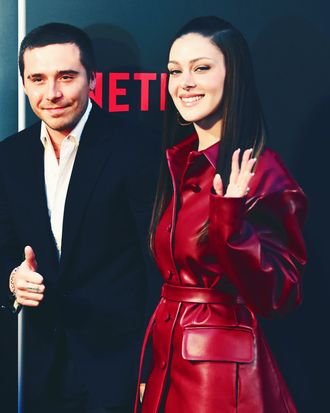 Photo: Samir Hussein/Samir Hussein/WireImage
This week, soccer player and hardcore queen-guy David Beckham celebrated the release of a four-part Netflix docuseries about his life. Creatively entitled BECKHAM, it has proved an exciting occasion for the whole Beckham family — though seemingly none of them are more excited than Nicola Peltz-Beckham, wife and tattoo muse of Brooklyn Peltz-Beckham. Nicola congratulated her husband's dad on the release of his documentary with … a collection of sexy Instagram photos prominently featuring his son. Possibly not what this man expected to see upon opening his phone the morning after his big premiere, but maybe he likes surprises?
"Last night was incredible congratulations @davidbeckham," Peltz-Beckham wrote under the montage, in which she and her husband take turns grabbing her butt. Their horny little photo shoot appears to have taken place the night of the BECKHAM premiere, because in the last photo — one that shows Peltz-Beckham alongside the extended Beckham clan on the red carpet — she is wearing the same outfit. And yet, the post offers a lot more intel on the rest of the couple's night, which appears to have included performative groping and penne alla vodka. The question, unfortunately, that first comes to mind is: Which part of last night was so incredible?
In her defense, Mr. Posh is probably a hard guy to get congratulatory gifts for — what do you get a man who has everything, up to and including all his kids' baby teeth? And what father would not appreciate visual evidence of his son's, uh, recreational enjoyment? At the same time, if rumors are to be believed, things between Peltz and her in-laws may already be a little tense. Maybe a nice newsboy cap next time?