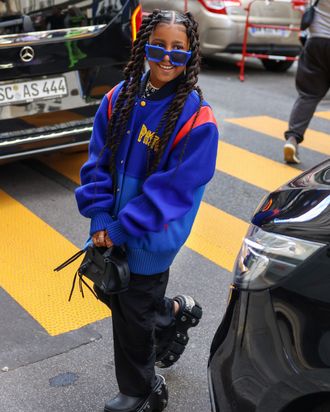 Photo: Pierre Suu/GC Images
Being the first born to two of the most famous people on the planet comes with … a lot, but North West seems to be taking to the lifestyle pretty well. On Tuesday, West landed her first solo magazine cover along with an interview for i-D.
So what did we learn about the world's coolest preteen? In addition to talking about her passion for painting, the animal she'd most like to be (a mosquito??), and her favorite Michael Jackson jacket, she revealed who her style icon is: "me." Which makes sense given that her entire wardrobe for the cover shoot was her own. For this shoot, she wore long box braids and did her own edges. Some images show her wearing a hat that appears to be a nod to the '90s film Poetic Justice.
West also says that when she's older she wants to be a basketball player and rapper, but apparently she plans to be working before then. "When I'm, like, thirteen, I want to walk dogs, to make money to buy art supplies, because everything around here is so expensive," West says. (If she thinks life is expensive, the rest of us are doomed.) In true nepo-baby fashion, West also wants to own Yeezy and Skims, her parents' businesses. Is it any surprise that the daughter of Kanye West is this confident?