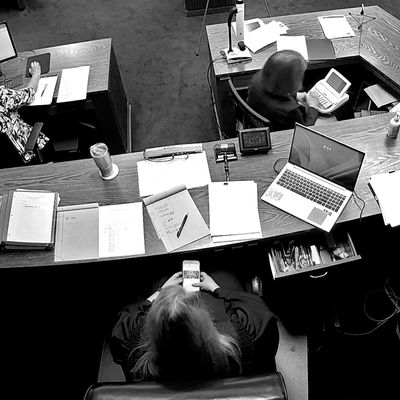 Still image from security-camera video of Judge Traci Soderstrom looking at her cellphone during a murder trial on June 12, 2023.
Photo: Lincoln County District Court/The Oklahoman via AP
In June, while presiding over the trial of an Oklahoma man charged with first-degree murder for fatally beating a toddler, Judge Traci Soderstrom slipped her phone into her lap and began texting the bailiff relentlessly. Throughout the course of the trial, the two exchanged more than 500 messages, with the judge commenting on the appearance of jurors, attorneys, and witnesses alike.
"Why does he have baby hands?" Soderstrom wondered of the prosecutor, according to the New York Times, which reviewed paperwork M. John Kane IV — chief justice of the Oklahoma Supreme Court — filed on Tuesday requesting Soderstrom be removed from her job.
For reference, Soderstrom was texting her way through the trial of Khristian Martzall, whom prosecutors accused of brutally beating his girlfriend's 2-year-old son, Braxton Danker, to death. A jury ultimately found Martzall guilty of a lesser charge of second-degree manslaughter and sentenced him to time served. In his filing, Chief Justice Kane said many of the messages from Soderstrom "give the appearance" that she thought Martzall "was innocent and that she wanted a particular outcome in the case." He noted that Soderstrom "called murder trial witnesses liars, admired the looks of a police officer who was testifying, disparaged the local defense bar, expressed bias in favor of the defendant and displayed gross partiality against the state."
For example: While a prosecutor was interviewing potential jurors, Soderstrom apparently observed that he was "sweating through his coat" and called him "an arrogant asshole." Later, as the prosecutor questioned a witness, the judge wrote, "this is dumb" and "he looks constipated." During opening statements, Soderstrom opined that the defense attorney was "awesome" and "so smart," asking the bailiff, "Can I clap for her?" When Braxton's mother, Judith Danker — who pleaded guilty in 2019 to enabling child abuse and was sentenced to 25 years — testified against Martzall, Soderstrom allegedly texted: "Can I please scream liar liar?'"
At another point, she appeared to have made up her mind about the case prematurely, musing that the "state just couldn't accept that a mom could kill their kid so they went after the next person available" In another text, she reportedly wrote that "Dna excluded Marzall on the bed, no way they get guilty on murder." Per the Guardian, after the bailiff made a "crass and demeaning reference to the prosecuting attorneys' genitalia," the judge reportedly responded with a laughing emoji. Elsewhere, she allegedly speculated as to whether or not a particular juror was wearing a wig — "look at the hairline," she reportedly advised the bailiff — and if another juror had teeth. According to the New York Post, she described a police officer who testified as "pretty" and said she could "look at him all day." As a witness watched a video from the stand, the judge reportedly texted: "This shit is boring."
Soderstrom's courtroom behavior became public in July when the Oklahoman published courtroom-camera footage that showed the judge texting and scrolling through social media throughout the trial. According to the Associated Press, when asked about her comments by the Council on Judicial Complaints, Soderstom said she "probably could have waited" to make the comments, instead of acknowledging that she shouldn't have made them to begin with.  This week, the paper reported that Soderstrom is on a temporary suspension. A hearing regarding her removal is scheduled to begin on November 15 and a trial will begin in January.