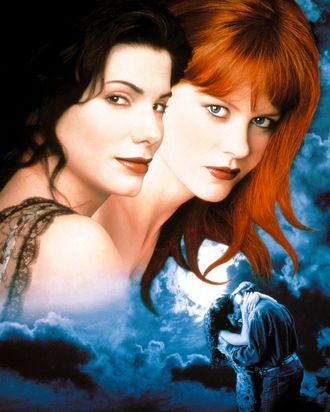 Photo: Warner Bros/Courtesy Everett Collection
Hang on to your husbands, girls! On October 16, Practical Magic turns 25 years old.
In case you missed this one over two decades ago, Sandra Bullock and Nicole Kidman play Sally and Gillian, two sisters who descend from a long line of witches dating back to the Salem Witch Trials. Any man who falls in love with them is cursed to death. After one sister believes she's beaten the curse, her life turns upside down and she has to move back in with her two witchy aunts (played by Dianne Wiest and Stockard Channing). Meanwhile, the other sister accidentally kills her abusive boyfriend. Many spells are cast and margaritas are consumed.
Upon revisiting one of our favorite childhood memories, we had some questions. Is Nicole Kidman's boyfriend, Jimmy Angelov (Goran Višnjić), really just a vampire? Which of the outfits worn in the movie is the most '90s? How do we move into that gorgeous multilevel house that the aunts have lived in seemingly for decades? And what the hell was in those margaritas?? Step into our group chat to find out if we uncovered any answers.
Brooke Marine, deputy culture editor: Was this anyone's first time watching?
Catherine Thompson, features editor: This was approximately my 59th time watching …
Danielle Cohen, staff writer: I am a recent-ish convert, but have been watching it annually for maybe three to four years?
Bianca Nieves, senior shopping editor: I saw it every time I would have a sleepover at my cousin's, in Spanish. It was a movie they would play regularly on the local channels.
Brooke: I hadn't seen it in years, but the second I heard those first strums of that Alan Silvestri score, I was instantly emotional, to be honest. Also, the Faith Hill "This Kiss" instrumental needle drop during Sandra Bullock's farmers' market run-in with her new beau, which was later upstaged by the Joni Mitchell "All I Want" needle drop in the car with Nicole Kidman … you can tell the CGI budget went to the soundtrack.
Catherine: The music in Practical Magic, in general, is wildly nostalgic. That early scene where Sally and Michael run to each other to the swelling chorus of "This Kiss"!
Danielle: Let us not forget the midnight margaritas song!
Brooke: When I first saw this movie as a kid, I thought the aunts singing "someone left it on the porch" to the tune of "you were always on my mind" after they got wasted was so funny. Also, whenever I think of the man Sally dreams up who doesn't exist, I am reminded of the "man dough" episode of Sabrina the Teenage Witch (and I realized upon this rewatch that Sabrina's teacher is the townie who brings a handheld vacuum instead of a broom to the exorcism at the end!).
Danya Issawi, fashion news writer: Rewatching that scene where she makes up a perfect man who doesn't exist as an adult, I'm like, "Okay, these are rare characteristics, but I'm sure someone out there exists with them."
Brooke: I'm sure someone has one green eye and one blue …
Catherine: One thing I realized on this rewatch is that renowned character actress Margo Martindale is also one of the townies who comes to the exorcism! Such a small part, yet she delivers that "Ladies, let's clean house!" line with such zest.
Brooke: Wait, I have an important question. Who do we think is hotter? Sally's first husband, played by Mark Feuerstein, or the cop played by Aidan Quinn who turns out to be her perfect man who has one green eye and one blue and knows how to flip pancakes?
Danya: First husband is wholesome hot. Second is whiskey hot, saloon hot, rootin'-tootin' cowboy hot.
Brooke: Now that I think of it, why is the solution at the end of this movie marry the law and turn your life into a business?
Danielle: It's a lot of familiar character actors exorcizing Nicole Kidman.
Brooke: 1998 Nicole Kidman was like peak sexy Nicole Kidman.
Danielle: She is so insanely hot in this movie.
Brooke: "Hang on to your husbands, girls!"
Danielle: I kind of also think this was peak Sandra Bullock hotness … they were in their 30s and both look like they're in their 20s!
Catherine: I also love seeing Nicole with her natural hair, a treat.
Brooke: I could've sworn that in my memory of this movie, the actress playing Evan Rachel Wood's character's younger sister was played by Jena Malone … but I guess I must have had Practical Magic and Stepmom on a loop in 1998. Also, young Camilla Belle playing young Sandra Bullock! Where has she been …
Danya: I was taking mental screenshots of every outfit and hairstyle.
Danielle: So good — does anyone have a favorite fit?
Brooke: Gillian's (Nicole Kidman) green velvet dress! Sally (Sandra Bullock) wore a lot of denim, right? To signal that she's a mom …
Danielle: Sandra is Saturday apple-picking inspo; Nicole is going-out Saturday-night inspo.
Catherine: The scene where they're sitting at lunch with the private investigator is peak '90s style to me. Sally is wearing a little black cami and a printed slinky maxi skirt; Gillian is wearing a cozy cardi over a printed maxi … that is actually my fall 2023 vision board in one image.
Brooke: Also love Dianne Wiest's sun hat and head-wrap thing … cottagecore-hag fit.
Danielle: The aunts' hats are all incredible; they're like real-life Strega Nona retires and moves to the Amalfi Coast.
Danya: The parasols and little gloves!
Rachel Bashein, managing editor: Every time I watch this movie, it makes me want to grow my hair out superlong.
Danya: I also love that Griffin Dunne never went on to direct another studio movie, and the set designer never did another set because they became a highly in-demand interior designer.
Danielle: Can we hire for our new office?
Catherine: Can we also talk about their HOUSE for a second! Are they on Nantucket?
Brooke: I want to live there! How many floors are there, four? Five? I always wanted an attic. And it's definitely supposed to be a house on an island off the coast of Massachusetts, but they shot it near Seattle.
Catherine: I would do unspeakable things to possess that house. There's a very spacious pantry, obviously for one's cooking and spell-casting needs …
Danya: It was just a set! An exterior shell. Boo.
Danielle: Griffin Dunne kitchen > Nancy Meyers kitchen. Hot take, but I stand by it.
Danya: I will take a photo to some contractor someday, point to it and say, "This." And he will nod solemnly and begin. Something else I've been thinking about is, thank you to the townswomen for finally showing up for the exorcism, but does that negate decades of harassment and bullying?!
Brooke: All because the one lady was always curious to see inside the house …
Danielle: They are very forgiving witches, except I feel like Gillian holds a grudge. She won't forget …
Danya: If it were me, I'd still hold a grudge! And when your husband comes in to my apothecary asking for some serum for his receding hairline, I'd give him a little placebo and gaslight him into thinking it's working so he bugs you every day to look at his "new growth." You will never know peace, you bully!
Danielle: Why should one lousy exorcism clear their tab?! Another thing I love about this movie is the tiny little spells that they do in everyday life.
Brooke: The self-stirring coffee stirrer and blowing a candle to light it could both be useful in everyday life.
Danielle: One of my favorite scenes that I noticed on my fourth watch is when the investigator catches Sally stirring her coffee at work with no hands and he's like … Okay, that's hot.
Brooke: I feel like they used to show this movie on Disney and the channel formerly known as Freeform (ABC Family) back in the day, but I guess it's too dark and sexy for that to fly today?
Catherine: They absolutely did! And bad CGI aside, the Jimmy Angelov (both living and dead) scenes in this movie are pretty scary! Not for the kids.
Brooke: It also occurred to me on this watch that Jimmy from Transylvania probably came back from the dead all fucked up that first time not only because they forgot to poke him in the eyeballs like the spell demanded, but because he was just a descendant of undead vampires … so many references to bats and staying up all night. Ew.
Danya: Definitely would've scared me as a kid. But I also don't remember my first time watching this movie … guess it's always been in me …
Danielle: I think possessed Nicole Kidman is far scarier!
Rachel: When Jimmy starts choking her in the car, it's so upsetting, also because it's realistic in that these two small, skinny women can't fight him off … without the belladonna he'd have killed Nicole Kidman! And the terrible CGI; the worst offender is probably the cowboy cop's eyes in that scene when they're in his hotel room.
Brooke: The way the green kept switching out back to blue … It's okay we got Faith Hill, Joni Mitchell, and Stevie Nicks on the soundtrack instead, I guess.
Catherine: Did they not have colored contacts in the '90s?
Brooke: Apparently, those were invented in the 1930s … the more you know! Back to the margaritas, I need the aunts' recipe … those hags were twiiiiiiisted.
Danielle: Everything about their behavior is perfect. I'm obsessed with them leaving the second a vampire ghost shows up. They're like, figure it out!
Brooke: Honestly, the movie gets a little boring the minute they leave.
Danielle: There's an enormous hat-size hole until they return for the exorcism.
Danya: Why didn't they just toss Jimmy's body in the ocean? It's right there. The aunts would've rolled their eyes and then whipped up a spell to just chuck him into the Mariana trench.
Brooke: I hope that one day Gilly-bean experiences true love.
Rachel: Maybe the cowboy cop has a brother.
Brooke: Maybe she doesn't need it … she's got a cat now.