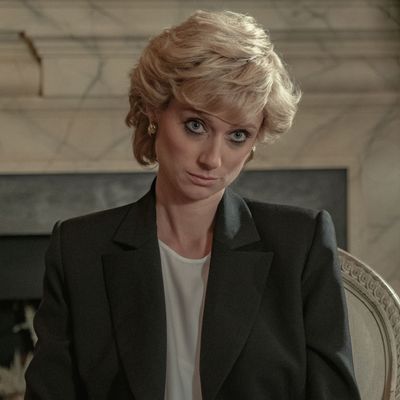 Two years after paying a "spooky, spiritual" visit to Kristen Stewart during the filming of Spencer, the ghost of Princess Diana has booked herself another huge gig: a starring role on the final season of The Crown.
According to The Telegraph, the sixth installment of the royals' least favorite show will depict the aftermath of Diana's death and her ex-husband Charles's eventual marriage to Camilla Parker-Bowles. In service of those plotlines, the ghost of the People's Princess will apparently drop in for a series of what Netflix insiders have deemed "sensitive and thoughtful imagined conversations" with both Queen Elizabeth and Prince Charles. While those two might plausibly top the late Lady Di's "to haunt" list, Netflix's reported interpretation skews gentle. Diana's well-coiffed specter will thank her ex-husband for crying after she died, call him handsome, and confess that she loved him "so deeply, so painfully." Huh!
And what of Queen Elizabeth's consultation with the other realm? Per The Telegraph, Diana's ghost will remind her that she's "taught us what it means to be British" and lightly suggest that "maybe it's time to show [she's] ready to learn too." If I were in her position, I would force both of them to relive Tampongate for all eternity, but what do I know about the afterlife?
Even with this rosy imagining, not everyone is thrilled about Ghost Di's entrée into Netflix's slate. As they are wont to do when it comes to all The Crown's decisions, royal experts have already called the appearance of a spectral Diana "absolutely weird," "profoundly tasteless," and generally "deplorable." They hate to see a ghost princess win.