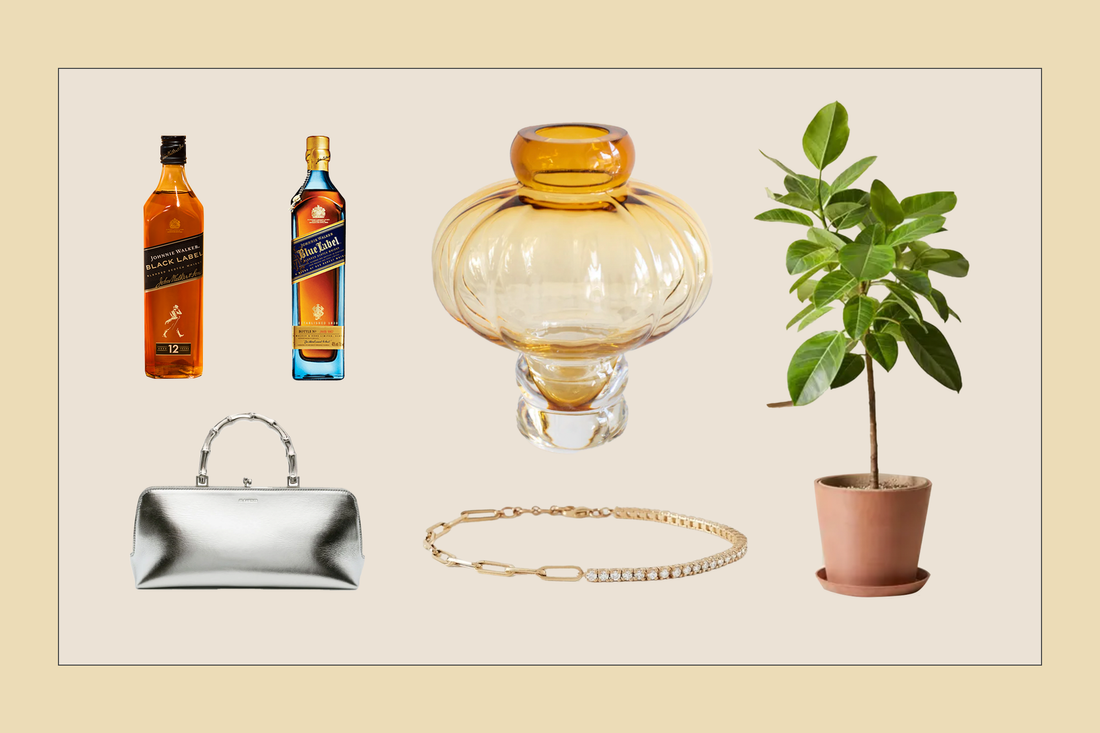 Photo-Illustration: Mia Coleman
Congratulations, you've landed a fancy new job, received a well-earned promotion, or achieved a work goal you set for yourself. Acknowledging it is a great start, but how about celebrating accordingly? If there's one thing we should all be normalizing more, it's honoring our accomplishments (big and small) and a pat on the back is just not going to cut it.
So what will? How about that designer handbag you've been eyeing? Maybe a set of premium Scotches to raise a glass with? You could even buy yourself a new houseplant simply for checking off all the items on your to-do list — we're not judging. In fact, we're fully enabling you to treat yourself (or a loved one) with a gift that says, "job well done."
Tennis Bracelet
Save this classic milestone gift for a big accomplishment: A tennis bracelet that combines the luxury of diamonds with the timelessness of a link chain for a unique two-in-one look.
Premium Scotch
Whether you've just landed a new client or closed an impressive deal, celebrate by adding a sophisticated Johnnie Walker Scotch to your bar cart. You'll find notes of creamy toffee, sweet fruit, and spice in the Black Label, and notes of caramel, hazelnut, and dark chocolate in the Blue Label. It's giving keen business acumen.
Personalized Stationery
Paper may be the traditional anniversary gift for the first year of marriage, but why not apply the same concept to jobs, too? Honor your first year — at a new job, of being your own boss, since launching a project — with a set of custom note cards. It's the exact type of thing that makes you feel like you have your life together and is a small price to pay for seriously impressing anyone you correspond with.
Leather Jacket
If you're looking for a splurgy forever piece, may we present the leather jacket to end all leather jackets. With its tumbled leather texture and oversized silhouette, it's a modern take on a timeless look, and only gets better with age — just like your resume.
Seasonal Harvest Subscription Box
Who says one accomplishment deserves only one gift? This subscription box straight from celebrity-favorite Flamingo Estate is the gift that keeps on giving. Each season, you'll receive a harvest box full of handmade kitchen, home, and bath goods so you can live that organic, home-grown, luxury lifestyle all year round.
Complete Hair Styling Set
If you've been eyeing a Dyson Airwrap for yourself but couldn't quite justify it, now's your chance. This complete set comes with a dryer, two different barrels, and three attachment brushes for the kind of hair confidence that'll lead you straight to hitting your next milestone.
Glass Vase
Sometimes the vase accompanies the flowers, but in this case, the flowers accompany the vase. A show-stopping, mouth-blown glass vase, to be specific. Between the voluminous curves and the unexpected amber hue, it's an objet d'art that somehow makes any bouquet seem like an afterthought.
Evening Handbag
It might seem instinctive to splurge on a new work tote to match a work milestone, but hear us out — you've given enough to your job right now; it's time to enjoy yourself. A darling evening bag is the stylish antithesis of yet another leather laptop tote, and twice as visually appealing. The next time you grab this metallic number for a night out, it'll serve as a reminder that you deserve to celebrate.
Potted Plant
A new houseplant that you can nurture to grow to its full potential is the perfect metaphor for your thriving career. Spring for a tall potted ficus with its strong branches and commanding presence.
Statement Art Piece
There's no time like the present to start growing your art collection. While you could go for a painting, a contemporary sculpture like this melted disco ball is a fun statement piece that doesn't take itself too seriously — an occasional reminder we could all use in life and work.
This advertising content was produced in collaboration between Vox Creative and our sponsor, without involvement from Vox Media editorial staff.